Alwaysmining, Las Setas speed to promising victories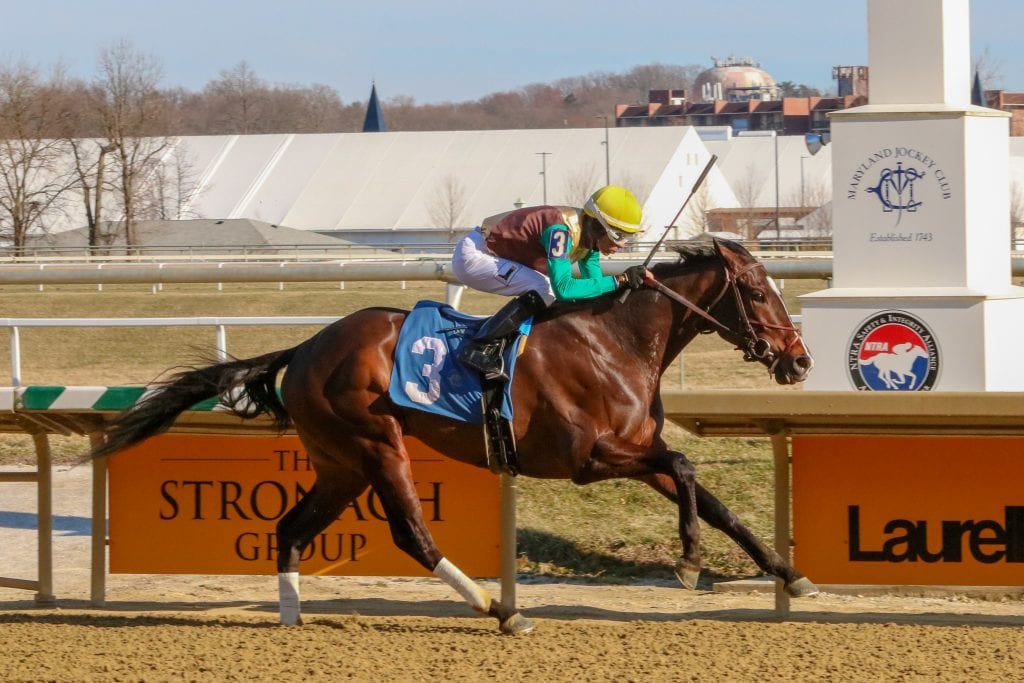 Alwaysmining cruised in the Private Terms Stakes at Laurel Park with Daniel Centeno in the irons. Photo by Dottie Miller. 
On the day when much of the attention among three-year-olds looking to enhance their respective Triple Crown resumes competed in the split, Grade II Rebel Stakes at Oaklawn Park, a pair of sophomore stakes at Laurel Park on Saturday afternoon gave local owners and trainers hope that a berth in the Black-Eyed Susan Stakes and Preakness Stakes in two months time could be on the horizon.
In the $100,000 Beyond the Wire Stakes for three-year-old fillies traveling the one-turn distance of one mile on the main track at Laurel on Saturday, Las Setas (Jevian Toledo) easily lived up to her role as the even-money choice when she gained command soon after the break, cruised through modest fractions of 24.78 and 48.23 with Our Super Freak laying close in second, then shook loose from that one and drew clear late to a five-length score in 1:37.82. It was her second straight stakes tally and third straight victory overall.
"I was actually surprised that she made the lead so easily," Voss said of Las Setas, a Maryland-bred sophomore owned by her in partnership with Robert T. Manfuso and Wayne Harrison. "I thought Kiaran [McLaughlin's] horse [It Justhitthe Wire] was going to show more speed, but instead [Our Super Freak] tried to stay with us early. I really didn't give Jevian any instructions. She's got so much natural early speed she can just get the lead on her own. Right now the plan is to come back here for the [$125,000 Weber City Miss] stakes in five weeks, then we'll see how she she comes out of it and then we'll look at the Black-Eyed Susan."
Toledo has been aboard Las Setas for all four of her career outings, which began with a nondescript sixth-place finish in a maiden special weight event on New Year's Eve. She came right back to garner her diploma in her next outing while donning blinkers for the first time then she galloped home nearly six lengths clear in the Wide Country Stakes here on February 16. On Saturday she was never headed en route to a sharp score in the Beyond The Wire Stakes and now appears on target for an eventual spot in the Black-Eyed Susan.
Then one race later in the $100,000 Private Terms Stakes for three-year-olds traveling the two-turn distance of about one-mile and one-sixteenth, Alwaysmining (Daniel Centeno) easily lived up to his billing as the 1-2 choice when he broke alertly and gained command through the first turn, carved out even splits of 24 1/5, 48 2/5, and 1:12 3/5 for the first three calls, and then picked up the pace. He drew off in the lane to a near seven-length score in 1:42.65 — the fourth quarter went in 23.80 seconds, the fastest quarter of the race — for his fourth straight stakes victory and fifth straight tally overall and did so while negotiating two turns for the first time.
"I want to thank the owner and trainer for giving me the chance to ride her," Toledo said. "She's been getting better with every start. When she broke so well she just made the lead so easily. I never really had to get after her. She was just doing it on her own. I think she's only going to keep getting better."
"I think he passed the test," said trainer Kelly Rubley. "We wanted to see how well he could handle two turns and he did it easily today. But that's him – he just does everything so easily. He looked like he was just cruising out there. Danny said he never asked him. We'll see how he comes out of this and we'll see what's next for him. He might go in the Tesio [on April 20], but we'll have to see. We've run him back in three weeks and we've run him back in six weeks, so he's versatile."
A Maryland-bred sophomore son of Stay Thirsty trained by Rubley for Runnymede Racing LLC, Alwaysmining began his current win streak when Centeno climbed aboard for the first time for an allowance event in the slop here on Oct. 27. He then scored in the Maryland Juvenile Futurity on Dec. 8, ended his freshman campaign by taking the Heft Stakes on Dec. 29 then returned six weeks later to take the Miracle Wood on the General George Stakes undercard here on Feb. 16.