Parx bombers, a day of wine, and Santa Anita: The week in social media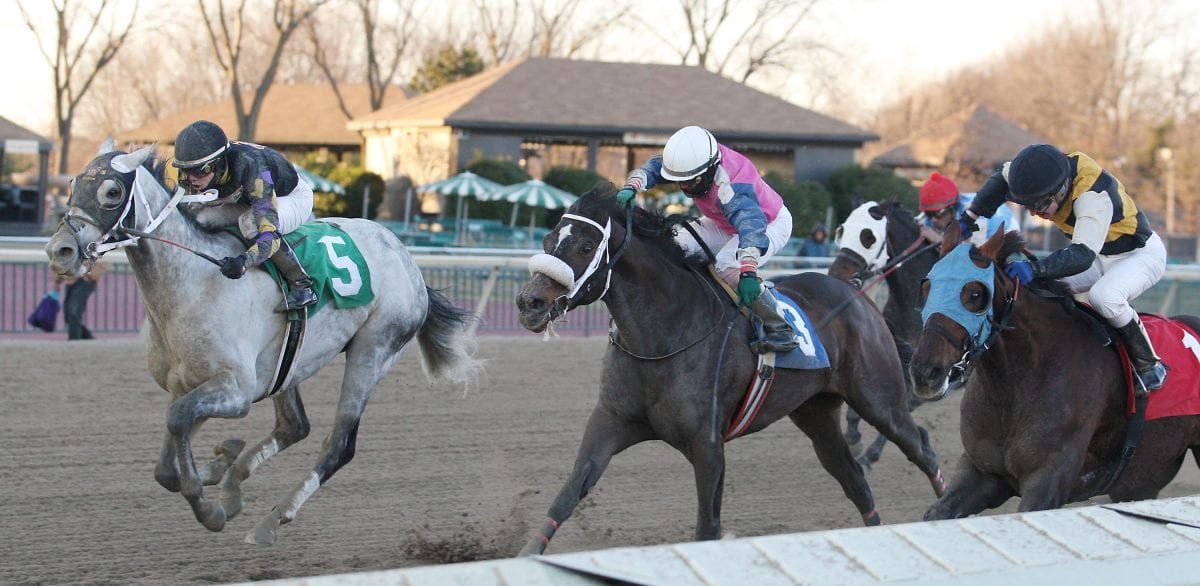 Racing at Parx. Photo By Bill Denver/EQUI-PHOTO.
A day dominated by longshots occurred at Parx Racing, and a fun event is looming in the horizon for Mid-Atlantic tracks. And then there's the situation at Santa Anita.
Here's the scoop on what racing social media has been talking about this week:
Bombs away at Parx Racing
An interesting day at the races took place at Parx Racing on March 12. The day was dominated by underdogs, with the first winner of the day, Awe Mun, paying $48.80 on a $2 wager and the second-to-last, Boyd Crowder, returning $109.00. The average return for a $2 win ticket was $30.36, with total handle for the day reaching $2,425,592. The early pick-4 returned $38,512.60 on a 50-cent wager, and favorites were shut out on the day.
Everyone loves a good longshot, and it didn't take long for the excitement of that unusual day to spread through social media.
Yesterday was #longshot day @parxracing. They had the highest payoffs in the US for nearly every type of wager, highlighted by the Pick 4 which returned $38,512.60 for a .50 ticket. The average win payoff for a $2 ticket was $30.36, total handle was $2,425,592! @Letsgoracingparx pic.twitter.com/oyyL04o9Av

— PennHorseRacing (@PennHorseRacing) March 13, 2019
Have some wine!
A popular event is returning to Laurel Park. On April 6, the Maryland Wineries Association's Decanter will be coming to the track to host a wine tasting day. A five-course brunch will also be served, and is being prepared by Laurel Park's Culinary Team. The event will be held in the Sport's Bar at Laurel Park, which has recently been updated.
Wine tasting will commence after brunch, and will take place over the course of a three-and-a-half-hour period. Representatives from each winery will be on scene, allowing you to purchase wine directly from them after sampling the many varieties that will be on hand. An oyster bar will also be available during the wine tasting event.
The Decanter Brunch Experience will cost $85 a person, and will take place from 12:00 pm to 5:00 pm. The Decanter Tasting Pass is $35 a person, and will be held from 1:30 pm to 5:00 pm.
Santa Anita situation
A developing — and terrible — situation at Southern California's Santa Anita Park has seen 22 equine fatalities in a little over two months. In response, the Stronach Group has closed the track to live racing, called back its onetime track superintendent, and announced it will implement a number of new protocols.
Those include stricter pre-race examinations, tougher medication rules, new whip rules, and a ban on the use of Lasix on raceday. While many of these have widespread support, the proposed ban on the use of Lasix is causing widespread controversy — both on the ground and on social media.
An open letter on the future of Thoroughbred racing in California > https://t.co/FxoGJiiDwC

— Santa Anita Park (@santaanitapark) March 14, 2019
Bravo to the Stronach Group, desperate times call for desperate measures and you are so right, racing is a privilege and not a right. https://t.co/Nf3A5s3yTg — GrahamMotion (@GrahamMotion) March 14, 2019
As someone who has always favored a national PHASE OUT of race day meds, this knee jerk reaction @santaanitapark seems to lay blame solely on California horsemen. Curious if Santa Anita takes any responsibility at all in this mess. #threats #toomuchracing #nocommunication

— Jenine Sahadi (@jenine_sahadi) March 15, 2019