Bombs away: The week in maiden winners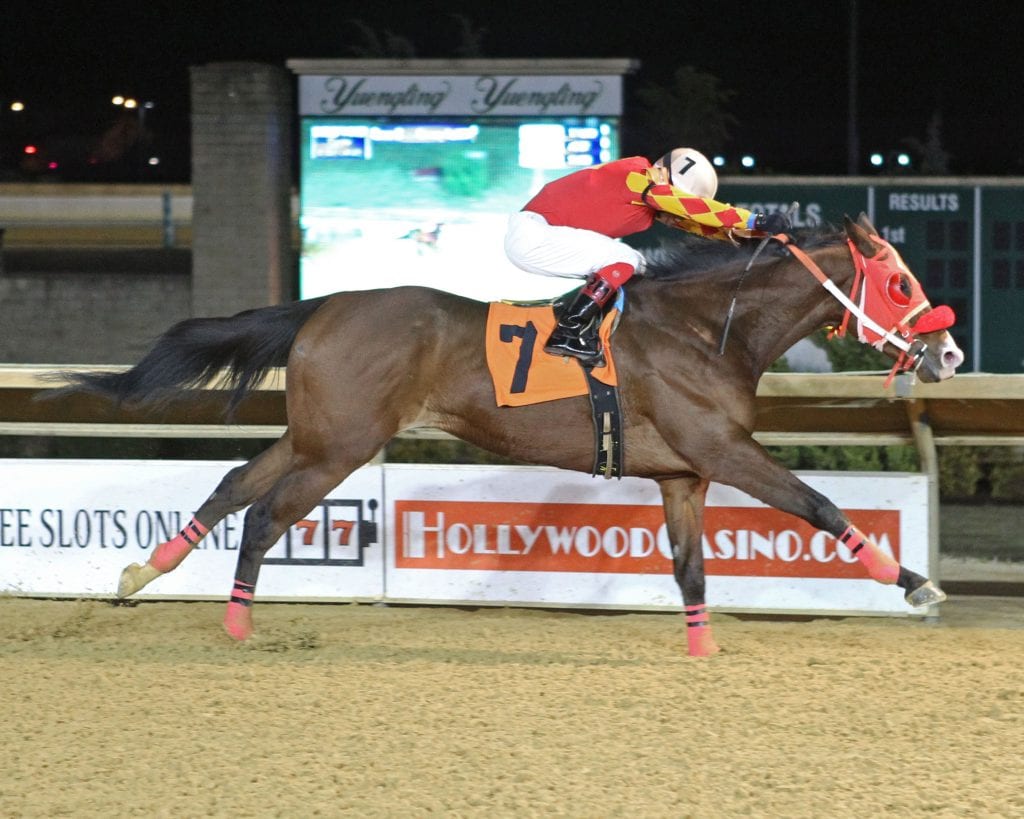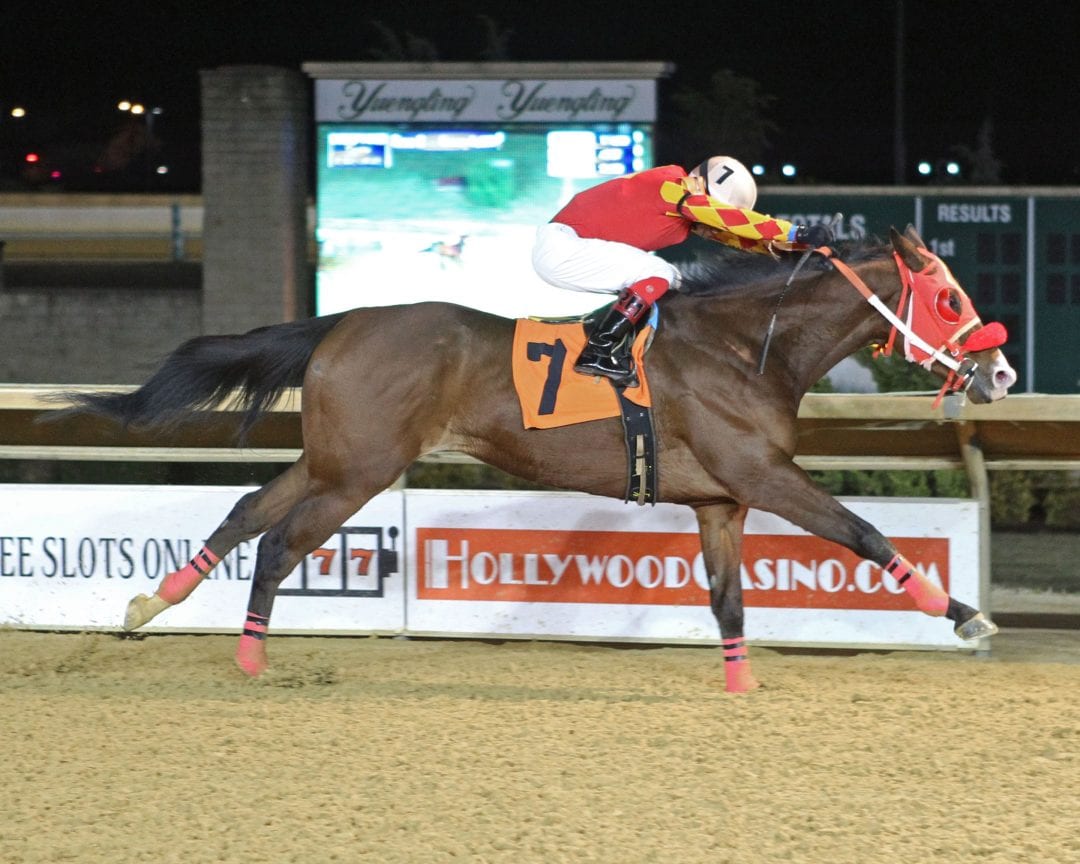 Mini Bolt took 51 tries to break his maiden, which he did February 14. Photo by Coady Photography.
Eight times in the last week, a maiden winner in the region returned at least $10 to win. Among those were horses that paid $99.90 (Flashy Baron at Penn National), $61.40 (Sidereal at Parx Racing), and $52.40 (Baby Brez, also at Parx).
The priciest winner at Charles Town was Great Rocket, who paid $23.40 to win a state-bred maiden claiming race. Trained by Victor Espinosa for breeder-owner Bybee Road Farm, Great Rocket did not finish better than fourth in any of her first eight starts. But in a March 6 race, with Fredy Peltroche up, Great Rocket outfinished favored Across America to win by a half-length in 1:22.61 for 6 1/2 furlongs to earn her diploma. Great Rocket is a six-year-old mare by Officer Rocket.
CHARLES TOWN MAIDEN WINNERS
| | | |
| --- | --- | --- |
| Horse (state bred), trainer, and jockey | Level | $2 win payout |
| Been Redeemed (MD), trained by H I McMahon and ridden by J D Acosta | MCL 12500 s | $3.20 |
| Gattolottacharm (WV), trained by D L McClure and ridden by R Latchman | MSW s | $4.80 |
| Great Rocket (WV), trained by V M Espinosa and ridden by F Peltroche | MCL 5000 s | $23.40 |
| Miss Problematic (WV), trained by E L Tobin and ridden by W Rocha | MSW s | $3.40 |
| Sterling Caesar (WV), trained by H Gaffney and ridden by A Lopez | MCL 12500 s | $8.00 |
| Texas Flower (PA), trained by B L Kulp and ridden by C Hiraldo | MSW | $3.40 |
| Tizm (TX), trained by O L Figgins, III and ridden by G Whitacre | MCL 12500 | $4.00 |
| Whiskey Dreamin (MD), trained by J McGee and ridden by V Rodriguez | MSW | $9.20 |
| Wild With Style (NY), trained by P F Nuesch and ridden by J D Acosta | MCL 5000 | $3.20 |
LAUREL PARK MAIDEN WINNERS
Two runners that spent a while at the maiden level earned their breakthrough wins during the last week at Laurel Park, scoring at the maiden special weight level on March 8.
In the second race, War of the States, a Mike Trombetta trainee who entered the race winless in six career tries and had an odd streak of having finished third in four consecutive races, broke through with a neck victory in 1:25 for seven furlongs. Under Trevor McCarthy, War of the States, a $185,000 Bodemeister filly owned by Larry Johnson and Trombetta's R. D. M. Racing Stable, slipped through inside to overhaul Rockstar Girl for the win. She's bee in the money in six of seven starts.
A few races later, V. I. P. Ticket, a Maryland-bred Windsor Castle colt trained by Jerry O'Dwyer, rallied outside to win by a half-length in 1:10.77 for six furlongs. Under Angel Suarez, V. I. P. Ticket was fifth early before shifting outside and surging to victory. Owned by Designated Hitters Racing, LLC, V. I. P. Ticket had entered winless in eight tries and, like War of the States, in possession of a three-race streak of finishing third.
| | | |
| --- | --- | --- |
| Horse (state bred), trainer, and jockey | Level | |
| Broker's Reward (Md), trained by Trombetta Michael J and ridden by Pimentel J | MCL 16000 | $5.80 |
| Escrow Finnidilly (NY), trained by Doran Carl and ridden by Cardona S | MCL 10000 | $12.60 |
| Freedom Bella (Md), trained by Schoenthal Phil and ridden by Cruz A | MCL 25000 | $15.20 |
| Hard Rockin Blues (Md), trained by Smith Jason D and ridden by Toledo J | MCL 10000 | $9.20 |
| Tbtwelve (Ky), trained by Ness Jamie and ridden by McCarthy T | MCL 25000 | $5.60 |
| V. I. P. Ticket (Md), trained by O'Dwyer Jeremiah and ridden by Suarez A | MSW | $5.00 |
| War of the States (Ky), trained by Trombetta Michael J and ridden by McCarthy T | MSW | $8.80 |
PENN NATIONAL MAIDEN WINNERS
| | | |
| --- | --- | --- |
| Horse (state bred), trainer, and jockey | Level | $2 win payoff |
| Animal Attraction (PA), trained by K A Graci and ridden by J A Hernandez | MCL 10000 | $2.80 |
| Flashy Baron (PA), trained by C A Cuprill and ridden by W P Otero | MCL 5000 | $99.90 |
| Nano Link (KY), trained by R J Johnston and ridden by W P Otero | MCL 5000 | $22.20 |
| Out of Line (PA), trained by T Houghton and ridden by I Beato | MCL 10000 | $10.20 |
| Wahoowa Wahoowa (KY), trained by T H Lingenfelter and ridden by J A Davis | MCL 25000 | $2.60 |
PARX RACING MAIDEN WINNERS
| | | |
| --- | --- | --- |
| Horse (state bred), trainer, and jockey | Level | $2 win payoff |
| Baby Brez (PA), trained by S A Lake and ridden by E Rivera | MCL 40000 | $52.40 |
| Neva's Gal (KY), trained by M Zulueta and ridden by A Salgado | MCL 20000 | $6.60 |
| Rattlesnake Bite (FL), trained by G E Seymour and ridden by K Johnson | MCL 20000 | $7.80 |
| Secret Lies (NY), trained by E J Coletti, Jr. and ridden by A Adorno | MCL 10000 | $4.80 |
| Sidereal (KY), trained by P Pearce and ridden by R A Bracho | MCL 20000 | $61.40 |