Code of Honor jumps to fourth in NTRA Top Thoroughbred Poll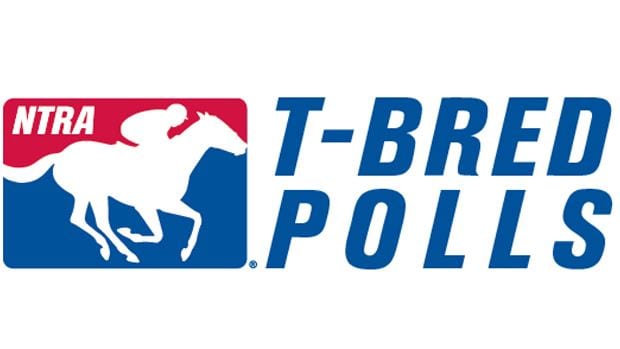 From a National Thoroughbred Racing Association release
Code of Honor's breakout triumph in the Grade 2 Xpressbet Fountain of Youth Stakes on March 2 allowed the son of Noble Mission to leapfrog into the top five of this week's National Thoroughbred Racing Association (NTRA) Top 3-Year-Old Poll.
Trained by Hall of Famer Shug McGaughey, Code of Honor made amends for his fourth-place effort in the January 5 Mucho Macho Man Stakes. The chestnut colt rated off a quick early pace in the Fountain of Youth before taking command in the lane and holding off Bourbon War by a three-quarters of a length to earn his first graded triumph. That effort earned Code of Honor 50 qualifying points on the Road to the Kentucky Derby as well as 308 points from NTRA voters to put him fourth in 3-Year-Old Poll. He had previously not been ranked in the top 10.
"Obviously, I thought about (the Mucho Macho Man) a lot," McGaughey said the morning after Code of Honor's Fountain of Youth victory. "I thought from what I saw he probably needed the race and probably, maybe, needed to change his running style just a little bit. We needed to get into him and train him a little harder and more frequent and see if he would take it. We thought, 'If he takes it, we'll go on.' But it was something that came to me pretty quick."
Reigning juvenile male champion Game Winner earned 36 first-place votes and 441 points to retain the top poll position in advance of his expected seasonal debut in the March 9 Grade 2 San Felipe Stakes at Santa Anita Park. Multiple graded stakes winner War of Will (7 first-place votes, 388 points) is second with Improbable (4 first-place votes, 371 points) third.
Mucho Gusto is fifth behind Code of Honor with 253 points with Instagrand (172) now sixth in the standings. Bourbon War who, like Code of Honor, was not ranked in the top 10 prior to this week, now sits seventh with 135 points. Gunmetal Gray (81), Tax (74), and Country House (56) round out the top 10.
While things continue to shift with the sophomores as prep season heats up, a relatively quiet week in the handicap ranks resulted in little movement in the NTRA Top Thoroughbred Poll.
City of Light, winner of the 2018 Breeders' Cup Dirt Mile and this year's $9 million Pegasus World Cup Invitational, remains atop the poll with 35 first-place votes and 368 points. Monomoy Girl, the champion 3-year-old filly of 2018, is second after garnering nine first-place votes and 360 points with fellow Eclipse Award-winner Roy H (341 points) third.
Pegasus World Cup Turf Invitational winner Bricks and Mortar (2 first-place vote, 276 points) is fourth with Grade 1 winner McKinzie (207) in fifth. Seeking the Soul (166 points) is sixth followed by champion turf female Sistercharlie (134), the late Battle of Midway (1 first-place vote, 131 points), Accelerate (121), and Marley's Freedom (77).
The NTRA Top Thoroughbred polls are the sport's most comprehensive surveys of experts. Every week eligible journalists and broadcasters cast votes for their top 10 horses, with points awarded on a 10-9-8-7-6-5-4-3-2-1 basis. All horses that have raced in the U.S., are in training in the U.S., or are known to be pointing to a major event in the U.S. are eligible for the NTRA Top Thoroughbred Poll.
The NTRA Top Thoroughbred Poll concludes November 4 after the running of the Breeders' Cup.
NTRA TOP THOROUGHBRED POLL
City of Light
Monomoy Girl
Roy H
Bricks and Mortar
McKinzie
Seeking the Soul
Sistercharlie
Battle of Midway
Accelerate
Marley's Freedom
NTRA TOP THREE-YEAR-OLD POLL
Game Winner
War of Will
Improbable
Code of Honor
Mucho Gusto
Instagrand
Bourbon War
Gunmetal Gray
Tax
Country House