For pioneer Rubin, history takes back seat to horses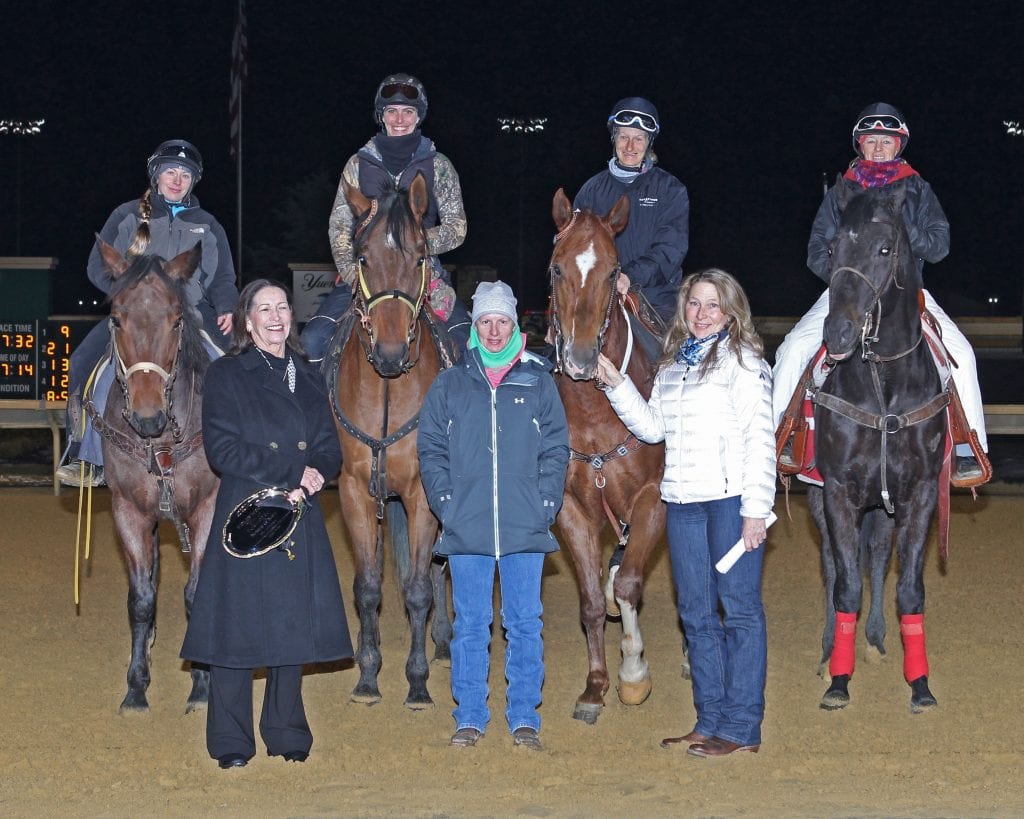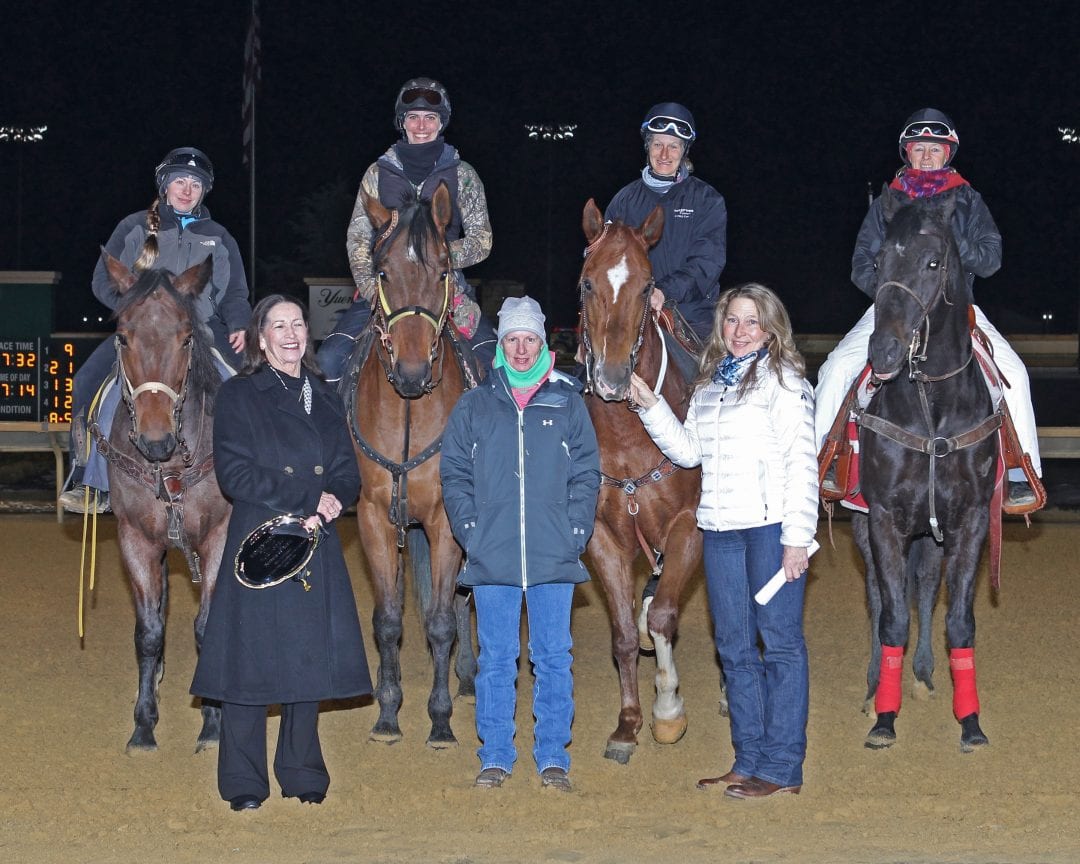 Barbara Jo Rubin (standing at left) and other retired female jockeys at Charles Town. Photo by Coady Photography.
It's a too-dark photo copy of a 50-year-old win photo.
"Cohesian," it says in the center, and then to the right: "Barbara Jo Rubin up." On the left, the date: "February 22, 1969."
And below that, the payoff: "First girl jockey ever to win a race in the United States."
Yet it's not the words but the winner's circle grouping that grabs your attention. There, on the far right, is trainer Bryan Webb, looking like a waiter – or a mad scientist – in his white coat with a satisfied smile on his face.
A baker's dozen of other folks crowd forward, some smiling, some not, all with eyes towards the camera.
Even the horse is looking towards the camera.
But Barbara Jo Rubin, the first woman to win a pari-mutuel race in the nation, is staring off to the side, looking out of the frame. Perhaps she sees a friend cheering for her, or a heckler telling her that riding racehorses is men's work.
Or maybe she's trying to divine the future.
Fifty years to the day later, Rubin, still fit and active at 69, returned to Charles Town last Friday. The woman who – to some – was threatening, in 1969, to ruin everything, came back to be feted as one of the handful of women who participated in something bigger than racing, something that can't be confined in the bullring at Charles Town or even in the sweeping expanses of Belmont Park.
"Women don't ride"
Barbara Jo Rubin applied for a jockey's license in 1968 and came in for a rude shock.
"When I walked into the office at Tropical Park (in Florida), filled out my application, they said, 'No, you're an exercise rider,'" she recalled.
"I said, 'No, I'm filling out a jockey's license.' And they go, 'You can't.' And I go, 'Why can't I?' And they go, 'Women don't ride.'"
But times were changing.
In 1967 acclaimed horsewoman Kathy Kusner – now a member of the Show Jumping Hall of Fame who in 1964 had represented the US in the Olympic Games – sought and was denied a jockey's license by the Maryland Racing Commission.
She sued and, in 1968, became the first female licensed jockey in the United States after a judge ruled that, under the Civil Rights Act of 1964, she could not be denied the license because of her sex. That helped to open the doors for Rubin and others.
The following January, Rubin was slated to ride a horse named Stoneland for trainer Bryan Webb in the seventh race on closing day at Tropical Park. It had attracted, Rubin said, "a record-breaking crowd. Everybody wanted to see what I was going to do."
Everybody, that is, but her fellow jockeys.
"They had the jocks fly in from New York, California, they had the Jockeys Guild there," Rubin explained. "They had it planned to boycott several races before so they'd have to take me off… They refused to ride. So that's why they had to take me off the horse, because people were, like, tearing the stands apart. They wanted to gamble."
It was a desperate rear-guard action doomed, ultimately, to fail.
"I was meant to get polio"
Rubin shrugs off her trailblazing as all in a day's work. Perhaps that stems from the trail she took to arrive in the saddle, one that started with one of the most fearsome afflictions of the mid-20th century.
Polio, a highly infectious disease, caused more than 15,000 cases of paralysis in the US annually in the 1950s, prior to the introduction of vaccines. Once they were introduced in 1955, the number of cases fell rapidly, ultimately, in the United States, to zero.
But that didn't do Rubin, who was stricken with the disease at age six and, she said, had it "bad behind my legs," much good.
"I was in quarantine in a hospital," she remembered. "I couldn't even see my parents. They were behind glass. My feet were tied to a wall unless I did therapy."
One typical therapy – swimming – didn't work for her. But the doctors also noticed how she would while away the long, lonely hours.
"I always wanted to ride, and I'd lay there with my legs up pretending I was riding races," she said. "When the doctor said, 'Swimming isn't going to work for her,' they said, 'She really wants to ride. Maybe get her in English riding.'"
The Rubin family didn't have a lot of money, certainly not enough to afford young Barbara Jo the chance to ride. But her doctors' prescription of riding lessons changed the equation; she's been on horseback ever since.
"I always thought I was meant to get polio so I could do what I wanted to," Rubin said. "It's a weird thing, but that's what I always thought when I was younger. I always thought that's what enabled me to do what I wanted to, because otherwise I couldn't do the riding lessons."
It's a thought that brings you up short, a little girl fated to get a terrifying disease to fulfill a destiny on horseback.
A win, and a whirlwind
Cohesian was part of a two-horse entry, the late-running Reely Big being the other half. The favorite in the race was a horse named Kathy Kiely.
The race – a 6 ½ furlong, two-turn event on Charles Town's bullring oval – was dubbed the "Jefferson County — Land of the Washingtons Purse," the purse reportedly $2,500.
The crowd, Rubin said, was large, and engaged.
"I mean, it was just wall-to-wall people. It was unbelievable," she recalled. "A lot of people were yelling for me to go home. A lot of people were yelling obscenities. Some people were cheering for me."
None of that, she said, mattered.
"But when I got out on that racetrack, you know, I didn't look at any faces. It was just like a sea of blank faces. I just concentrated on my horse. I knew what I was going to do in the race, and that was it."
Rubin had a pretty good idea of how the race might unfold.
"I always broke on top. I was really good in the gate," she said. "So I broke on top, and I saw that Kathy Kiely was the favorite, and Kathy Kiely always went wide in the last turn. So I sat back fourth place… Then when we came around for the turn for home, she took the other horses out and I just came through on the rail and won it."
Cohesian spurted through inside the favorite and went clear in mid-stretch. Reely Big made a late charge – but too late. Reely Big was second, about a neck behind Cohesian at the wire. And moments later Rubin was back in the winner's circle, plenty of smiling faces turned towards the camera while she stared off into the night.
It became a whirlwind. Two weeks later, Rubin became the first woman to win a race in Maryland on opening day at Pimlico.
"Barbara Jo Rubin was the star of Pimlico's opening program last week, winning her first ride at the track and then finishing second in another race, beaten by a nose on a 30-1 shot," The New Yorker opined. "First thing you know, she'll be at the Big A."
Indeed. Eight days after her historic win at Old Hilltop, she raced in New York for the first time.
"The most interesting event at Aqueduct was the riding of Barbara Jo Rubin," The New Yorker noted the following week. "The nineteen-year-old turned up at the Big A, and won twice in good style."
Soon enough, Rubin had company. Diane Crump, who on February 7 had become the first woman to ride in a pari-mutuel race with a mount at Hialeah, began to get traction and would go on to ride in the 1970 Kentucky Derby in the course of a solid, lengthy career. Another young woman, Mary Bacon, caught plenty of attention for her wholesome good looks, Devil-may-care attitude, and skill on a horse, winning 55 races in 1969.
But Rubin was first past the post, and in the space of three weeks, she had become the first female jockey to win a race in the United States and the first to do so in three different states.
She appeared on network news programs and national talk shows. She became a star. But injuries took their toll.
"I was, like, 'I'll get on anything, I don't care,'" Rubin said. "I didn't get on the best horses. I'd get on anything anybody would give me. They'd say that it's a bad horse, and I'd say, 'I don't care.' And things would happen."
Things like what she said was 14 falls in two weeks. Like the horse that dragged her down the rail. Like the broken pelvis she suffered when a horse flipped on her. Six times, she said, she tried to come back, and six times, just as she was nearing a return to racing, a new injury set her back.
Finally, she retired. Rubin made just 89 starts in her career, winning with a remarkable 22 of them.
It makes you wonder, even if you don't think "everything happens for a reason." If the little girl was meant to get polio, perhaps the 19-year-old was meant to race for only a few months.
Perhaps her career was meant be so very brief, and to shine so very brightly, the better to light the way for those who came after.
"I just did what I wanted to do"
That Rubin declines credit as a trailblazer doesn't mean she's not proud of what she did as a jockey. It's simply that what gives her the most pleasure – and pride – is what she accomplished while on horseback.
You can hear that as she recounts her win aboard Cohesian.
"It was like I had it all planned and I was thinking, 'That' s how it's supposed to be,'" she recalled.
Or when she muses on how her career might have gone.
Rubin won with eight of her first 14 starters. She won twice at Aqueduct and caught the eye of Howard (Buddy) Jacobson, one of New York's leading trainers. At the time, Rubin was under contract to Webb.
"I think my big break would have been when I rode in New York," she remembered, "Buddy Jacobson wanted to take my contract and buy it, and Bryan Webb wouldn't turn it loose. I'd won a couple of races for Buddy in New York, but Bryan said, 'No, you're not doing that.'
"That would have been my big break because he had nice horses."
The story didn't have the ending that, perhaps, the 19-year-old Barbara Jo envisioned all those years ago in the Charles Town winner's circle. Her moment in the sun was brief.
But it's a good story all the same, one filled with family, and with horses. Rubin and her husband Gordon (Gordie) Gubin live in Illinois, about 20 minutes east of St. Louis, where they own a horse training and boarding facility in Troy called Classic Acres. She was surrounded at last Friday's event by Gordie, their sons, daughters-in-law, and grandchildren.
At Classic Acres, Rubin still rides every day, seven days a week, with just one concession to age: "I'm going to be 70 this year, so I promised my husband I wouldn't break any more babies," she said with a laugh.
And time has vindicated those first women jockeys. Once scorned, they are now celebrated. Rubin had made her point; she, and other women, can ride as well as – often better than – the men.
Barbara Jo Rubin hadn't meant to be a pioneer but she became one all the same. And you think: perhaps pioneers are simply people living the lives to which they feel called, even when society's din tries to drown out the calling.
"Everybody says, 'You made history,'" she said. "But I just did what I wanted to do."