Barbara Jo Rubin, modest pioneer, feted at Charles Town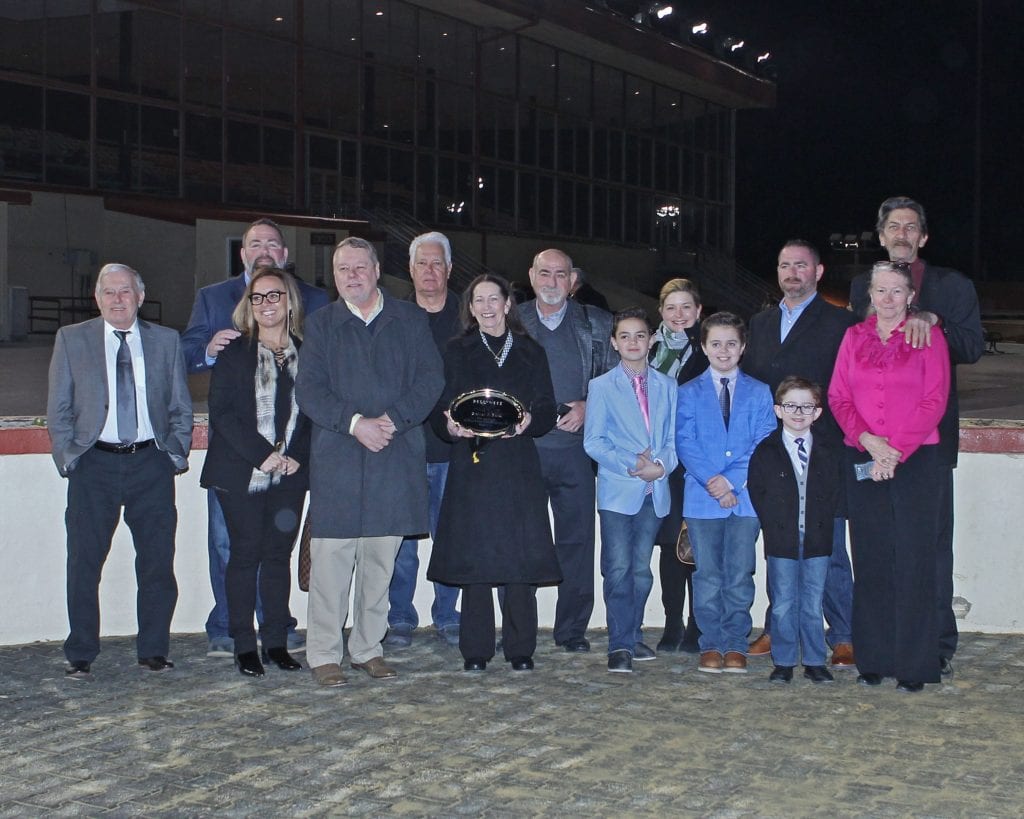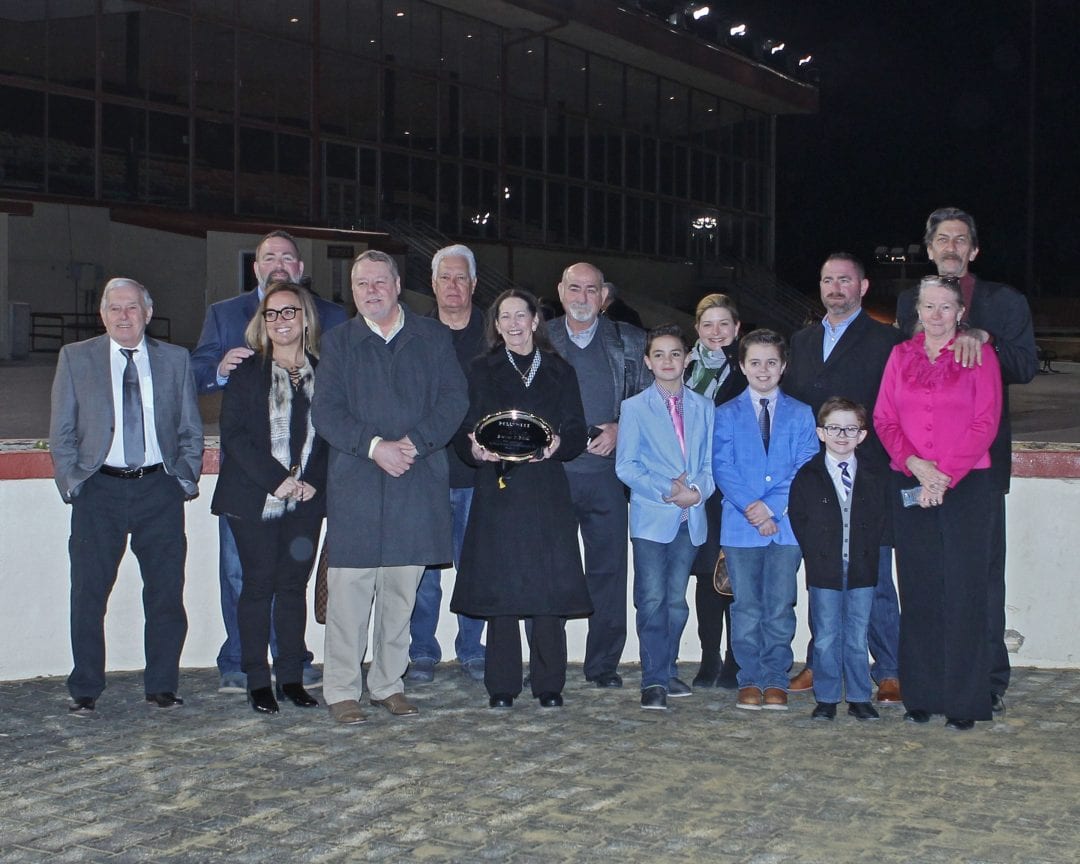 Barbara Jo Rubin, center, surrounded by family and friends at Charles Town Races. Photo by Coady Photography.
Though it's been 50 years since she became the first female rider to win a recognized parimutuel race in the United States when she steered Cohesian to victory in a 6 1/2-furlong event at Charles Town, Barbara Jo Rubin still has ample memories she was happy to recall when she returned to the oval on Friday night to celebrate the 50th anniversary of her historic triumph.
Rubin, 69, was still in her teens when she steered Cohesian to victory that night for trainer Bryan Webb. Her historic day had begun almost 18 hours earlier when she galloped Webb's horses that morning at Pimlico Race Course and cleaned their tack, then headed to Charles Town. Rubin's inaugural victory was a personal triumph and launched her immediately into the national spotlight, but numerous injuries shortened her career to 22 wins from 89 mounts.
"I was the contract rider for Mr. Webb back then, so I had to gallop all of his horses at Pimlico in the morning and then ride over to Charles Town that night," Rubin recalled. "Back then the track was packed on Friday night and I needed police officers to guide me from the jocks' room and through the crowd and into the paddock. Mr. Webb had an entry in the race that night, but my plan was to just sit in mid-pack and wait for Kathy Kiely to drift out on the far turn and I went inside of her."
When Cohesian hit the wire, just outlasting the late bid of stablemate Reely Big, the historic moment did not really dawn on Rubin until she returned to the winner's circle. Then later she began getting invitations to appear on national television shows and was a genuine media darling after also posting victories in New York and Maryland — thus becoming the first woman to post victories in both states. But she also battled constantly with the numerous aches and pains associated with the rougher side of the sport, from incidents in the gate to being thrown from horses in morning workouts and in actual races.
"I loved being on the horses," Rubin said. "I still get on six horses every morning and now I help teach race horses to become riding horses. It's been 50 years since that race, but it doesn't feel like 50 years. I still go to work at 4:30 every morning and I have no plans to retire. But the injuries just prevented me from riding full-time. Every time I tried to make a comeback I would get another injury, and I was in so much pain that I finally told Mr. Webb I just couldn't do it anymore."
While Rubin was unable to parlay her historic victory at Charles Town into a long, prosperous career, she paved the way for numerous female jockeys to make their presence known in West Virginia. Former jockeys Lori Bourne Judy (Wolfe) Grams were among a bevy of female riders who became regulars in the Charles Town jocks room. Bourne and Wolfe were on hand for the 50th anniversary celebration on Friday.
"It was great finally being able to see her walk into the winner's circle," said Bourne, now one of the outriders every race night at Charles Town. "She helped open the door for me and a lot of female riders here. We used to have a full [jocks] room of girl jocks. We probably had one-half the mounts every night."
Wolfe, now wife of trainer Tim Grams, who perhaps is best known locally as the conditioner of 2018 West Virginia Breeders Classic hero Runnin'toluvya and 2017 Cavada heroine, Moonlit Song, recalls being part of a core group of female jockeys who rode at Charles Town on a regular basis in the late 1980's and early 1990's.
"It was amazing to think that it all started with her," Wolfe said of Rubin. "She paved the way for us. It was still tough for female jockeys when I rode. But there were a few of us here and we held our own. But 50 years ago she [Rubin] did it and then later other female jockeys like Julie Krone came along and became well-known everywhere."
Rubin downplays her role as the "female riding pioneer." But she appreciated the ceremony on Friday evening commemorating the 50th anniversary of her milestone triumph aboard Cohesian and enjoyed the hugs from those former female jockeys who were on hand to share in the moment in the winner's circle.
"The other girl jockeys call me a pioneer, but I never even thought about it that way," Rubin said. "Back when I rode that night I had to change in the nurses' room. They didn't have a separate room for the girl jocks. I just wished that I could have ridden professionally a little while longer. But the injuries just were too painful. I still love the horses and I get on them every morning, every day. They're still a big part of my life and I don't have any plans to retire from working with the horses."