Mini Bolt strikes, breaks maiden in 51st start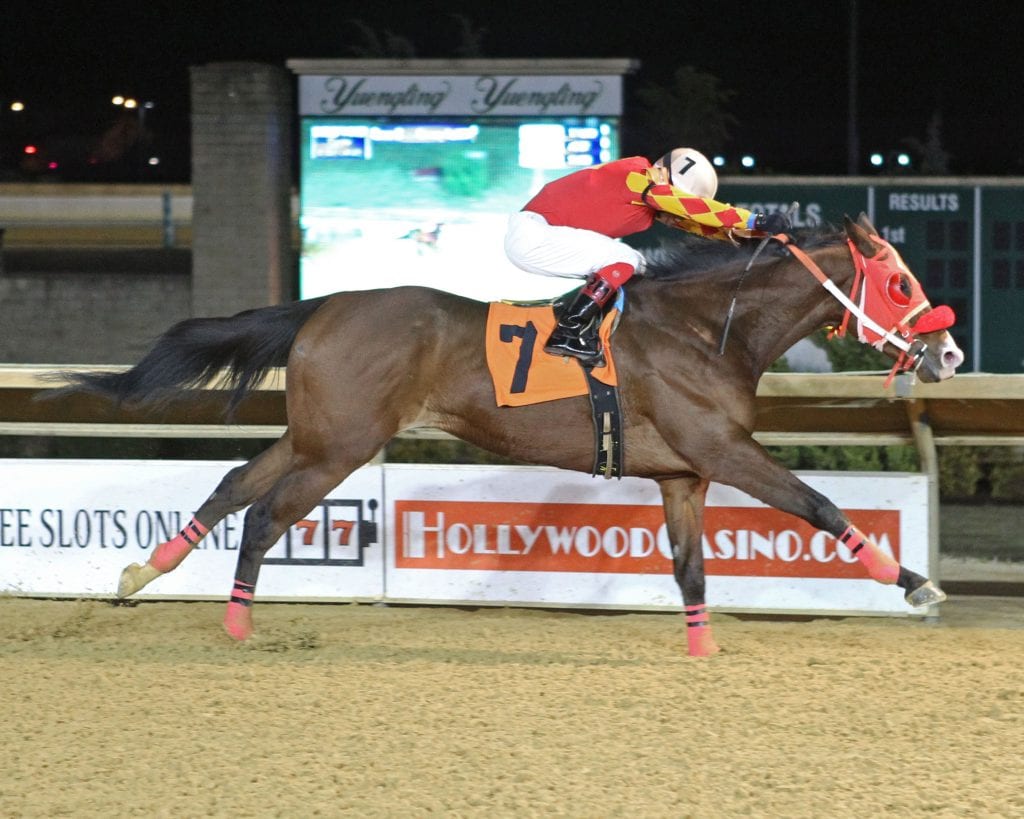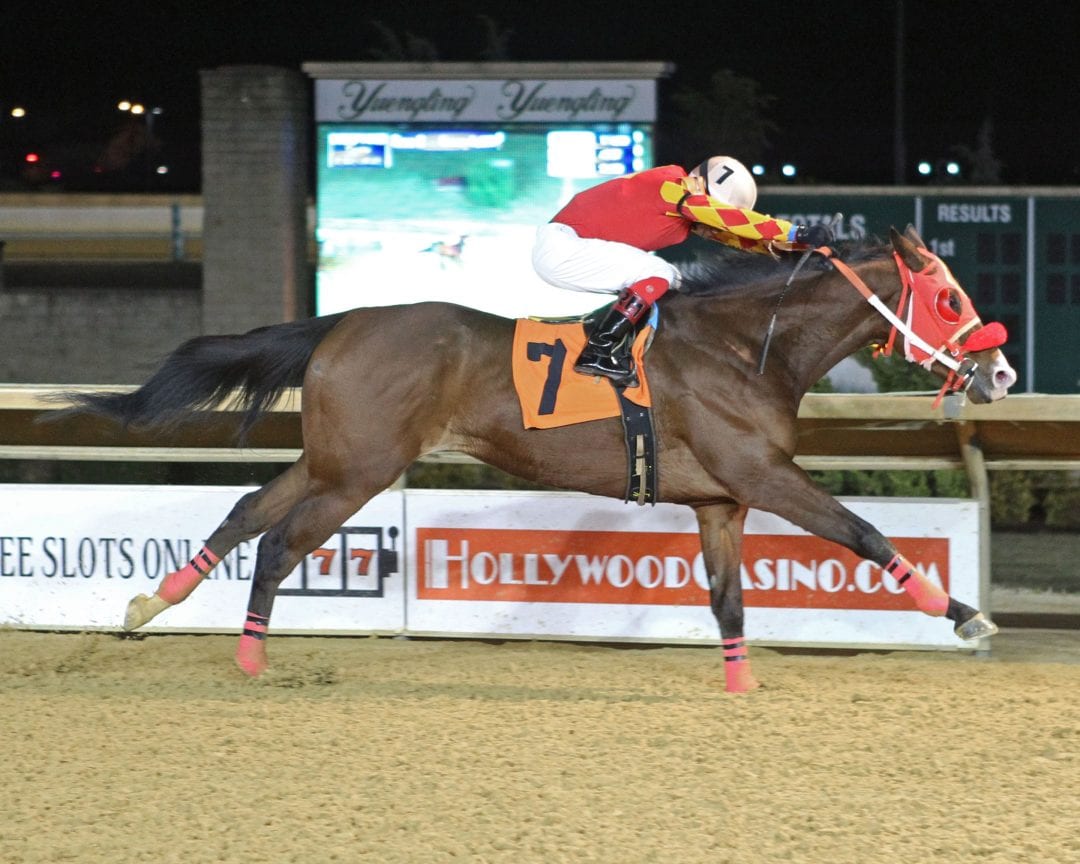 Mini Bolt won at 51st asking at Charles Town. Photo by Coady Photography.
Seven-year-old Mini Bolt loves candies and other sweet treats. So perhaps it was inevitable that he would break his maiden on Valentine's Day, even if that graduation was long delayed.
Last Thursday, Mini Bolt finally earned his maiden score in the 51st start of his career – a win that both allowed him to leave the winless ranks and provided his 26-year-old conditioner, Nelsi Roman-Salon, her first victory as a trainer in 32 starts in her young career.
Mini Bolt, a seven-year-old Windsor Castle gelding co-owned by Roman-Salon and her father, Saturnino Naupac, finally broke through last Thursday to score in a 6 ½-furlong maiden $12,500 claiming event as the 9-1 fifth choice. He navigated the two-turn distance in 1:21.80 to win by a couple of lengths. It was his seventh start for Roman-Salon, having spent the two previous years in trainer Sharilyn Stephens barn after opening his career with trainer Lewis Close on February 12, 2016.
"He's really just the sweetest horse in the barn," said Roman-Salon, who noted her younger sister, Georgiette Naupac, is his primary exercise rider. "He has a calm demeanor. Every one in the barn loves him. When he won the other night on Valentine's Day, that was the best present of all. That was better than flowers or candy. I was so happy. He's seven, but we're not going to retire him just because he finally won one race."
Mini Bolt has tried all five primary distances that Charles Town offers, ranging from the one-turn sprint dash of 4 1/2-furlongs to the three-turn routes at one-mile and one-sixteenth and one-mile and one-eighth. He has raced against both maiden special weight company – 18 times – and maiden claimers. Overall, he's raced 51 times, with six runner-up efforts and seven third-place finishes – and, at last, that one victory.
"He had run a few good races against maiden special weight horses," said Roman-Salon, whose father Saturnino Naupac was a former exercise rider in Peru and brother of former Charles Town jockey, Alejo Naupac, who won 67 races from nearly 1,600 mounts in his career. "He finished second for me [on Jan. 5] but then he was no good in his next start, so we decided to put him back in with maiden claimers last week. He has some speed and he made the front for [jockey] Ramon [Maldonado] and he just kept going. It was so exciting."
From his first starts, Mini Bolt had given some indication that he could be a career maiden. He finished third just once in 15 tries in 2016, and it took him seven more attempts to better that, which he did when finishing second – albeit via disqualification, when he was moved up from third – on May 12, 2017.
After another runner-up result two races later, Mini Bolt made 11 of his next 17 starts at the maiden special weight level, finishing second once and third twice. Eventually – finally – at long last – he found his way back to the $12,500 level against state-breds and caught a group he could beat.
Roman-Salon began training last October, sending out 23 runners in 2018 with a second and a third, both by Denise of Cork, her best results. Prior to last Thursday, she'd had eight more starts in 2019, with a second – by Mini Bolt – and a third by Denise of Cork her best outcomes. Finally, for Valentine's Day, she scored that elusive first victory.
"It was definitely very exciting," said Roman-Salon, who has two young sons, Saturnino, 2, and Winderson, 6 months. "We've had him for three years and he's always been such a nice horse. My sister rides him in the morning and he's almost like a pony. I will look for another race for him next month. I'm happy he won, but I don't want to retire him just yet."