First times for everything: The week in maiden winners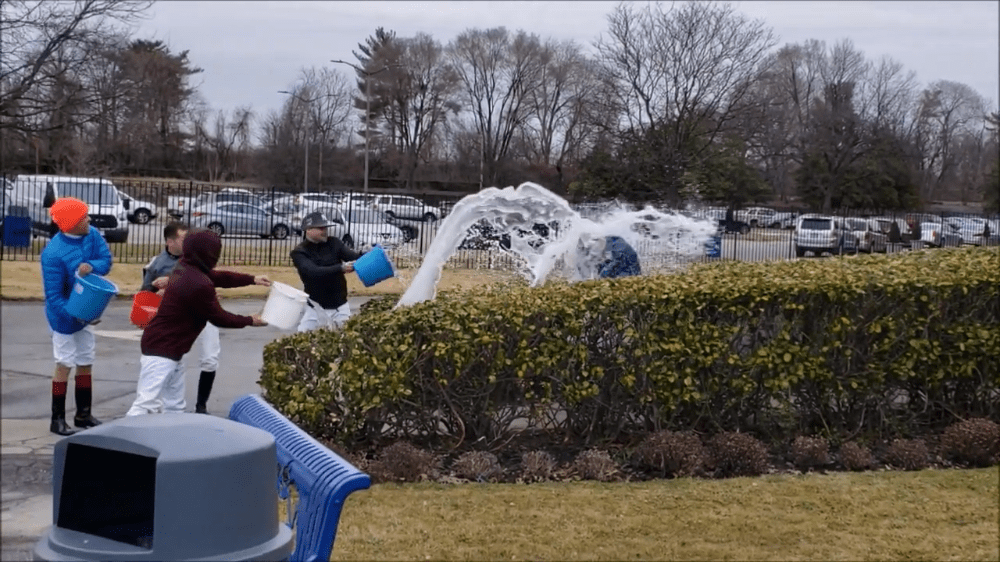 Victory bath for Victor Rosales.
The week's maiden winners (from Wednesday through Tuesday) included not only horses leaving the winless ranks but also people doing so.
At Laurel Park, Victor Rosales, a 29-year-old apprentice making the ninth start of his career, steered Pink Pearl to a four-length victory in a $16,000 maiden claimer
"It's amazing," Rosales said, moments before his jockey colleagues gave him any icy bath. "It's what I've been working for."
LAUREL PARK MAIDEN WINNERS
| | | |
| --- | --- | --- |
| Horse, state bred, trainer, and jockey | Level | |
| Gateau St Honore (KY), trained by Magee Kieron and ridden by Cedeno C | MCL 10000 | $5.40 |
| Higher Purpose (MD), trained by Haughton Donnovan and ridden by McCarthy T | MCL 16000 | $3.20 |
| Jackgreerstubhutch (MD), trained by Merryman Ann W and ridden by McCarthy T | MCL 10000 | $2.60 |
| Le Gros Bill (NY), trained by DePaz Horacio and ridden by Cintron A | MCL 25000 | $7.60 |
| Lucacito (FL), trained by Gonzalez Claudio A and ridden by Carrasco C | MCL 10000 | $5.60 |
| Pink Pearl (VA), trained by Schoenthal Phil and ridden by Rosales V | MCL 16000 | $15.60 |
| Revolutionary Road (KY), trained by Vukelic Robert S and ridden by Montanez R | MCL 50000 | $10.60 |
| You'll Like It (KY), trained by Ness Jamie and ridden by Davis K | MCL 10000 | $4.20 |
CHARLES TOWN MAIDEN WINNERS
It took Mini Bolt a little while to figure out this racing thing. Like, 51 starts.
But on Valentine's Day, in the 51st start of his not very distinguished career, Mini Bolt finally left the maiden ranks with a two-length victory at the $12,500 maiden claiming level. The victory also pushed his earnings past the $51,000 mark in a career that began in 2016.
The victory was also the first for trainer Nelsi Roman-Salon, for whom Mini Bolt's race was the 32nd career start.
| | | |
| --- | --- | --- |
| Horse, state bred, trainer and jockey | Level | $2 win payout |
| Animation (WV), trained by C G Pickett and ridden by D Thorpe | MSW s | $6.60 |
| Holy Freedom (MD), trained by R P Clement, III and ridden by V Rodriguez | MCL 12500 | $11.40 |
| Lucky Ned Pepper (WV), trained by M Mangual and ridden by C J Delgado | MCL 12500 s | $3.00 |
| Mini Bolt (WV), trained by N Roman-Salon and ridden by R Maldonado | MCL 12500 s | $21.20 |
| Morningafterblues (KY), trained by E Perez and ridden by W Rocha | MCL 12500 | $4.20 |
| Old Line Malibu (MD), trained by M A Shanley and ridden by D Araujo | MCL 5000 | $9.00 |
| Top Hat Tune (KY), trained by W Potts and ridden by K Trotman | MCL 12500 | $6.00 |
| Zum Wohl (WV), trained by J C Runco and ridden by K Trotman | MCL 7500 s | $4.00 |
PENN NATIONAL MAIDEN WINNERS
| | | |
| --- | --- | --- |
| Horse, state bred, trainer and jockey | Level | $2 win payout |
| Mr. Positive (PA), trained by J Acksel and ridden by D G Whitney | MCL 5000 | $8.80 |
| No Hitter (NY), trained by A Aguirre and ridden by T Lyapustina | MCL 15000 | $7.20 |
| Wee Miss Dorothy (ON), trained by L C Linder, Jr. and ridden by A R Rodriguez | MCL 10000 | $3.40 |
PARX RACING MAIDEN WINNERS
| | | |
| --- | --- | --- |
| Horse, state bred, trainer, and jockey | Level | $2 win payout |
| Brown Essence (NY), trained by P Farro and ridden by W Torres | MCL 20000 | $6.60 |
| Pantaloni (PA), trained by R E Reid, Jr. and ridden by E Rivera | MCL 20000 | $11.40 |
| Sams Last Ghasp (NY), trained by P Farro and ridden by W Torres | MCL 40000 | $28.80 |
| Terquito (KY), trained by M V Pino and ridden by M J Sanchez | MCL 10000 | $4.80 |
| The Circle Game (PA), trained by J Serey and ridden by J Correa | MSW | $12.00 |
| Victoria E (PA), trained by R E Reid, Jr. and ridden by F Pennington | MCL 20000 | $14.60 |