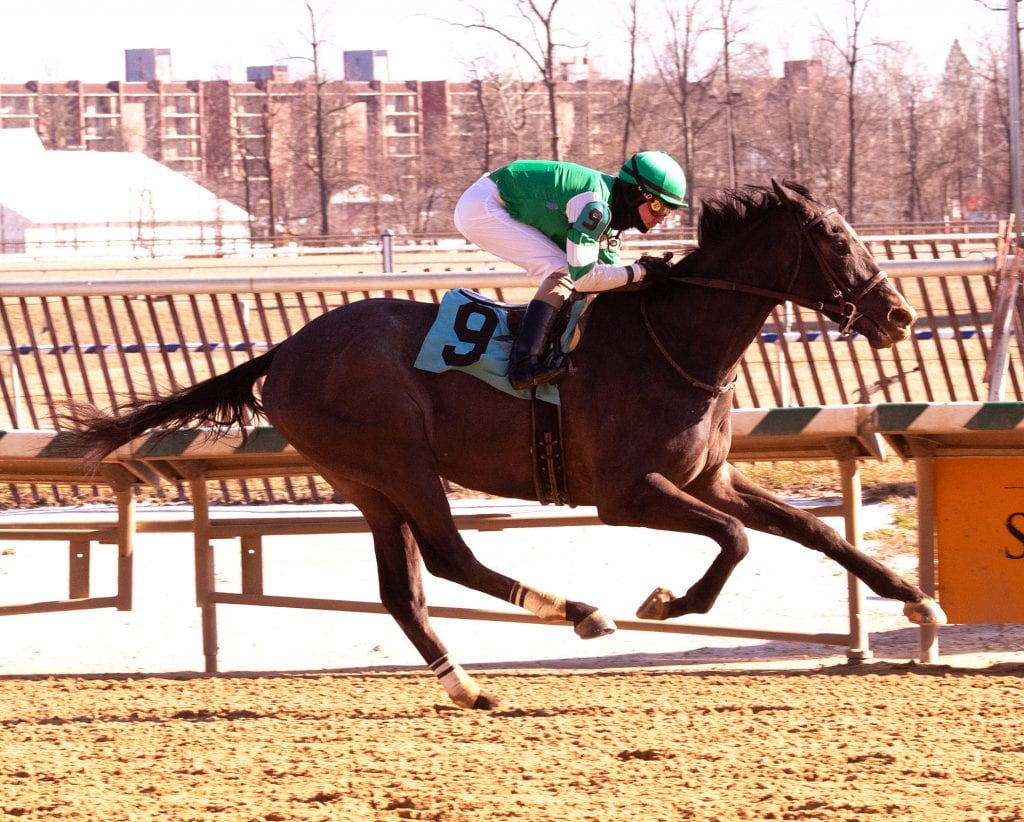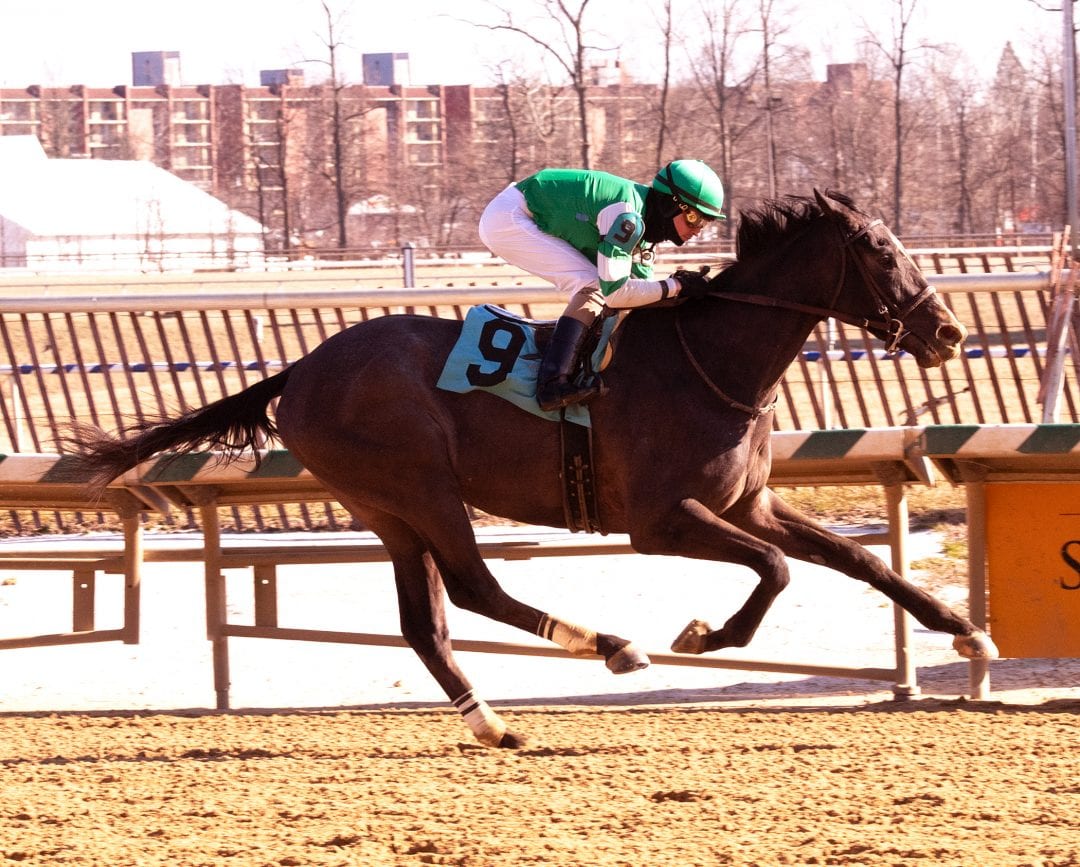 Lordhavemercy. Photo by Jim McCue, Maryland Jockey Club
by Frank Vespe
"I bought my ticket to Louisville," Frank Bonsal, Jr. joked in the aftermath of Saturday's fifth race at Laurel Park.
And why not? His three-year-old homebred, the aptly named Lordhavemercy, had just made his first career start in a $40,000 maiden special weight contest, and he'd caught everyone — trainer, owner, and betting public included — by surprise by rallying late to win by a couple of lengths against a solid group.
"Very surprised, but we didn't know," Bonsal added. "Now we know."
Indeed. Against a group that included Baptize the Boy, an impressive runner-up on debut, Triple Crown nominee Fast Master from the powerful Graham Motion barn, and hard-hitting V. I. P. Ticket, Lordhavemercy, under Sheldon Russell, dawdled towards the rear of the field through the opening half-mile, saved ground on the turn, tipped out to gain running room between runners, and kicked in eagerly to win by a shade over two lengths in 1:10.11 for six furlongs over a fast main track.
Lordhavemercy paid $84.00 to win as a 41-1 outsider. The exacta, with Fast Master in second, returned $216.90 for a buck. Favored Baptize the Boy missed the break and then rallied mildly late to earn fourth.
Despite the good-looking win, trainer Mike Geralis said he hadn't expected such a strong debut and, as a result, didn't cash a ticket.
"He was very game in his works," Geralis said. "But he'd been basically working with some lower-class maidens, and what does that tell you?"
In his final work before today's race, on January 26, Lordhavemercy, a Maryland-bred son of Jump Start, had posted a five-furlong move from the gate in 1:03.
"I don't think the clockers were impressed, either," Geralis added.
But now they know. Next up, Geralis said, will likely be first-level allowance.
Carrasco escapes potential odd injury
Oxhilirating is clearly a horse moving in the right direction, and today she ran a first-level allowance field off their feet to post a 3 1/2-length win at odds of 3-5.
Oh, and she bonked rider Victor Carrasco in the nose, causing what the rider feared was a broken nose. Fortunately, that was not the case.
I thought she broke my nose because I felt the blood coming off badly . . Thank God it didn't happen. https://t.co/QDtUi77UeG

— Victor R. Carrasco (@VictorJockey) February 9, 2019
Oxhilirating, a four-year-old Oxbow filly trained by Michael Gorham for owner Bob Bone, didn't make it to the races until late in her three-year-old season, but she's made up for lost time since. The win Saturday was her third in five starts, and she's run better as the distances have gotten longer.
In today's 1 1/16 mile test, she sped to the early lead, setting solid fractions — 46.64 seconds for the half-mile, 1:10.86 for six furlongs — before responding well when challenged in upper stretch, holding firm to win comfortably in 1:43.01 for the two-turn trip.
Soon after the wire, when apparently jumping footsteps on the track, she stumbled when landing, her head jerking upwards — directly into Carrasco's nose. He pulled her up quickly, and jumped from the horse, throwing his helmet to the ground in frustration.
But after an on-track examination, Oxhilirating walked back to the barn under her own power. And Carrasco, though bloodied, remained unbowed.