Charles Town: Dillow, House of Love seek consistency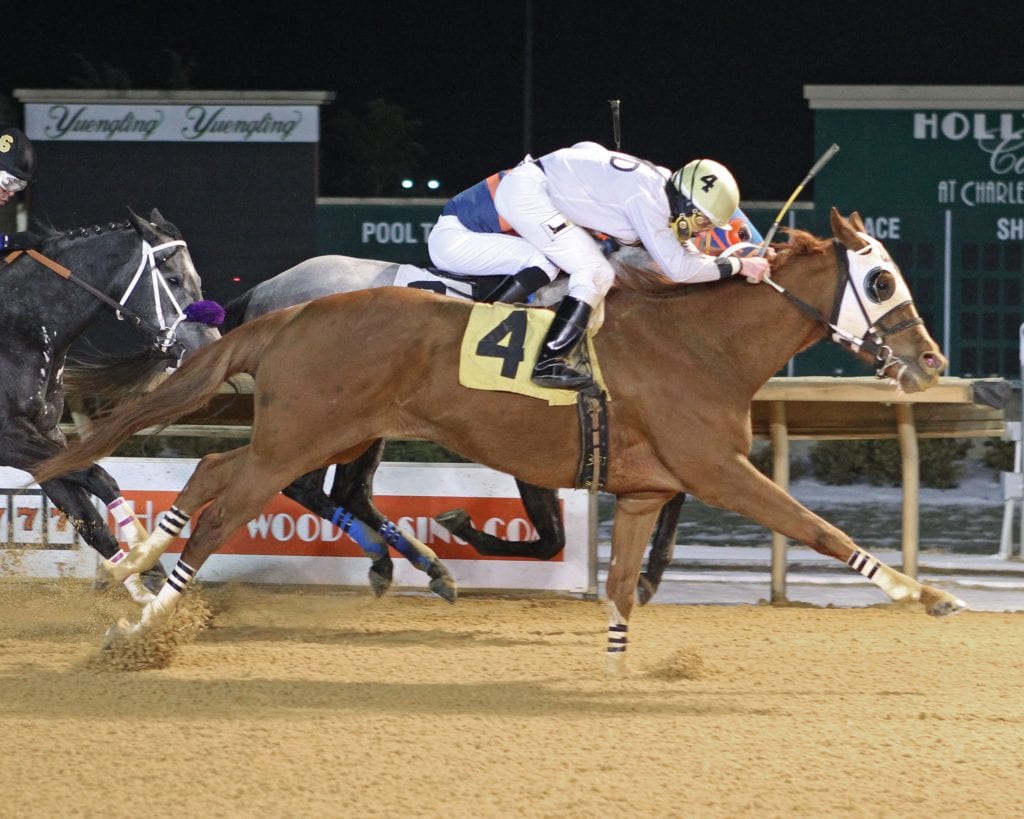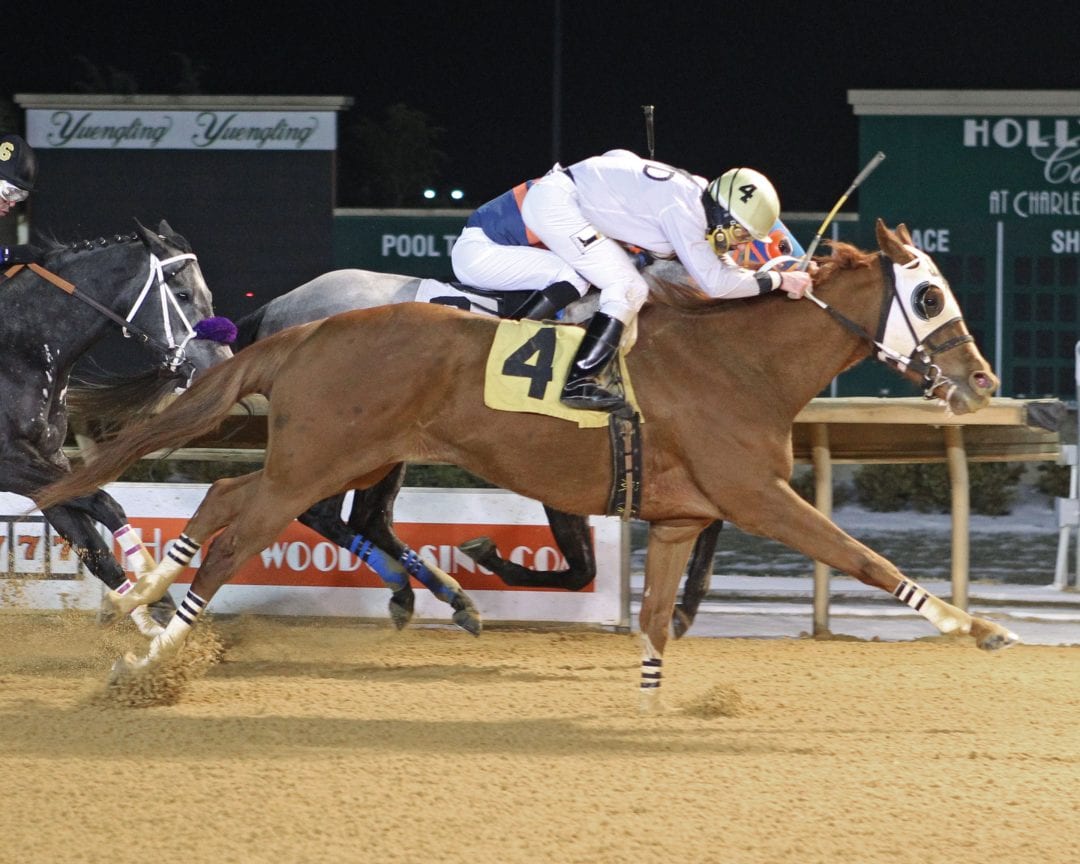 House of Love took an allowance at Charles Town Races with Victor Rodriguez in the irons. Photo by Coady Photography.
by Ted Black
At times during her career, House of Love has given owner-trainer John Dillow hope that someday his five-year-old daughter of Limehouse can put everything together and develop into a formidable runner over the Charles Town strip.
Last Saturday evening House of Love again gave a tantalizing hint of such a future. She overcame traffic trouble entering the far turn then rallied down the center of the course to forge a neck victory as a 6-1 shot in a one-turn allowance dash for state-bred fillies and mares. It was a performance that seemed somewhat reminiscent of her career debut at age two, when she rallied to post a 9-1 upset in a one-turn maiden special weight event for freshmen fillies. That win prompted Dillow to try her in stakes twice before the end of her juvenile season.
"She had trouble early in the race and was checked and steadied at the three-sixteenths pole, and she was still able to overcome all of that and win," said Dillow, who has saddled 455 winners with earnings of over $4.2 million in his career. "She's just never been consistent. She's always been really sound. We've never had any issues with her in regard to her soundness. It's just been a matter of getting her to develop some consistency."
But, unfortunately for Dillow, each of House of Love's two previous wins has been followed by a prolonged drought. In a very deep sophomore division in 2017 that included Moonlit Song, Lies and Scandals and Starlight Flight, House of Love needed until October 27, 2017 to finally break through against allowance foes. Again slightly overlooked by the public, House of Love prevailed at 9-2 while getting the seven furlongs in 1:27.48 for the second win of her career.
"I thought she ran really well in her career debut," Dillow said. "She had been training good, and she raced well going 4 1/2-furlongs. We tried her in the [Triple Crown Nutrition] stakes on Breeders Classics night, but she wasn't ready to go two turns just yet. We put her back in going 4 1/2 in her next start and she finished second. She's run some good races, but she's never been able to put in too many back-to-back races."
Once again the victory by House of Love did not translate into immediate success and was again followed by another prolonged drought that lasted through her entire four-year-old campaign of 2018. House of Love was beaten in the last two starts of 2017 then suffered nine more setbacks last year, finishing second twice, third twice, fourth twice and fifth on three occasions. While Dillow pondered her lack of consistency, House of Love was able to earn just shy of $20,000 for the season.
"Last year she ran nine or 10 times and she wasn't able to win a race," Dillow said. "She finished second a couple of times and third a couple of times, but she went all year without a win. It was great to see her break through and win the other night. She's probably a little better going 4 1/2, but she did win a race going seven [furlongs] once. She won her non-winners of three lifetime, so now she has to go in open company. But I believe she can win that open non-winners of two twice. That gives the West Virginia-breds up here a chance to make a little money."
While House of Love looks to embark on a win streak, Dillow recalls one of his former trainees who had no trouble stringing wins together. Gold Watch, trained for much of his career by Lee Couchenour and at the end of his career by Dillow, enjoyed a stellar career at Charles Town before slots arrived and also made his presence known at Timonium in Maryland en route to winning 13 times in his career, including four- and three-race win streaks. Under Couchenour's tutelage, Gold Watch became the first horse in Charles Town history to eclipse the 51-second barrier for 4 1/2-furlongs when he established a track record of 50 4/5 – well before races were timed in hundredths – on January 8, 1982. That mark stood for nearly 20 years and has since been lowered several times, most recently by Immortal Eyes to 50.09.
"He was one really fast horse," Dillow said of Gold Watch. "It seemed like I was just getting started when he set the track record up here. He loved the smaller tracks. He had a lot of speed. He just always had bad feet. But he was definitely one really fast horse."
Note: The original version of this story did not mention Lee Couchenour and left the impression that Dillow was the trainer of Gold Watch when he broke the track record. We apologize for any confusion.