R T's Spot Plays: Charles Town January 25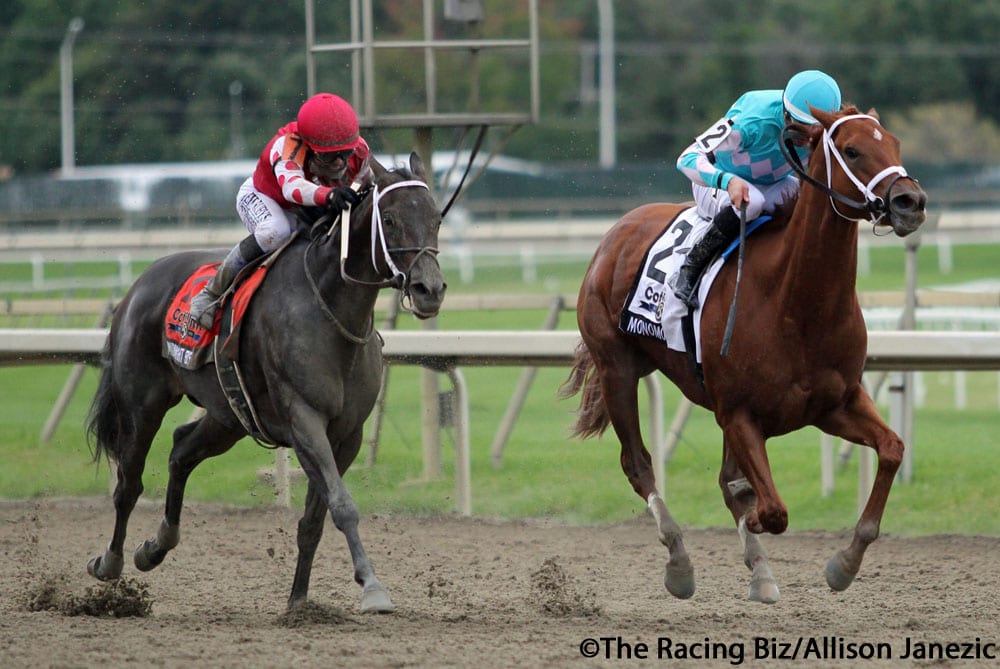 by RT
30 degrees at post time…brrrr…
MUSINGS
First and foremost, congratulations Wes Hamilton. You are now the 11th Maryland-based jockey to win the Eclipse Award as top apprentice. Bravo!
I'd also like to say to my brother, John: Great news on Thursday. What a relief to find out that your doctors caught the tumor in such a short time. Whew! I love you.
From the still no vaccine for dumbass files, we'll turn to the National Football League.
First, Baltimore Ravens owner Steve Bisciotti. When my cousin broke into Major League Baseball as a pitcher, I went to almost every home game. Unfortunately, by the time he saw a team the second time, they had him clocked on every tendency, pitch and movement. I mention this because my deepest sympathy to Raven Nation in Bawlmer and elsewhere. Four more years of John Harbaugh means four more years mired in mediocrity. Lamar Jackson will not likely be Harbaugh's savior, as witnessed by the strategy the Chargers deployed against him: stack the line and make him beat you with his arm. They had him clocked. Next year, other teams will follow the Chargers' lead…
Also, the entire officiating crews in both playoff games. 'Nuff said.
CHARLES TOWN RACES RACE 1
5 to win and twice as much on her to place
4 on the lead, 3/6 near
#5 Morningafterblues (5-1): Last out, in open company, Morningafterblues broke out, bumped the gate, led twice and dueled to get up for 2nd. She is a game filly.

#4 Tamarack Gal (2-1): Trainer Phil Schoenthal sends this filly out for her second after being claimed. She will have Xavier Perez in the irons and the duo of trainer/jock is getting 20 percent winners.

#1 Queen Courage or #2 Viola's Legacy: The former has 18 outings win zero wins and the latter has 19. Can either graduate tonight?  In the words of Pittsburg Phil, "Winners repeat frequently while the defeated are apt to be defeated almost continuously."
CHARLES TOWN RACES RACE 2
#2 to win and twice as much on him to place
Exacta 2-5-6
#2 Katman Quick (3-1): This race has speed and pressers, so it's best to go with one of the top jockeys, in this case Jose Montano. Montano and trainer Ronney Brown team snag 28 percent winners, and Katman Quick is 2nd off of a layoff. In his last race, this gelding got into a speed duel on the dead rail and eventually, he ran 2nd. He has a closing style which will show down the stretch.

#4 Letcher (4-1): It's hard to buck a horse that is 7:3-1-0 at this distance and track. Rodriguez and Gazzier are rolling along at 19% wins, and Letcher is also 2nd off a layoff where his previous three races would be enough to lap this group.

#6 Charitable Mark (6-1): This guy is going to blast out of the gate and see if the pack can catch up. Maybe, maybe not.
CHARLES TOWN RACES RACE 3
Exacta Box 7-2-5
5 on the lead, 8/1 behind
#7 Tailored Energy (12-1): We'll take a shot on this gal as she comes out of open maiden company and moves into WV-bred claiming. Her only two outs were in the nasty slop where she showed a proclivity to close, so the extra distance will be a benefit.

#2 Charitable Rose (2-1): This miss drops back into the claiming ranks where she has been much more competitive in the recent past. Jockey Christian Hiraldo and trainer James Casey are hitting 20% winners. Her style is to press, and she should lay up and strike.

#5 Ellie Bear (4-1): Jockey Gerald Almodovar is getting 17% winners, and he is on this speed type, who may just wire this bunch