Jockeys' Guild elects new board members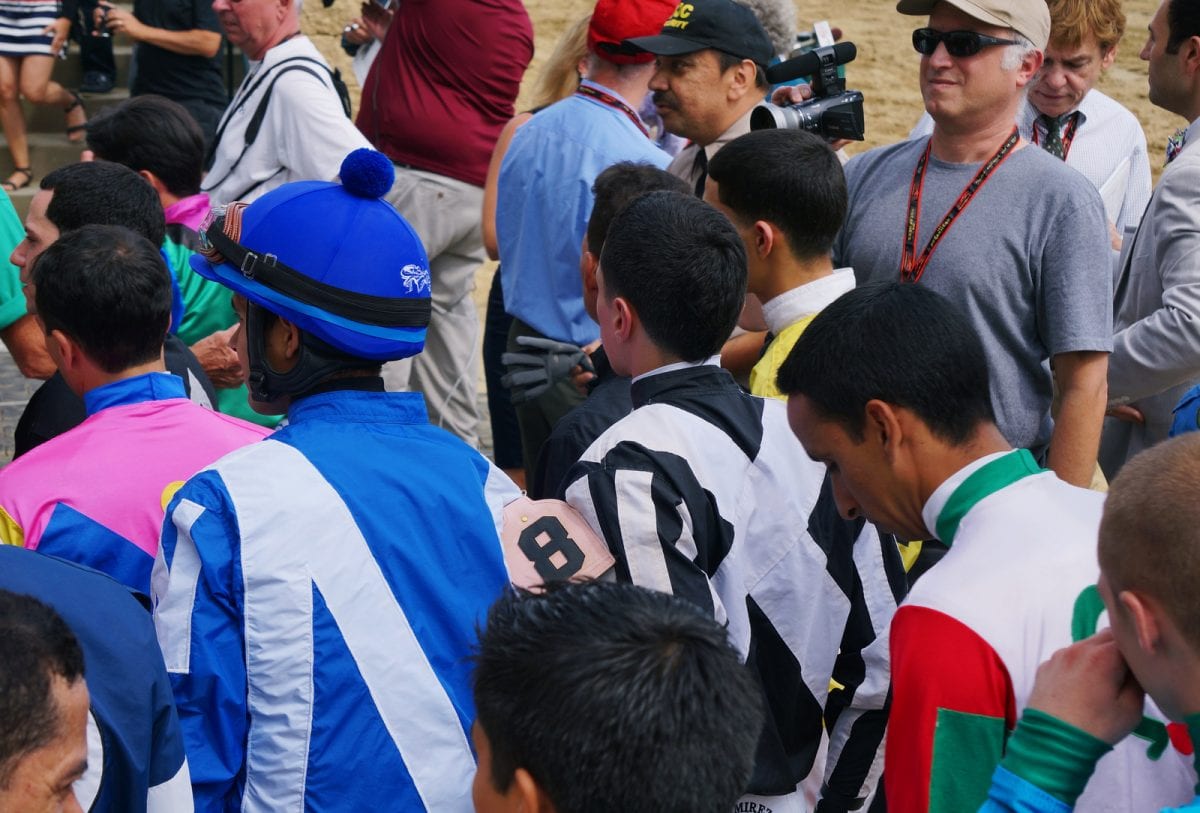 Photo by Vas.
From a Jockeys' Guild release release
The Jockeys' Guild held its 2018 Annual Meeting, sponsored by TVG Betfair USA, in Las Vegas, Nevada on December 10 and 11, 2018.
The assembly was attended by active and retired jockeys from the Thoroughbred and Quarter Horse industries, with jockeys representing tracks throughout the United States. Those in attendance participated in presentations and discussions on how to enhance the sport of horseracing, improve the conditions under which Guild members ride, and what can be done to assure that the younger riders carry on the traditions of the Guild.
Guild leaders and staff lead discussions on how members can access jockey benefits provided directly by the Guild and benefits the Guild has negotiated with horsemen organizations and race tracks. Since 2007, the Guild has provided its members $13.5 million dollars in benefits, including health and welfare reimbursements. Funding from industry partnerships, which the Guild has with the majority of major racetracks, as well as the dues and fees paid by members, is used to provide critical benefits to its members.
Matt Nielsen of Stonecrest Partners provided an update on the retirement plan that has been established for members of the Guild. Jockey participation in the Plan is growing and more and more tracks are authorizing their bookkeepers to deduct contributions to the Plan from mount fees. Jockeys who ride at tracks that are not yet participating, can contribute directly to the plan.
Focusing on the health and welfare of the jockeys, the riders heard from Randy Grimes, retired NFL player, of Transformations Drug & Alcohol Treatment Center, and Dr. Gerald Kaforey of After the Impact. Through the continued support of The Stronach Group, there have been additional jockeys who have been afforded the opportunity to work with After the Impact, which specializes in offering treatment to military veterans and elite athletes who share many of the same characteristics. Additionally, the members were informed about treatment opportunities for athletes suffering from addiction or depression. Dr. Carl Mattacola and Dr. Kimberly Tumlin of University of Kentucky gave a presentation on risk perceptions and wellness factors impacting jockey health.
The first day ended with a well-attended party at Top Golf including golf contests, bull riding and dancing. The second day began with an update on the Permanently Disabled Jockey Fund. The Fund has 58 active recipients and is expected to add several new members after the qualification process has been completed. PDJF has disbursed $10 million to permanently disabled riders. Successful fund raising in 2018, including a very successful TVG telethon, has given PDJF 30 months in reserves to support PDJF benefits for permanently disabled riders.
Stephen Kennelly of Betfair USA reported on the success of the PDJF telethon and the plans for the 2019 telethon. He also reported on Betfair's expansion plans in 2019.
Lafitt Pincay III moderated a panel on Carrying on the Tradition of jockey leadership in racing which featured John Velazquez, GR Carter, Mike Smith, Ricky Ramirez, Javier Castellano and Joel Campbell. These riders discussed the need for new generations of leadership for America's jockeys.
During the awards luncheon, the Eddie Arcaro Award was presented to Barry Broad, Laffit Pincay, Jr. Awards were given to John Velazquez for his lifetime achievements as well as Mike Smith for his outstanding year, the Jacky Martin Award was given to G.R. Carter, and the Ron Turcotte Award went to Gary Birzer. JockeyTalk360 made presentations based on 2018 to David Cohen for Comeback of the Year Award, Irad Ortiz, Jr. as Turf Jockey of the Year, and Drayden Van Dyke for Breakthrough Jockey of the Year.
The riders in attendance elected John Velazquez and Mike Smith as Jockeys' Guild Co-Chairs, Ricky Ramirez, Julian Leparoux and Javier Castellano as Vice Chairs, Joel Campbell as Treasurer, and Rodney Prescott as Secretary. Joe Bravo and Alex Birzer were re-elected and Joe Talamo was newly elected as members of the Board of Directors, with Ramon Dominguez was appointed as an ex-officio member of the Board.