Positivist "digs in" to break maiden in second start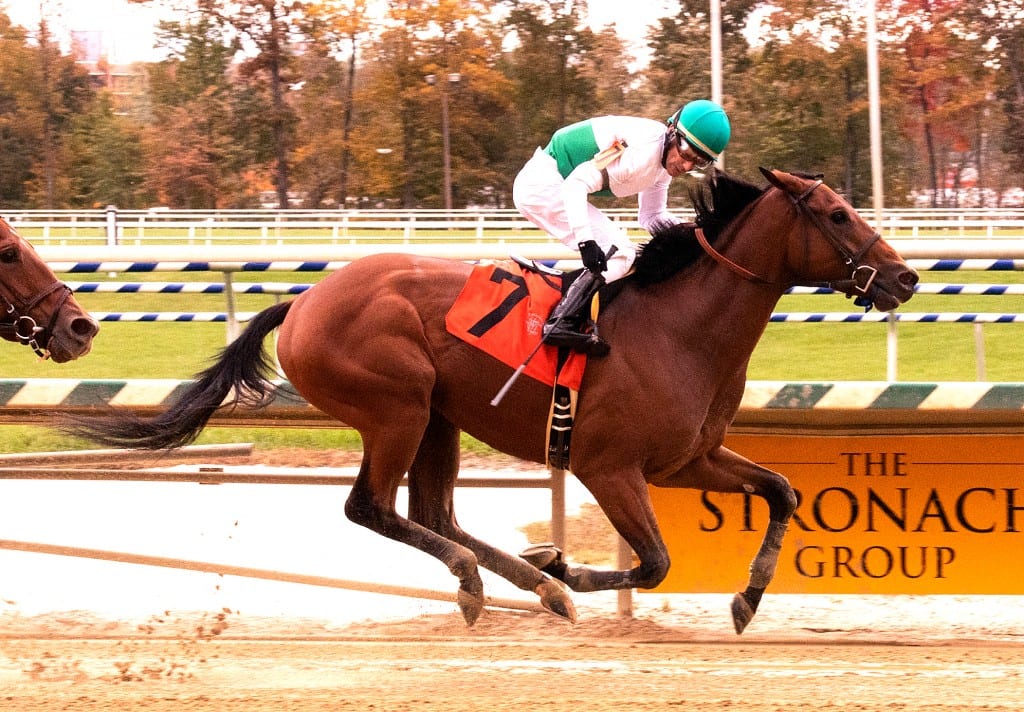 Positivist, with Mario Pino up, broke his maiden at Laurel Park. Photo by Jim McCue, Maryland Jockey Club.
by Frank Vespe
In his career debut, three weeks back, three-year-old Positivist found himself up against a tiger.
Today at Laurel Park, he was the tiger, and the result was a one-length, maiden-breaking victory.
"Today he dug in," said winning trainer Clyde Martin. "He dug in and showed himself a bit."
In his first start, October 8 at Delaware Park, Positivist found himself tangling with Under a Spell. That runner, a $275,000 auction purchase as a two-year-old, had run second in his debut — to Magnum Moon, who began his career with four successive wins, the last of which came in the Grade 1 Arkansas Derby. Positivist ran gamely to hold the place, while Under a Spell ran off to an eight-length victory.
There was no Magnum Moon in today's group.
Under jockey Mario Pino, Positivist broke alertly and gradually took over from Master Distiller, who was fastest out of the gate. Positivist led the field through an opening quarter-mile in 22.77 seconds, while Master Distiller, with Alex Cintron up, had shifted to Positivist's outside to give chase.
"I know he looks like he wants to be a speed horse, but he does it so easily," Martin said. "He's just cantering along."
Positivist led by a length over Master Distiller after a half-mile in 46.74 seconds. A Sagamore Farm-bred runner, Master Distiller kept trying all the way to the wire but could never shave much off his deficit, which remained one length at the wire. Running time for the six furlongs was 1:11.91, and Master Distiller was some six lengths clear of show horse Monumental Vending.
Sent off the odds-on favorite, Positivist paid $3.60 to win. The exacta returned $4.90 for a buck.
Positivist, a Quality Road colt, was bred by George Strawbridge and is owned by Strawbridge's Augustin Stable operation. He is out of the Deputy Minister mare Initiation. Martin said that he would probably take Positivist to Florida for the winner "and see what we can do there."
As a jockey, Martin won over 1,850 races, the last of those wins coming in 2011. He's been training horses since 2007, and in recent years has been training some for Strawbridge.
"They're wonderful people to train for," Martin said. "They give you all the time in the world for the horses and it shows."