"Special" Talk Show Man returns for fifth Maryland Million try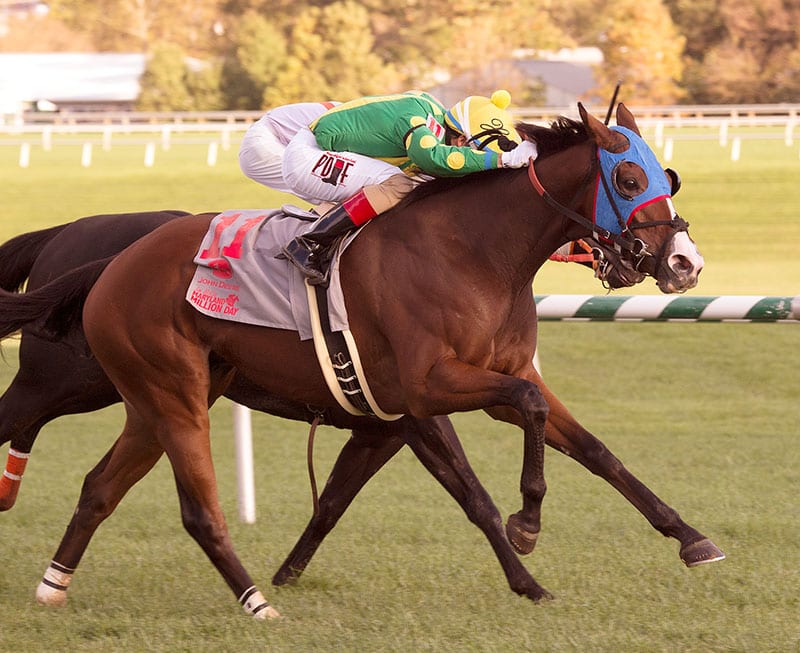 Talk Show Man won the 2014 Maryland Million Turf. Photo by Jim McCue, Maryland Jockey Club.
by Frank Vespe
Like a lot of horse racing stories, Talk Show Man's tale began, more or less, with an accident: in his case, an unpaid vet bill.
Veterinarian Dr. Michael Harrison had Talk Show Man's dam Mark Me Special on his farm. When her owner was unable to pay his bills, he suggested a swap: Harrison would take the then-maiden mare in lieu of payment.
"I liked the mare," Harrison said. "I liked her conformation, and her race record showed she was a hard-knocker."
Mark Me Special, a Maryland-bred by Haymaker, only won one time in her career but did make 35 starts in three seasons, grinding out $61,000 in earnings.
"But I didn't have any idea she'd produce multiple stakes winners," Harrison added.
Indeed. Among her offspring are three sons of Great Notion: the hard-knocking Slick William, who's banged out over $113,000 in earnings despite winning just twice in 24 starts; the talented but star-crossed Just Jack, who earned over $200,000 and won a stake in just 12 starts before dying of a cardiac arrythmia during the running of the 2016 Jennings Stakes; and big brother Talk Show Man.
Talk Show Man, a multiple stakes-winning earner of $384,556, will make just his second start of 2018 – but his fifth Maryland Million start – in Saturday's Maryland Million Turf. He is the 3-1 second choice on the morning line. Trainer Hamilton Smith will leg up Jevian Toledo.
"He performed well [when rallying to be fourth in the Laurel Dash last out in his first start this year]," Harrison said. "He looks good. He feels good. But it's going to be a tough field."
Talk Show Man's top Maryland Million result came in the 2014 Turf, when he rallied late to run down favored Ben's Cat and win by a half-length. He also ran fifth in the 2013 Classic and fourth in the 2015 Classic.
In last year's Turf, Talk Show Man came flying late but just missed, settling for third – beaten just a head – behind Spartianos, who had cut sluggish early fractions and had just enough to hold off the late runners.
Among all that was Talk Show Man's lost year, 2016, when he did not make a single start. Talk Show Man's 2015 season had begun with two of the best efforts of his career: an eye-catching five length allowance win on the main track and a nose win in the Henry S. Clark Stakes on the turf at Pimlico in April.
But then things went awry. A half-dozen subsequent starts that year netted no result better than fourth. So far had his star fallen by year's end, he went off at 39-1 in Richard W. Small Stakes at Laurel in November and finished eighth.
"He just wasn't performing as well as we had hoped," Harrison said. "He needed some time off. Sometimes when horses aren't running the way they should, and they don't look like they're totally happy, they need time off."
After struggling to find the cause of Talk Show Man's malaise, the vets eventually settling on a diagnosis of a condition called MROSS (maladaptive repetitive osseous stress syndrome).
"Kind of a repetitive stress disorder," Harrison called it. The remedy: time.
After missing all of '16, Talk Show Man came back with a productive, but in a sense disappointing, 2017. He won once and earned over $67,000. But he wasn't far from having a much better year. He was beaten a neck in the Mister Diz, that head in the Maryland Million. He came up two lengths short in the Find after a rugged trip.
His lone start this year was a useful fourth-place finish in the six-furlong Laurel Dash on September 22. He was beaten three lengths that day and here will stretch to the one-mile distance that's been his best. He's four-for-seven and has earned more than $213,000 at the trip.
His main rival looks to be the favorite, two-time Turf champ Phlash Phelps from the Rodney Jenkins barn. But that runner has questions of his own to answer: he's made just three starts (without a win) this year and must work out a trip from the far outside gate.
Whatever happens, Harrison said he's looking forward to cheering on his eight-year-old homebred, a horse he named to honor the late Baltimore talk show host Ron Smith.
"It means more to have a homebred here because you've got memories that go back to when he was a foal," Harrison said. "He's special."
MARYLAND MILLION TURF FIELD
1. Willy d'Rocket (PA) (15/1) –K A Colgan/F Boyce
2. Talk Show Man (MD) (3/1) –H A Smith/J Toledo
3. Somekindofmagician (MD) (15/1) –M J Trombetta/J Pimentel
4. Grandiflora (MD) (12/1) –A W Merryman/T McCarthy
5. Daniel Le Deux (MD) (8/1) –A W Merryman/S Russell
6. Love You Much (MD) (15/1) –A F Allen, III/H Karamanos
7. Elementary (MD) (15/1) –S S Cooney/J Ruiz
8. No More Talk (MD) (12/1) –L Gaudet/ No rider named
9. Crouchelli (MD) (20/1) –R S Vukelic/T M Hole
10. No Bull Addiction (MD) (12/1) –S Bracho/J A Bracho
11. Phlash Phelps (MD) (8/5) –R Jenkins/V R Carrasco
ALSO ELIGIBLES
12. John Jones (MD) (6/1) –L Gaudet/T McCarthy
13. Beltway Bob (MD) (15/1) –G L Wilson/F Boyce
14. Smokin Hot Factor (MD) (30/1) –D E Worton/R Montanez