Md. Million Classic: Trainers Voss, Maldonado approaching from different directions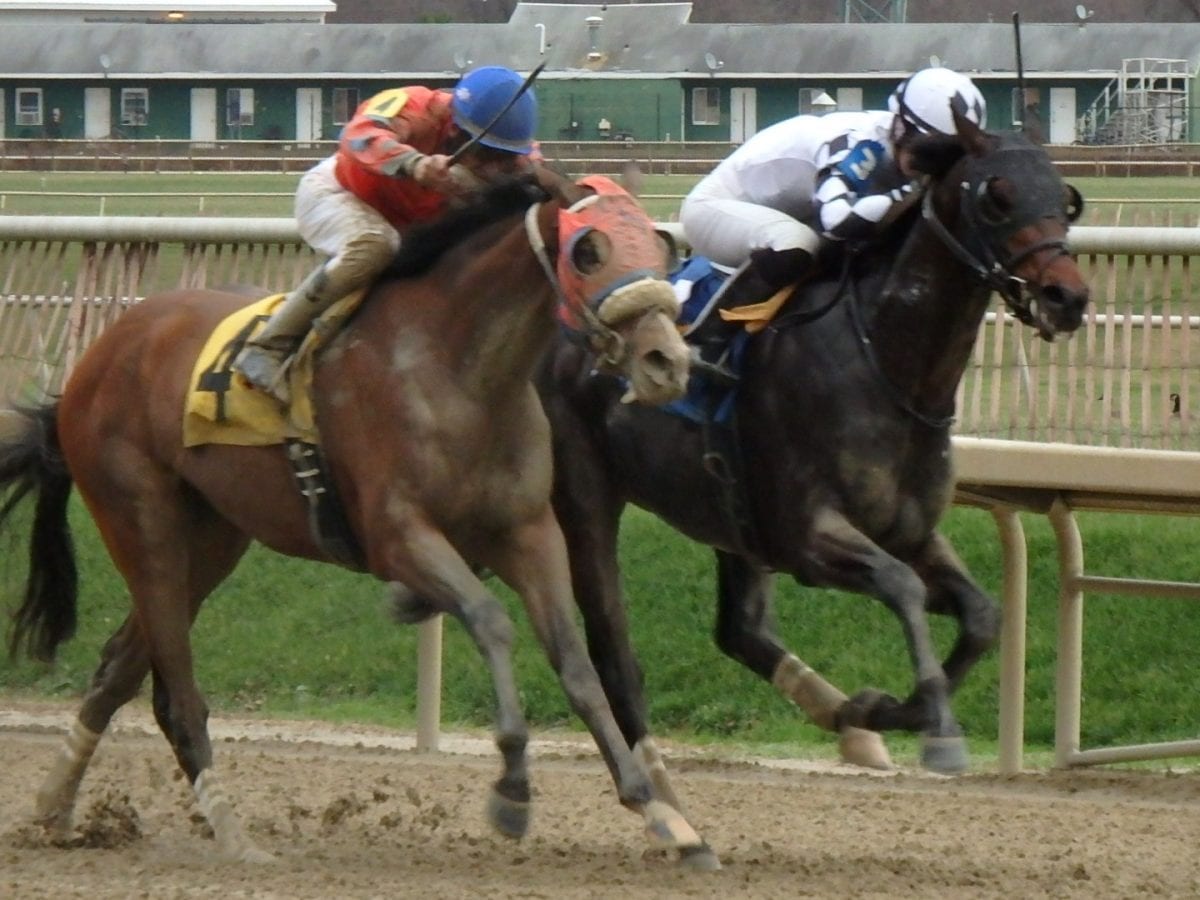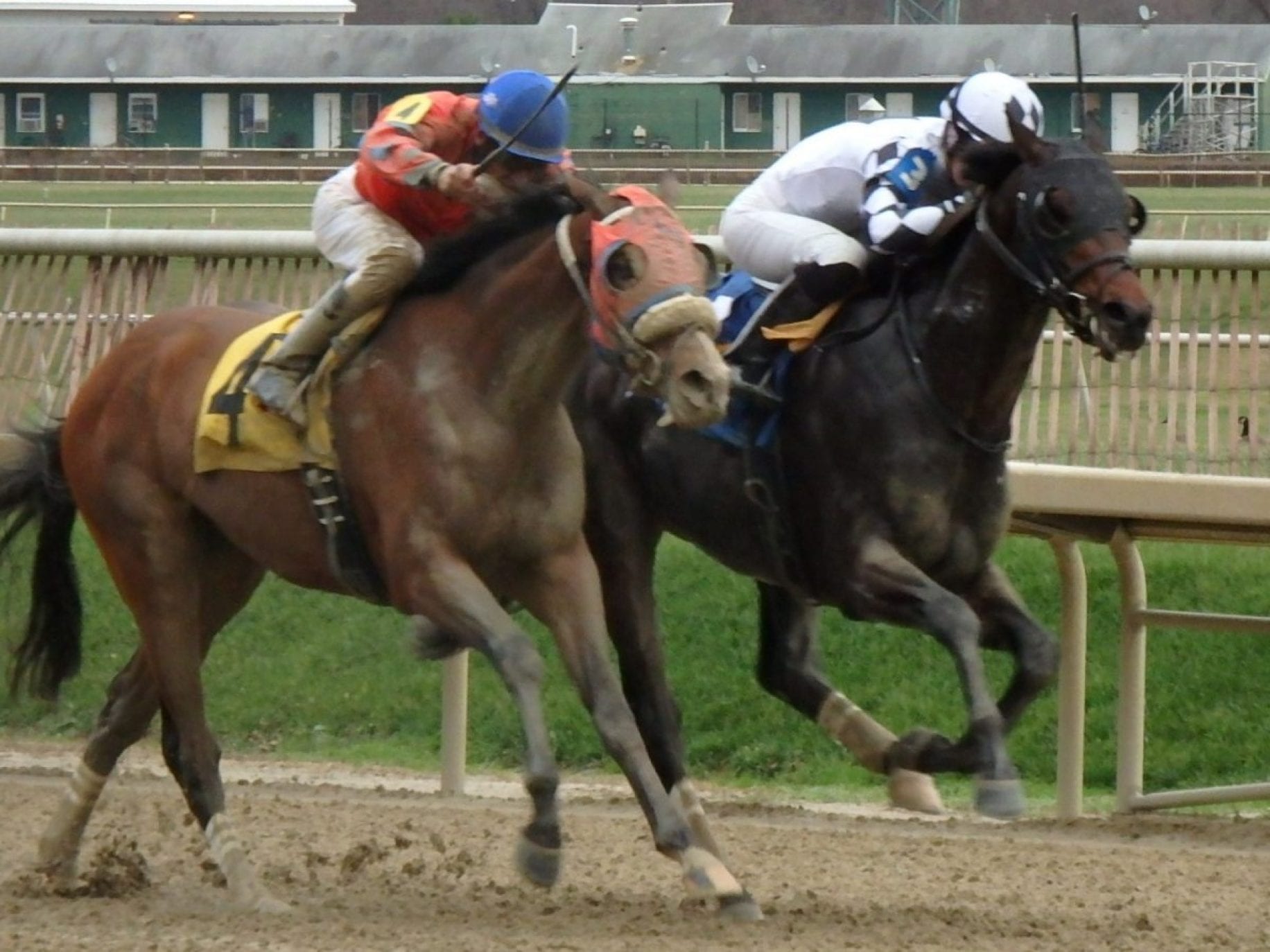 Flash McCaul (outside) in 2015. Photo by The Racing Biz.
by Frank Vespe
The three most accomplished horses entered in Saturday's $150,000 Maryland Million Classic — among them defending champ Bonus Points — are Maryland-bred but not Maryland-sired and, thus, not likely to draw in.
Maryland Million races are limited to Maryland-sired horses as long as six or more face the starter. With 10 Maryland-sired runners entered in the Classic, it's exceedingly unlikely that any of the also-eligible runners will end up in the race.
That's good news to the mostly local connections behind the 10 runners in the main body of the race — among them a Maryland native from a longtime Maryland racing family who trained a member of the first class of the Maryland Thoroughbred Hall of Fame and a son of Puerto Rico hunting his first stakes win on the mainland U. S.
Trainer Katy Voss — she also trained state Hall of Famer Twixt — will saddle the favorite in here, Saratoga Bob (3-1), which she bred in partnership with Bob Manfuso and owns in partnership with Manfuso and Wayne Harrison.
"He's a nice honest horse," Voss said while pointing to her head, adding, "A little bit of a flake. He's given us an honest effort. He does everything we ask him to do."
Saratoga Bob — named for Manfuso, she said — is a Friesan Fire gelding out of the Kafwain mare Lucky Dance. His siblings include the stakes-placed Kaitain and the 12-time winner No More Excuses. He has been in the money in seven of eight starts, the lone exception coming last out in the one-mile, off-the-turf Find Stakes at Laurel.
"I hope he can get the mile and an eighth," Voss said. Saratoga Bob's best victory — against allowance foes — came going six furlongs. In his only two-turn try, which came on the grass, he was a willing third.
Voss, who has won three Maryland Million races, will have Hall of Famer Edgar Prado in the irons. Prado has won on Saratoga Bob twice. The duo will break from post number seven.
"I would have preferred an inside post. So that's up to Edgar to see if he can save some ground," Voss said. "I would think he'd be laying close. There's not a lot speed in the race. Everybody's going to want to be stalking; it's one of those kind of races."
At the other end of the experience spectrum is trainer Jonathan Maldonado, who'll send out another live runner in here in Clubman (9-2), who ran a decent fourth in this event last year.
Maldonado, who trains the Not for Love gelding for Gladys Martinez, arrived in the mainland U. S. in 2010. After some fits and starts, his career has been humming along the last couple of years, with 37 wins in 2017 and 24 thus far in 2018. But he's still looking for his first stakes win on the mainland.
"I was training back in Puerto Rico," Maldonado said. "I did pretty good, you know, I was training almost 80 horses, but the mood wasn't good anymore. So I wanted to prove to myself I could do it in the United States."
Clubman, a five-time winner with earnings of over $180,000 in his 20-race career, followed up his solid effort in last year's Classic with an allowance score, but two subsequent tries — one in the Claiming Crown — left much to be desired.
"After I ran him in the Classic last year, I went down to Florida to run in the Claiming Crown," Maldonado recalled. "I ran him one more time here in the stake in December, and he didn't perform like I expected. So I sent him to the farm for six months."
He returned to action in July, and after a couple of subpar efforts sprinting, has finished third and second in two recent allowance contests, both with Sheldon Russell, who will ride on Saturday, in the irons.
"Some horses come back and perform right away," the trainer said. "It took him a couple of races to perform. Now he's doing great – like the old Clubman."
Clubman was bred by Dr. and Mrs. Tom Bowman, Quin Bowman, and Becky Davis and is out of the Lemon Drop Kid mare Otherwise Perfect. Maldonado obtained him via the claimbox, picking him up out of his maiden score for $25,000 in June 2017.
In all, it's a wide-open field in which five runners — half the field — are in single-digit odds and two others are 10-1. Voss said that looks about right to her.
"I didn't really expect him to be the favorite, but I didn't expect him to be a price," she explained. "They're all pretty evenly matched."
MARYLAND MILLION CLASSIC FIELD
Crouchelli (10-1) — trainer Robert Vukelic/jockey Taylor Hole
Dothat Dance (12-1) — Noah Abramson/Katie Davis
Clubman (9-2) — Jonathan Maldonado/Sheldon Russell
Flash McCaul (6-1) — Mike Trombetta/Trevor McCarthy
Legend's Hope (20-1) — Ted Maher/Jevian Toledo
Pal Cal (8-1) — Robert Oliva/Inoel Beato
Saratoga Bob (3-1) — Katy Voss/Edgar Prado
Goodluckjonathan (8-1) — Alcina Rawles/Kevin Gomez
Admiral Blue (7-2) — Rudy Rodriguez/Luis Reyes
Tattooed (20-1) — Tim Keefe/Feargal Lynch
Hammerin Aamer (ae) — Rudy Rodriguez/Luis Reyes
Belfour (ae) — Cal Lynch/Jorge Vargas, Jr.
Bonus Points (ae) — Todd Pletcher/Feargal Lynch