Grams holding strong hand for WV Breeders Classics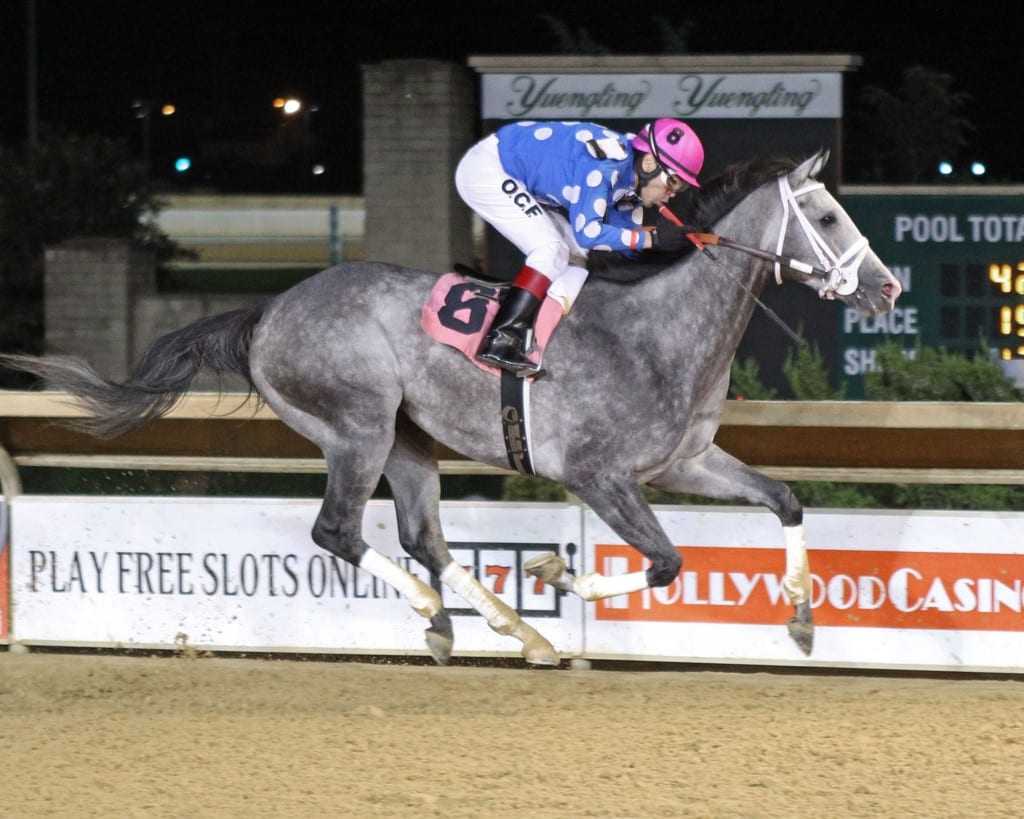 Runnin'toluvya took the Frank Gall Memorial Stakes. Photo by Coady Photography.
by Ted Black
With the West Virginia Breeders Classics just a week away, trainer Tim Grams is aiming to accomplish something unusual, perhaps unprecedented, that he nearly accomplished 15 years ago.
Grams will head into the $300,000 West Virginia Classic with the possible favorite in Runnin'toluvya and into the $125,000 Cavada with defending champion Moonlit Song, who might actually yield the favorite's role to either Late Night Pow Wow, recent winner of the Grade III, $300,000 Charles Town Oaks or Anna's Bandit, mild upset winner of the Sadie Hawkins, the last local prep for the Cavada.
Grams nearly won both races in 2003 when he saddled Cape Power to a victory in the Classic for owner Tex Mullins but watched Fancy Buckles settle for second as the 4-5 choice in the Cavada behind Sweet Annuity.
"I can't remember when or if  it was done, but I know that I almost did it in 2003," Grams said of the big race double. "But it would definitely be something special to be able to do. This is the biggest night of the year for a lot of owners, breeders and trainers up here. I've been fortunate to win some of the big ones up here on the big night, and going into it with a couple of horses in the big races certainly helps."
Runnin'toluvya may not bring the same credentials into the Classic that Moonlit Song takes into the Cavada, but he already boasts one victory on West Virginia Breeders Classics Night, having captured the Vincent Moscarelli Memorial for two-year-olds two years ago. After being sidelined through 2017 with a minor injury, Runnin'toluvya has won six of seven starts this year and arrives off a resounding victory in the $50,000 Frank Gall Memorial on the "Race For The Ribbon" card here last month. The Classic will be his first test beyond seven furlongs and going three turns, but Grams says he's not worried.
"He came out of the Gall in great shape and he's been doing great," Grams said. "I don't have any doubt that he will get the distance and the third turn won't bother him. There are not a lot of three-turn allowance races up here, but coming off an injury like he was, I just wanted to give him as many seven-furlong races as I could to get him ready for the Classic. If he had gotten beat in the Gall, I might have skipped the Classic and gone in the Onion Juice. But after that performance in the Gall, I have to try him in the Classic."
In the Gall, Runnin'toluvya prompted the sharp early pace before drawing off while ridden out en route to a nearly-six-length win.
Although Runnin'toluvya has never been beyond seven furlongs, he would not be the first runner to succeed in the Classic with that hole in his resume. Both Lucy's Bob Boy (2012) and Charitable Annuity (2015) captured the Classic in what would be their first attempt at nine furlongs and navigating three turns over the local oval. Charitable Annuity returned to win the Classic last year, but his 2018 form has not been as good, and Runnin'toluvya will likely vie with North Atlantic for the favorite's role on Saturday.
One year ago, Moonlit Song headed into the Cavada as the unquestionable queen of the local division despite being just three years of age and facing older rivals, several of which she had just defeated in the Sadie Hawkins. But this year Moonlit Song will head into the Cavada off a setback in the Sadie Hawkins during a year in which he has won four of eight starts and been second four times. She has finished second in both her stakes tries this year, and she may relinquish the favorite's role in the Cavada to either Late Night Pow Wow or Anna's Bandit.
"She came out of the Sadie Hawkins fine and her numbers are almost as good this year as they were last year," Grams said. "She's been doing good since the last race. I thought she ran okay in the Sadie Hawkins. That other filly had a good trip and came and got her and she's going to be tough. I expect to see Late Night Pow Wow in there. She was really good in the Oaks and she's been training good in the morning. That's going to be a heck of a race. They're all nice fillies."
Late Night Pow Wow had been considered for the Sadie Hawkins on the same night that she won the Oaks, but owner-trainer Javier Contreras bypassed that first chance to face older rivals that night to win the graded feature. Contreras remarked this week that the sophomore daughter of Fiber Sonde is being pointed for the Cavada. Anna's Bandit, a daughter of Great Notion trained by John [Jerry] Robb, could return for the Cavada or run in the Maryland Million Distaff at Laurel one week later.
Grams expects to saddle only one other runner on the Breeders Classics card, Rock N Gold, a daughter of Medallist that he owns and trains. Grams has been pleased with Rock N Gold this year. She owns two wins from seven starts and a solid 6-10-2 slate from 24 starts overall. Rock N Gold will bypass the Cavada and instead head into the West Virginia Distaff at nine furlongs.
"It won't be a very busy night with only three horses running, but we're hoping for a lot of success," Grams said. "This is the one night everyone with West Virginia-breds always looks forward to. Winning a race on Classics night is what everyone up here aims for. It can make your whole year."