Adaptability leads to positive outcomes at Fasig-Tipton yearling sale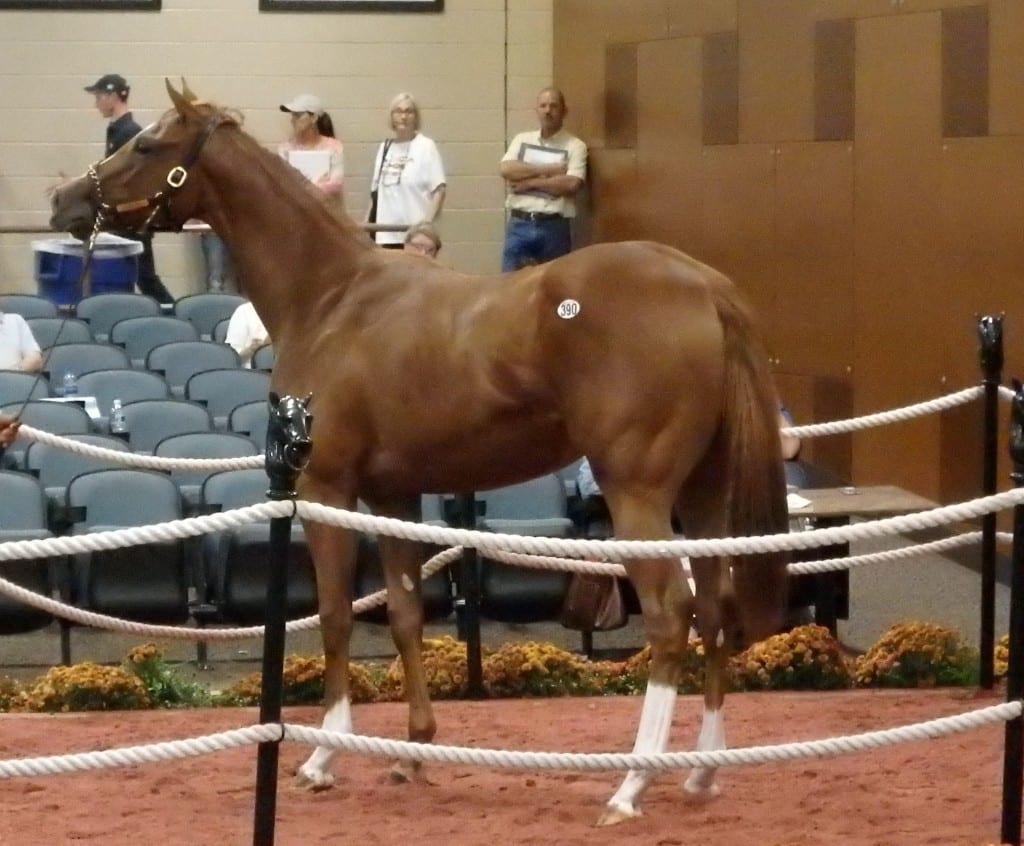 Hip 390, a Maryland-bred Golden Lad filly, sold for $120,000 post-sale. Photo by The Racing Biz.
by Frank Vespe
Sometimes in the Thoroughbred industry, the key to success is being light on your feet. Three of the top horses to sell at the just-completed Fasig-Tipton Midlantic Fall Yearling sale are testament to that.
The sale, which began Monday with Hips 1-150, finished with Hip 500 at about 6:30 Tuesday evening. While gross sales declined about 6.8 percent for the day-and-a-half event, to $7,318,700, down from more than $7.8 million in 2017, the buyback rate also fell as more horses found new homes.
The case of Hip 183, consigned by Andrew Motion's Old Chapel Farm, illustrates the benefits of adaptability. The Cairo Prince filly, out of the placed Henny Hughes mare Graceontour, fetched a winning bid of $160,000 from Cary Frommer. That outcome — which Motion described as "a win-win" — came only after Motion and his filly had made an abortive trip to Saratoga.
"I took her up to Saratoga. I didn't run her through the ring," Motion said. "The reception that Cairo was getting at the time was pretty muted compared to how it had been previously because he didn't have many runners. I scratched her because I realized she was in the wrong sale."
Between that August sale and today, a couple of things happened that benefited both Motion and the filly. One was that Cairo Prince caught fire; he now has 11 winners and progeny earnings in excess of $660,000, both good for second among all first-crop sires. He also is the sire of Cairo Cat, who won the Grade 3 Iroquois Stakes at Churchill Downs in mid-September.
The second: "The filly really matured as the year went on. She filled out really well," Motion said.
Frommer agreed. "She's blossomed so beautifully since [Saratoga]," she explained. "When I saw her down here, I just thought she was gorgeous and kinda planned to leave here with her if I could."
She could, and did, and as a result brought home the event's third highest-priced purchase. Frommer said she intends to pinhook her new filly.
The situation wasn't entirely dissimilar for Northview Stallion Station's Hip 12, an Uncle Mo colt who topped the sale's first session and ended up as the sale's second most expensive sale, fetching a top bid of $200,000 from J. J. Crupi.
"It was a horse that we had considered taking down to Keeneland along with a couple of other horses that we brought here," said Northview's David Wade. "But we decided he might be a little bit more of a standout in Timonium."
The Maryland-bred is out of the Cozzene mare Who's Cozy and a half-brother to the stakes winner Who's In Town.
Then there is the the sale-topper, Hip 399. The Into Mischief filly, out of the unraced Hard Spun mare Spin the Bottle, was consigned by CandyLand as agent and brought a top bid of $210,000 from Three Diamonds Farm. Also a Maryland-bred, she was among several, CandyLand's Mike Palmer said prior to the sale, that the CandyLand team had considered taking down to July's Fasig-Tipton's Selected Yearlings sale before deciding to stay closer to home.
Indeed, Maryland-breds proved to be one of the key storylines of the sale. Six of the 10 horses that sold for $100,000 or more were bred in the Free State, including the top pair.
"Everybody loves the Maryland-breds," said Fasig-Tipton Midlantic sales director Paget Bennett.
Maryland-breds accounted for 135 of the 338 hips to sell, just about 40 percent. And they were good for more than $3.6 million in sales, just shy of 50 percent of the event's total. Maryland-breds averaged $26,795, the most of the five states to have 10 or more to sell.
Other than Maryland-breds, the top horse bred in the mid-Atlantic region to sell was Hip 10, a Great Notion colt. Consigned by Woodford Thoroughbreds as agent, the colt, out of the Partner's Hero mare What Am I Gonna Do, brought a top bid of $120,000 from Ellen Charles' Hillwood Stable LLC.
For the sale as a whole, the results were not dissimilar to what many had predicted: plenty of money for higher end horses with something of a struggle for the rest.
At the top end, 10 horses fetched top bids in excess of $100,000, and another 18 brought more than $50,000. At the other end: 21 went for the upset price of $1,000. And another dozen cost less than $2,000.
"It was a good sale," Bennett said. "No different from the other sales we've seen."
The median, $15,000, was up a tick from last year's $14,000. The sale average declined 14 percent to $21,653.
Perhaps the best news came on the buyback front. The number of buybacks fell from 128 to 94 with the buyback rate declining from 29.1 percent to 21.8 percent.
"The RNA [decline] was huge," Bennett said.
"It's kind of  a sensible sale," Frommer said of the event. "It's doing exactly what it should be doing."