For Russell, Delacour, big day as easy as one-two-three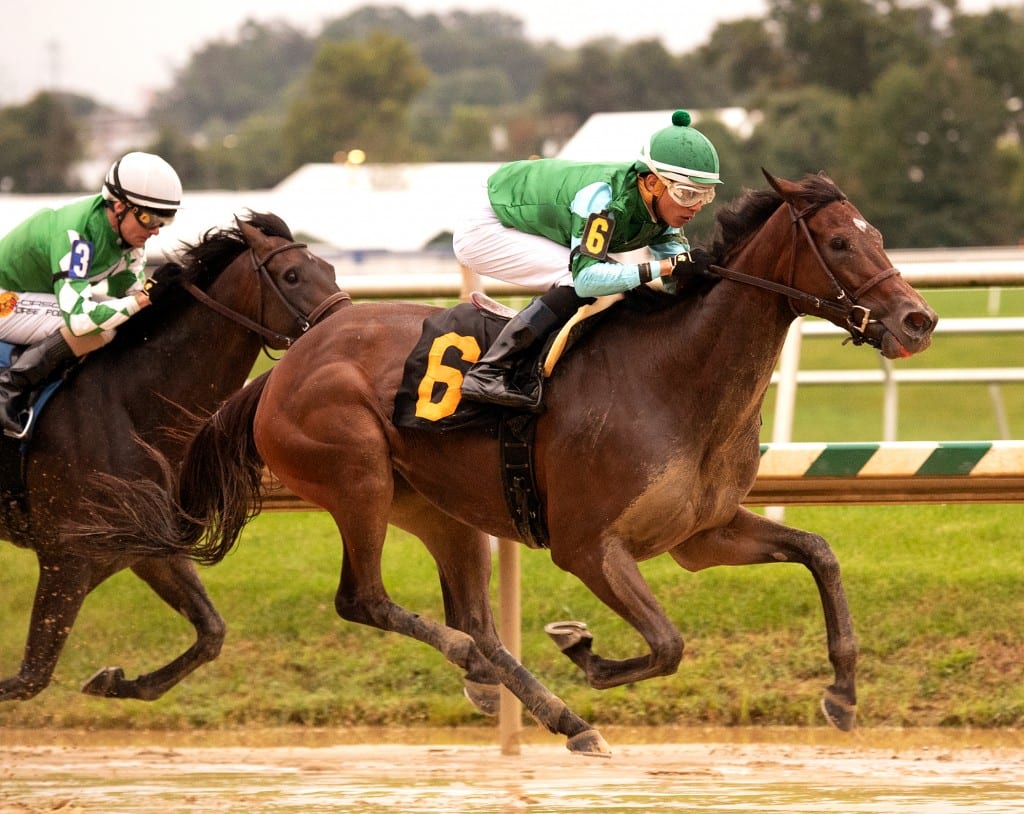 Paulita won the Brookmeade as Arnaud Delacour trainees ran one-two-three. Photo by Jim McCue, Maryland Jockey Club.
by Frank Vespe
Jockey Sheldon Russell had a pair of aces. But then trainer Arnaud Delacour flashed a full house.
Russell rode two stakes winners on Sunday's Commonwealth Day program, featuring four Virginia-bred stakes at Laurel Park, to set the early pace. Saving the best for last, though, Delacour-trained runners ran one-two-three in the $75,000 Brookmeade Stakes to close the day.
"That's the first time in a race, period, that we did that," Delacour said following the race. "It's a premier for us."
Rained off the turf onto a sloppy main track, the nine-furlong Brookmeade scratched down to six, with Delacour's trio of Paulita and Armoire, both even-money, and Well Blessed (6-1) the only runners sent off at less than 10-1.
"It was a great spot," Delacour said. Of his runners, Paulita already owned two wins on the main track, while Well Blessed's only main-track try had come at a 5 1/2-furlong distance that didn't figure to be her best. Armoire, a five-year-old mare, had never run on the main track before, but, said Delacour, "We wanted to give her a shot just because it was the last leg of the Virginia-bred series."
As the race played out, Well Blessed led early, Paulita took over, and Armoire ran on late.
The final order of finish: Paulita-Well Blessed-Armoire. Paulita, with Jorge Vargas, Jr. up, paid $4.20 to win as the slight favorite over Armoire. The exacta returned $10.40 for a buck, and the all-Delacour triple was worth just $19.90 for a dollar.
Paulita, a Scat Daddy filly owned by Hat Creek Racing and bred in Virginia by the late William Backer, came to Delacour's barn over the summer after being purchased for $110,000 at the Fasig-Tipton select summer horses of racing age sale. Since then, she's run three times, winning this event and another off-the-turf Virginia-bred stake, the William M. Backer in early August. In between she ran third in an allowance.
"It's nice to have a horse that's versatile like that in the Mid-Atlantic," Delacour said.
Sheldon Russell didn't have a mount in the Brookmeade, but perhaps if he had, he'd have spoiled the Delacour party. His Saturday hadn't gone according to plan, but his Sunday took some of the sting out of that.
Russell had had two Saturday stakes mounts, but Decisive Triumph was never much involved while finishing ninth, at 83-1, in the Laurel Turf Cup, and the Mike Stidham trainee Elsa was a disappointing seventh as the favorite in the Selima Stakes for two-year-old fillies over yielding turf.
"We got washed out yesterday, only had two chances," Russell said. "I was very excited to ride Elsa, to be honest. She wowed me the first time when she broke her maiden here. But some horses just can't handle the soft ground."
That wasn't a problem today, as steady, daylong rains forced the races off the turf onto the main track.
"When I heard we were off the turf early this morning, I was very excited," Russell said.
That's because he figured — correctly, as it happened — that River Deep, a six-year-old son of Arch that Phil Schoenthal trains for owner-breeder Morgans Ford Farm, would have the nine-furlong Bert Allen Stakes at his mercy.
River Deep took early pressure from Runninginthevale before drawing off to win by eight lengths in 1:51.23. He paid $3.40 as the 7-10 choice.
That came three races after the Ian Wilkes-trained Elusive Mischief won by five in the 5 1/2-furlong Punch Line Stakes, stopping the clock in 1:03.37. Elusive Mischief, a three-year-old Into Mischief colt, was bred in Virginia by Jim Fitzgerald and Katie Fitzgerald.
"Ian Wilkes jumped up and surprised me early in the day, and I was always looking forward to [River Deep]," Russell said. "So to get two is fantastic."
As easy as one-two-three.