First-out winners Parisian Diva, Amelia Bedelia top Rachel's Turn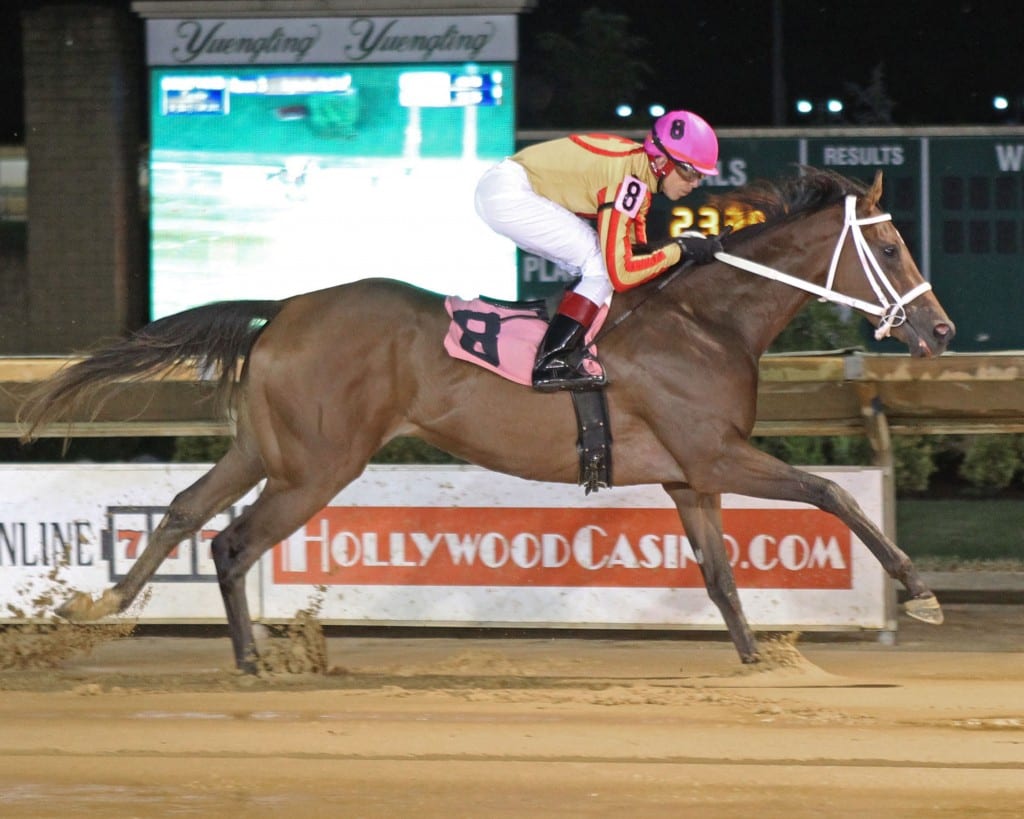 Parisian Diva won at first asking with Luis Batista in the irons for trainer Stacey Viands. Photo by Coady Photography.
by Ted Black
Two weeks before their anticipated first stakes appearances on Saturday's "Race For The Ribbon" night at Charles Town on September 22, a pair of West Virginia-bred two-year-old fillies delivered sharp scores in their respective career debuts.
Come Saturday night, Parisian Diva and Amelia Bedelia are scheduled to square off in the $50,000 Rachel's Turn Stakes for state-bred juvenile fillies.
Just prior to the midway point of the card Saturday, September 8, Parisian Diva broke very alertly to gain command widest of all leaving the chute, surged to a clear lead on the far turn, and then romped home seven lengths clear in 52.46 for the 4 1/2-furlong affair. A juvenile daughter of Freedom Child out of the late Wildcat Heir mare Paris Heiress, Parisian Diva delivered an emphatic score for trainer Stacey Viands and owner-breeder Melinda Golden that had her conditioner thinking about two stakes.
"She's always done everything that we've asked of her and she's quick to catch on," Viands said. "She's a completely different horse once she gets to the track. She just wants to race and go about her business. When I took her over to get her gate card, she showed a lot of speed and a lot of heart. When she broke on top the other night and drew off, she did it so easily. She was just hand-ridden to the wire [by jockey Luis Batista]. and she had a lot more in the tank."
In her final tune-up for her career debut, Parisian Diva worked four furlongs in 47 flat under J.D. Acosta, whom Viands had expected to have aboard for her career debut. But Acosta had a late mount in Maryland and Viands' next choice, Carlos Delgado, who had also galloped the filly in the morning, chose another horse in the race. So Viands opted for Batista and proudly watched the local regular steer the homebred filly to a handy score without any serious urging.
Batista has the mount again on Saturday.
Parisian Diva is not currently eligible to the West Virginia Breeders Classics, but Viands said the $8,000 supplemental fee may not prove an obstacle.
"Melinda had not had much luck for a few years, so she didn't nominate her to the Breeders Classics," Viands said. "But she is eligible to the Rachel's Turn and some of the other stakes here in the fall. She came out of that first race really well and I think she'll be really tough in the Rachel's Turn. Melinda has already told me if she wins that race then she's going in the Breeders Classic race. I think her best races are still ahead of her and I think she'll have no problem stretching out to 6 1/2 and seven furlongs."
Golden has a weanling full-brother to Parisian Diva named Paris Talking, but broodmare Paris Heiress, who was in foal to Freedom Child again, died several weeks before Parisian Diva made her career debut. Viands, who worked for 10 years as an assistant trainer to Ronney Brown before going out on his own in 2006, described the loss as "devastating."
Viands is also expecting to saddle barn newcomer Misleading Lady for the Pink Ribbon Stakes on the card.
In the opening race on the same September 8 card, Amelia Bedelia lived up to her role as the 4-5 favorite in her career debut when she rallied from midpack with a strong move along the rail on the far turn and edged clear late to a two-length score while getting the distance in 52.96, roughly one-half second slower than Parisian Diva would travel the same distance an hour later in her career debut.
A freshman daughter of Fed Biz trained by Jeff Runco for owner David Raim, Amelia Bedelia will have Gerald Almodovar in the irons Saturday, as he was in the filly's career debut.
"She had been doing really good leading up the race, and she ran about as well as expected," Runco said of her career debut. "She's not real quick away from the gate, so I expected her to make one run late. She finished up really strong and I think she's going to be much better going two turns."
Runco had expressed skepticism about running Amelia Bedelia back on two weeks rest but nevertheless dropped her name in the entry box. Even if he calls an audible and scratches, however, Runco will certainly be visible throughout the card. He is slated to schedule a half-dozen runners in undercard stakes on Saturday, getting his battalion ready for next month's West Virginia Breeders Classics races. Among his runners Saturday are Weekend Liberty and Grumpelstiltskin in the Frank Gall Memorial, Aaron's Tap in the Last Enchantment, and Starlight Flight in the Sadie Hawkins. Runco also has Battleground Star entered in the Rachel's Turn.
"Jeff's filly (Amelia Bedelia) had created a lot of buzz around the track leading up to her first start," Viands said. "I made sure to be there early enough that I could watch her first-hand. She's not as quick early as my filly, but she finished up strong. My filly went about one-half second faster, but that was going 4 1/2-furlongs and that doesn't mean the same thing will happen when they go 6 1/2-furlongs. They're both nice fillies and it should be a great race when they finally meet."