Md. Racing Commission approves OTB at MGM National Harbor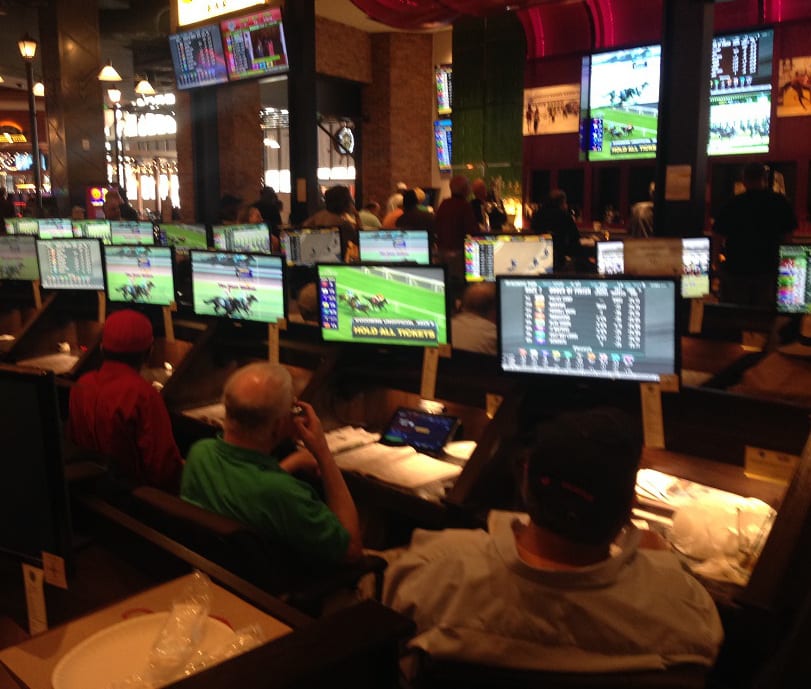 Bettors at the Horseshoe Casino OTB. Photo by Gary Quill.
by Frank Vespe
In a meeting attended by a dozen or two members of the community around Rosecroft Raceway, where the meeting was held, the Maryland Racing Commission on Tuesday gave its approval to the Maryland Jockey Club's proposal to open an off-track betting facility (OTB) in the MGM National Harbor Casino.
The approval, Commission chairman Michael Algeo said, came following "a very detailed discussion" among the commissioners. It extends only through the end of this year because Rosecroft's contract with its horsemen ends on December 31 but will automatically renew for a year if and when that contract is renewed.
"That will give us an opportunity to see the numbers, how it works, and how it operates," Algeo said.
MGM National Harbor is less than five miles from Rosecroft, the nearly-70-year-old harness track now owned by the Maryland Jockey Club (MJC). That proximity had led many in the racing community to wonder if the new OTB would lead to the demise of Rosecroft.
But the track's horsemen's organization supports the deal, and MJC president Sal Sinatra said that he did not expect the new facility to cannibalize the old.
"I just think it's a totally different clientele," Sinatra said. "I think we may see incremental handle to Rosecroft because it's local and runs at night, when the casino is more crowded."
Sinatra said at that the company's downtown Baltimore OTB, at the Horseshoe Casino, "Because of the night signal, we do get a lot of harness play."
Many harness tracks run at night.
The new OTB, which has its "soft opening" on Wednesday, September 12, will likely have its "big opening" September 22, Sinatra said. The new OTB is approximately 1,500 square feet, he said, and will have 21 carrels for bettors.  He said the company projects it to handle about $8 million per year, roughly one-half of what the Timonium OTB handles.
Sinatra said that the company likes to place OTBs in casinos. That's in part because it puts the company's product in front of many people who like to gamble but may not otherwise consider horse racing. And it's in part because it allows the racing industry to give something back to the casino industry; horse racing has received over $380 million in subsidies from slot machine revenues in Maryland, according to Maryland Lottery and Gaming Control Agency.
"It's a nice partnership because they do a lot for racing from the slots subsidies," he said. "It's nice to give them however small a percentage it is back."
But National Harbor's proximity to Rosecroft – and the amenities it offers that the track does not – gave commissioners with harness expertise pause. In 2016, Rosecroft handled over $33 million in simulcast trade, according to the Maryland Racing Commission.
"I've got to say, I'm really, really worried it will take business away from Rosecroft," said commissioner Tammy Lafferty.
"I've got concerns along the same lines," chimed in commissioner Tom Winebrener.
And commissioner Clarissa Coughlin pointed out that Rosecroft is profitable because of its simulcast trade, not because of live racing.
"I think the concern is, what happens if that ends?" she said. "We don't really have a fanbase."
Community members had concerns of their own. One pointed out the troubling optics – which the Commission acknowledged – of holding a hearing about the new facility one day before its planned opening.
And Raymond Roberts, president of the nearby Henson Valley Civic Association, said that, though he does not gamble, Rosecroft has been "extremely good to the community, as well as for the community."
"We're concerned that the money put in MGM because it's shiny and new, it will attract the people that do come here now," Roberts said. "We don't want to see this place go empty. We don't want to see it going down, and we don't want to lose the employees that are employed here."
But Sinatra said that the MJC does not expect any loss of revenue, or jobs, at Rosecroft. He suggested that the company's experience with its three Baltimore-area OTBs – those at the Horseshoe casino and Timonium fairgrounds, as well as Pimlico – show that "they're all able to survive."
"We think it will be good for racing," Sinatra said.