Weather to force moving of three MATCH Series races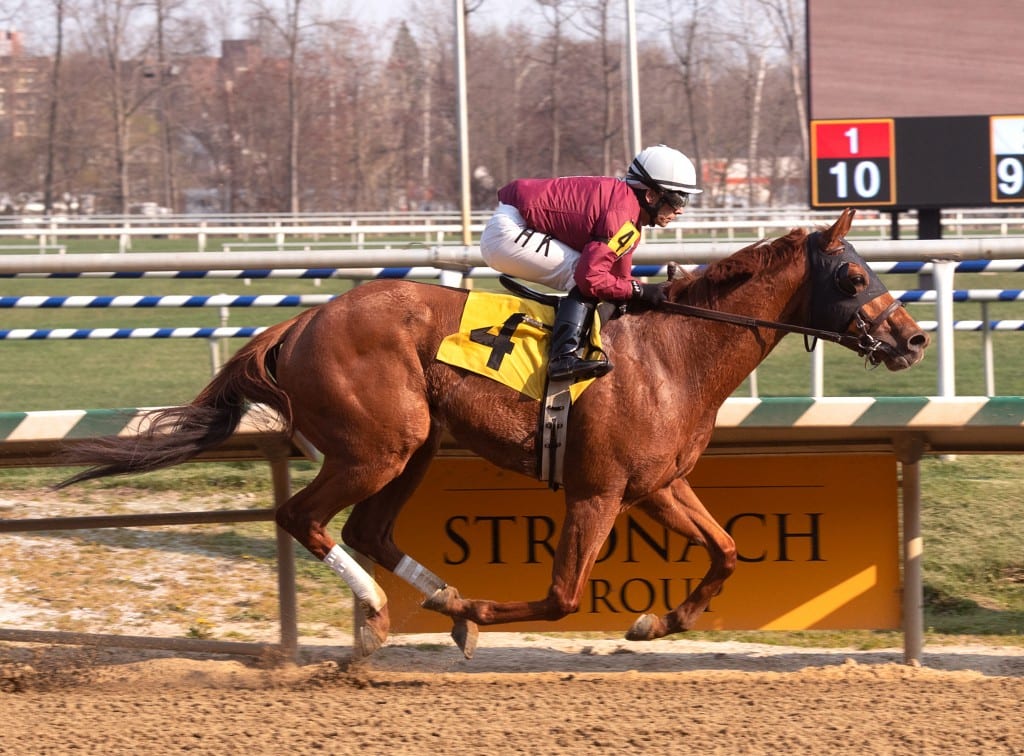 Points leader Laki. Photo by Jim McCue, Maryland Jockey Club.
by Tom Lamarra, MATCH Series
Multiple horses are in the running for the overall MATCH Series championship heading into the final weekend–but the weather forecast has turned the final weekend into final weekends.
Because of the expected impact of Hurricane Florence, the Maryland Jockey Club Sept. 10 called an audible and rescheduled its Sept. 15 multi-stakes program–with many grass races–to Sept. 22. Based on current forecasts, the storm could dump up to four inches of rain on the Baltimore-Washington, D.C., metropolitan area.
The MJC will instead draw a non-stakes program for Sept. 15. Because the stakes card will be held a week later, the Virginia-bred stakes program scheduled for Sept. 22 will be now be held Sept. 23 at Laurel.
Nominations for the stakes scheduled for Sept. 15 were reopened and will now close Sept. 12.
The Three MATCH Series races scheduled for Saturday at Laurel will now move to Sept. 22, with the draw to be held Sept. 19. They are the grade III, $250,000 Frank J. De Francis Memorial Dash (3-Year-Olds and Up Sprint–Dirt Division), $100,000 Laurel Turf Dash (3-Year-Olds and Up Sprint–Turf Division), and the $100,000 Sensible Lady Turf Dash (Filly and Mare Sprint–Turf Division).
As of yet, the weather forecast hasn't led to any changes at the other two tracks holding MATCH events Sept. 15-16.
The draw for the $100,000 Roamin Rachel Stakes (Filly and Mare Sprint–Dirt Division) at Parx Racing takes place Sept. 10, with the race scheduled for Sept. 15. The draw for the $200,000 Presque Isle Mile (3-Year-Olds and Up Long–Dirt Division) on Sept. 16 will be held Sept. 11, but with the retirement of division winner Page McKenney and multiple horses that passed on MATCH stakes to run in stakes in New York, no horse entered will qualify for bonus money.
Below is a look at the maximum and minimum points a horse could have should he or she win, or finish sixth through last, respectively, in one of the final MATCH Series legs. All those listed are also in the running for either a division title ($25,000 to the owner and $15,000 to the trainer) or owner and trainer bonuses for a second- or third-place finish by points in a division (second, $15,000 and $10,000; and third, $10,000 and $5,000).
The owner of the overall MATCH champion by points regardless of division will collect $50,000 and the trainer $25,000.
Page McKenney had competed in the first three legs of the 3-Year-Olds and Up Long–Dirt Division and accumulated 22 points with a win, a second and a third in three consecutive grade III stakes before his retirement was announced. The 8-year-old Pennsylvania-bred gelding, a former $16,000 claimer, captured the spirit of the MATCH Series and, due to his success at Parx Racing over the years, will be inducted into the Pennsylvania track's Hall of Fame Sept. 15.
Page McKenney, owned by Adam Staple and Jalin Stable and trained by Mary Eppler, started at Parx 10 times with seven wins, two seconds and one third from 2014 to 2017. Five of his victories came in stakes: the Pennsylvania Derby Champions (2017), the Roanoke (2017 and 2015), the Lyman (2017), and the First Responder (2014).
| Rank | Horse | Current points | Maximum points | Minimum points | Potential next race |
| --- | --- | --- | --- | --- | --- |
| | | | | | |
| 1 | Laki | 23 | 40 | 31 | De Francis Dash |
| 2 | Oak Bluffs | 22 | 39 | 30 | Laurel Turf Dash |
| 3 | Jessica Krupnick | 22 | 37 | 28 | Roamin Rachel |
| 4 | Lewisfield | 19 | 34 | 25 | De Francis Dash |
| 5 | Pool Winner | 19 | 34 | 25 | Laurel Turf Dash |
| 6 | Imprimis | 20 | 30 | 21 | Laurel Turf Dash |
| 7 | Dubini | 12 | 27 | 18 | Laurel Turf Dash |
| 8 | Smiling Causeway | 12 | 22 | 13 | Sensible Lady |
| 9 | It's the Journey | 7 | 22 | 13 | De Francis Dash |
| 10 | Liz's Cable Girl | 8 | 18 | 9 | Roamin Rachel |
| 11 | Daylight Ahead | 2 | 12 | 3 | Sensible Lady |