Delaware Park: Jock Angel Suarez "trying to make most of second chance"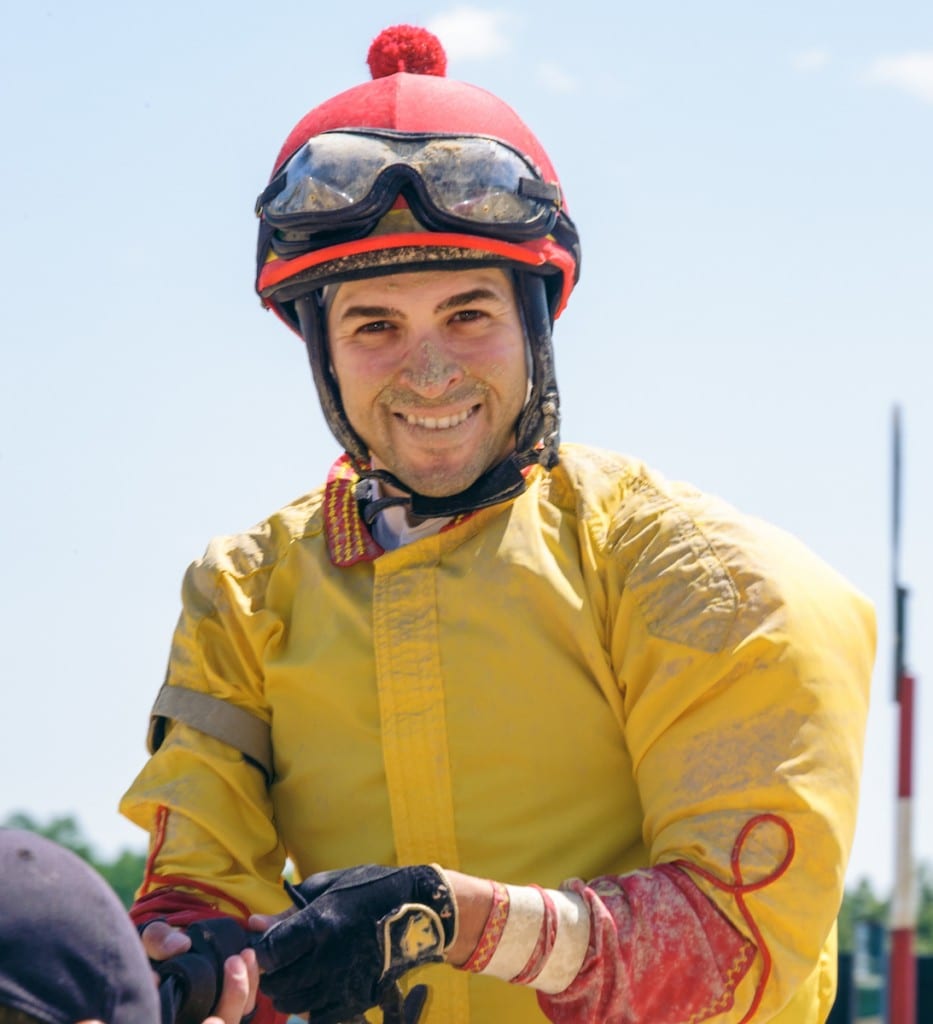 Angel Suarez at Delaware Park. Photo by HoofprintsInc.com.
by Doug McCoy
Angel Suarez, who is currently second in the rider's standings at Delaware Park this season with 47 wins, was living the dream back in 2014.
The native of Puerto Rico had come to the United States in 2012 after graduating from the famed Escuela Vocacional Hipica jockey academy whose graduates included John Velazquez, Irad and Jose Ortiz, and others. After winning his first race in his home country he travelled to Philadelphia and began riding at Parx Racing. That first year the then-19-year-old won 151 races, his mounts earned more than $3.4 million in purses, and he was a finalist for the Eclipse Award for the nation's top apprentice.
He finished second in the voting and then handled the transition to journeyman rider in 2013 fairly well, winning 88 races with another $2.5 million banked.
He tailed off a bit in 2014 and had won just 58 races nearing the end of the season when, on the night of December 28, Angel Suarez' life suddenly turned upside down.
"I had started to hang with some people I probably shouldn't have been, and once in a while I smoked a little marijuana," Suarez recalled. "That day I had won a race. Then after the races we were hanging out and one of the guys said, 'I've got something really good, you'll have to try this.' He broke this joint in half and gave me half and said, 'This is all you'll need.'"
"My girlfriend was in town, so when I went home we ordered some food and I went to get it," he continued. "I took a few puffs on the half-joint on the way to the restaurant, and then on the way home I smoked the rest. I never made it home and I don't remember a thing after I finished that half-joint. The next thing I recall I woke up in a hospital bed, I was handcuffed to the bed, there was blood under my fingernails, and there was a policeman sitting in a chair in my room. I asked him what happened, and the look he gave told me something very bad had happened and I was in the middle of it."
That was a week after that night, and what happened after Suarez' memory went blank is so bizarre it's hard to comprehend. According to police and news accounts Suarez climbed to a second story balcony of an apartment complex in Bensalem Pa. near Parx. A woman reported she first saw Suarez standing on her balcony wearing only a shirt and fondling himself. He then broke into the apartment while the woman fled to a neighbor's apartment. He grabbed the woman's dog, fled out the balcony and leapt to the ground.
He then broke into a first floor apartment where a man was babysitting. The man was armed and when Suarez approached him he shot the jockey twice, critically injuring the rider. In spite of his injuries Suarez continued his erratic behavior, battling with officers on the scene and it took three policemen to subdue Suarez and load him in the ambulance.
The jockey was taken to Aria Health Frankford hospital where he underwent surgery for damage to his liver and pancreas. He was put in an induced coma for a week while he recovered from his injuries, and it was seven days after the incident when he awoke in the hospital.
The rider was charged with 11 offenses, including burglary, simple assault, and various drug-related and lewd behavior offenses. He pleaded no contest to burglary and was sentenced to four to 23 months. Fortunately for the jockey the presiding judge had reviewed the circumstances of the case and reduced the charge to a misdemeanor.
"He told me, 'If you're convicted of a felony, it can ruin you for life,'" Suarez said. "'I'm convinced from the fact you've never been in trouble before, and your accounts of the events along with the reports I've read tell me that you may have ingested something that brought on this strange and dangerous behavior.'"
The jockey had recovered from his injuries and was spared jail time when put on probation. But his future as a rider was very much in doubt.
"I didn't ride for a year," said Suarez, "I knew I would probably not be granted a license after what happened, so I was away from racing for 2015. I missed it every day, missed getting on horses, competing and winning races, but looking back it was good for me. It reminded me of how much I had had before that night, how much I had that I took for granted, and also how I had gotten caught up in the bright lights and glamor and made some bad choices about friends and those I spent time with. When you're doing good everybody wants to be your friend, they're all telling you how great you are, how talented you are, but they're not interested in your best interests, they're just looking to party. I made some bad choices, some bad decisions on how to handle my life and it almost got me got me killed."
In 2016 Suarez started his road back when he got permission from his parole officer to travel to Oaklawn Park, where he was granted an exercise rider's license.
"I went to work for Paul Holthus Jr. (a member of one of racing's most well-known families at Oaklawn Park and in the Midwest) and he was very good to me. I worked with him for several months and he went before the stewards at Oaklawn and basically stood up for me. He told them I had impressed him with my work ethic, that he was convinced my past troubles weren't a real indication of what kind of person I was and he would vouch for my character. The stewards granted me a license and at the end of the meeting we went to Indiana for a time before my probation officer said my work grant had expired and I had to return to Pennsylvania."
That put the brakes on the jock's nascent comeback. He had ridden his first race back in April at Oaklawn and was getting some mounts – though without notable success – at Indiana Downs.  He was just three-for-53 in 2016, and after being called back to Pennsylvania in June, he didn't have another mount in a race until March of 2017.
"I didn't win many races that year, and it was tough but I knew it was going to be a struggle," Suarez said of 2016. "I began riding at Penn National for a while then someone suggested I talk to John (Wallenbach, an agent). He had handled Scott Spieth's book for several years and had a good reputation. We talked and he told me he had seen me ride and thought I had a lot of talent. He said as far as he was concerned the past was the past and there was the potential for me to still have a bright future. We hooked up in April and decided to come to Delaware Park because he thought my style fit the track here."
Suarez admitted he had no expectations when the meeting started.
"I just wanted to win some races and show people I was committed," the rider explained. "We've been lucky to get to ride for some of the top outfits here, and I think I've learned this racetrack and what you have to do for your horses to win here."
It's a lesson he seems to be learning well. Suarez is second in starters, wins, and purse earnings during the meet. He's winning at a 20 percent clip, with 52 percent of his mounts finishing in the money.
"Am I happy about how things are going?" he asked-and-answered. "I'm absolutely thrilled. I'm riding live horses every day, I'm winning races and we're building relationships that help down the road. We're thinking of going to Tampa this winter. Several stables I ride for go there in the winter, but for now we're just focused on trying to keep the momentum going."
It's been a long and roundabout journey for Suarez, and he says now he's aware of what he needs to do to keep on the straight and narrow.
"All I can say to young people these days is to try to make good choices and good decisions about the people you associate with," he said. "There are a lot of people out there who are only looking out for themselves. You have to learn who you're real friends are. It's been my true friends and family that's helped me pull through this. I've been lucky enough to be given a second chance in life and I'm trying to make the most of that chance."