Laki put up via DQ in Polynesian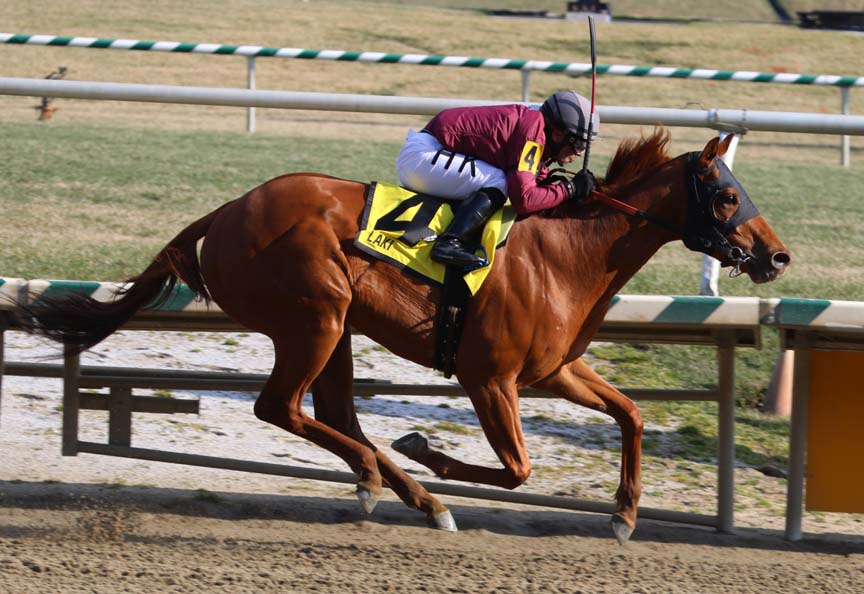 File photo of Laki winning the 2017 Not for Love Stakes by Laurie Asseo.
by Frank Vespe
Laki and Lewisfield hit the wire noses apart in Sunday afternoon's $100,000 Polynesian Stakes at Laurel Park. And it looks like the duo may hit the wire of the MATCH Series in similarly tight quarters.
Lewisfield was first past the post, but after an inquiry and an objection, the stewards reversed the order, elevating the Maryland-bred Laki to first, with Lewisfield in second.
"I tried to block it out of my mind because I don't like to play those games," said winning trainer Damon Dilodovico of the lengthy wait. "I did get taken down once like that when a horse kinda came out to an opponent, and you see knocks his hind end a little bit. The finish was so close. You win some, and you lose some. This time I got lucky."
The win was five-year-old Laki's sixth from 13 career starts and second in stakes company. The winner's share pushed his career earnings past the quarter-million dollar mark.
It also marked a return to his preferred running style. In his early races, Laki had done his best work being forwardly placed. But in his three starts prior to today — all in MATCH Series races — Laki had been well off the early pace, rallying for third in the Mr. Prospector at Monmouth Park but failing to make much impact in either the Grade 3 Maryland Sprint or the Hockessin at Delaware Park.
"I don't know why he ended up so far off the pace the last two starts," Dilodovico said. "But I definitely, especially going seven, I definitely wanted too be a little closer, for sure. I can't explain why, the last two — he completely changed his style of running."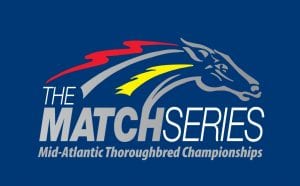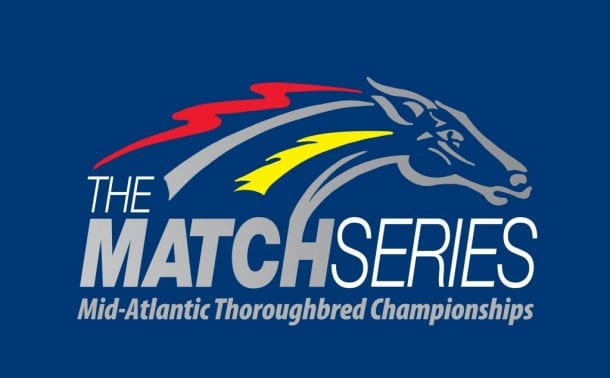 Today, with jockey Horacio Karamanos in the irons, Laki was intent on running from the early jumps. Lewisfield, under regular pilot Arnaldo Bocachica, grabbed a clear early lead, holding the advantage after a quarter-mile in 23.29 seconds, while Laki was just two lengths back and in third.
Karamanos eased Laki off the rail on the turn, a half-mile gone in 46.55 seconds with Lewisfield still on top. Laki engaged his rival leaving the turn, and those two battled it out to the wire.
Those two rivals slugged it out all the way down the lane, none of their rivals making much impact. Nearing the wire, Lewisfield came out a couple of paths while Laki came in slightly, the pair brushing. They flashed past the wire with Lewisfield a nose in front. Running time was 1:23.24 for seven furlongs.
The late-running Rockinn on Bye was third, a couple of lengths behind the top pair, and Fellowship was fourth.
The brush was enough, however. After a long delay in a steady rain, the stewards disqualified Lewisfield and placed him second, behind Laki.
That decision had an immediate $40,000 impact — the difference between the winner's and runner-up's share. It may reverberate further, as well; it gave Laki 10 points in the MATCH Series, which, coupled with the five bonus points he earned for making his fourth start in the series, gives him 23 points overall. That gives him a four-point advantage over Lewisfield, who earned seven for his runner-up effort and now has 19.
Both Laki and Lewisfield, who is trained by Jeff Runco for Linda Zang, are Maryland-breds. Laki, a son of Cuba owned by Hillside Equestrian Meadows, was bred by Tom Michaels and Lorna Baker. Lewisfield, by Great Notion, is a homebred for Zang.
The fifth and final leg of the three-year-olds and up dirt sprint division is the Grade 3, $250,000 Frank J. De Francis Memorial Dash September 15 at Laurel. Dilodovico won the De Francis in 2013, with the speedy Immortal Eyes.
"That's going to be a target," Dilodovico said of the De Francis. "I don't know if we'll do it. We'll see. We've got to definitely consider it."