Cynthia Smith, Delaware's second female steward, thriving in new role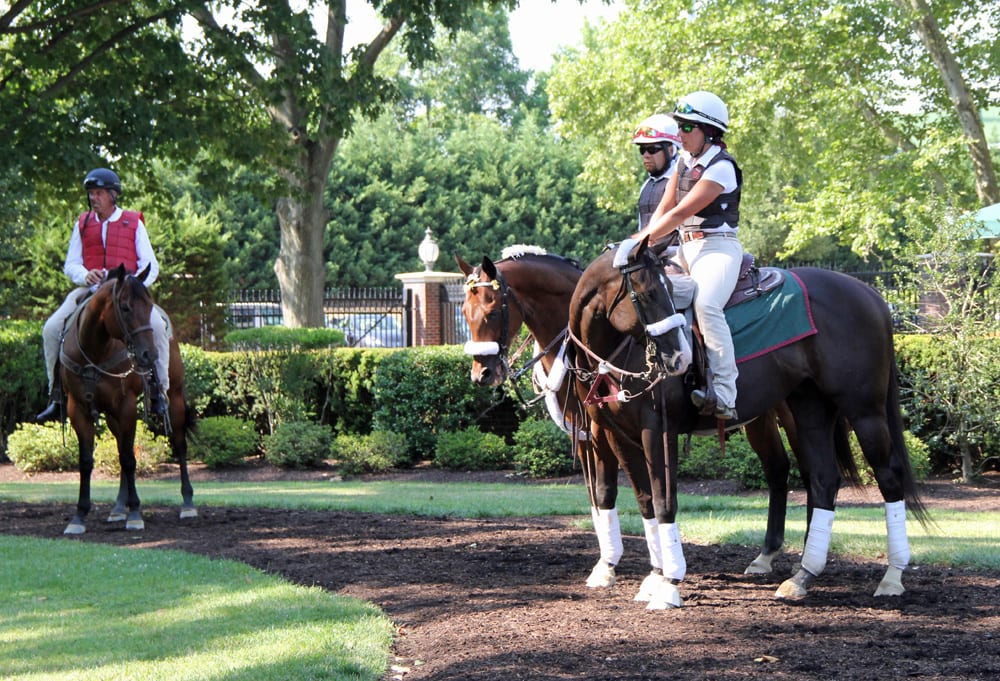 In the paddock at Delaware Park. Photo by Allison Janezic.
by Doug McCoy
There's no underestimating the impact women have had on thoroughbred racing. The industry that was male-dominated for many years has evolved substantially in the past 40 years or so. Pioneers like Barbara Jo Rubin and Diane Crump cracked the jockey ranks, while horsewomen like Kathleen O'Connell and Linda Rice have shown a woman can train just as well as her male counterparts.
Across the country more and more women are working on race track backstretches, filling roles as exercise riders ,assistant trainers, veterinarian's assistants and other jobs, while on the front side racing offices are filled with women serving in a number of positions from placing judges and identifiers to racing secretaries.
One of the last areas of racing to embrace women has been in the stewards' stand. It has only been relatively recently that women like Cheryl White (California), Barbara Borden (Kentucky) and Kim Sawyer (California ) have moved into roles as stewards.
This season the Delaware Thoroughbred Racing Commission has added a woman to the stewards' stand at Delaware Park for the second time with the appointment of 47-year-old Cynthia Smith as an associate state steward. (Lisa Connor served as a steward at Delaware Park several years ago).
Smith, who has served in a number of capacities in racing from groom to racing official, spent her childhood in Colorado and New Mexico. While her family wasn't involved in racing, horses have always been part of her life.
"We couldn't afford to have a thoroughbred, but we always had horses growing up," Smith recalled recently, "and eventually I gravitated to the track, working as a groom and jockey's agent. Fred Hutton (currently racing secretary at Finger Lakes) gave me my first job as a racing official when he hired me as a placing judge at Remington Park. In 2009 I asked Fred to take a week off and paid my own expenses to attend the Stewards' School at the University of Louisville. The knowledge I gained from completing that course really piqued my interest in someday becoming a steward.
Smith was appointed safety steward by the state of New Mexico, working at all thoroughbred and quarter horse tracks in the state. During that period she met John Wayne, executive director of the Delaware Thoroughbred Racing Commission, at an Enforcement Team meeting of the American Quarter Horse Association. When an a vacancy came open at Delaware Park with the retirement of Jack Houghton, Smith interviewed for the job. She impressed the Commission members and was eventually selected to fill the position.
"I feel so fortunate to have been selected for this job," Smith said, "It's an honor as a woman to chosen for such a responsible position. Stewards' positions don't come along very often and I'm lucky to be in the right place at the right time. And I'm also lucky to be able to work with people like Fritz Burkhardt, who has been a steward for a number of years and who is also a well-respected horseman in his own right. Working alongside him has allowed me to watch and learn so much and he's been very helpful making me feel comfortable in this new endeavor."
When asked if she has a philosophy she follows as a steward, she said her approach is basically very simple, "I just try to put fairness before anything else, no matter what the situation. I think if you treat people fairly while at the same time following and enforcing the rules and regulations of your jurisdiction, then you're doing your job the way it should be done."
Smith has a 4-year-old daughter named Ana who is the love of her life and she's looking forward to the time when she her daughter can understand more and more about her mother's job.
"I look forward to showing her what mom does for a living."