Delaware Park Racing Notebook 2018: Vol. 10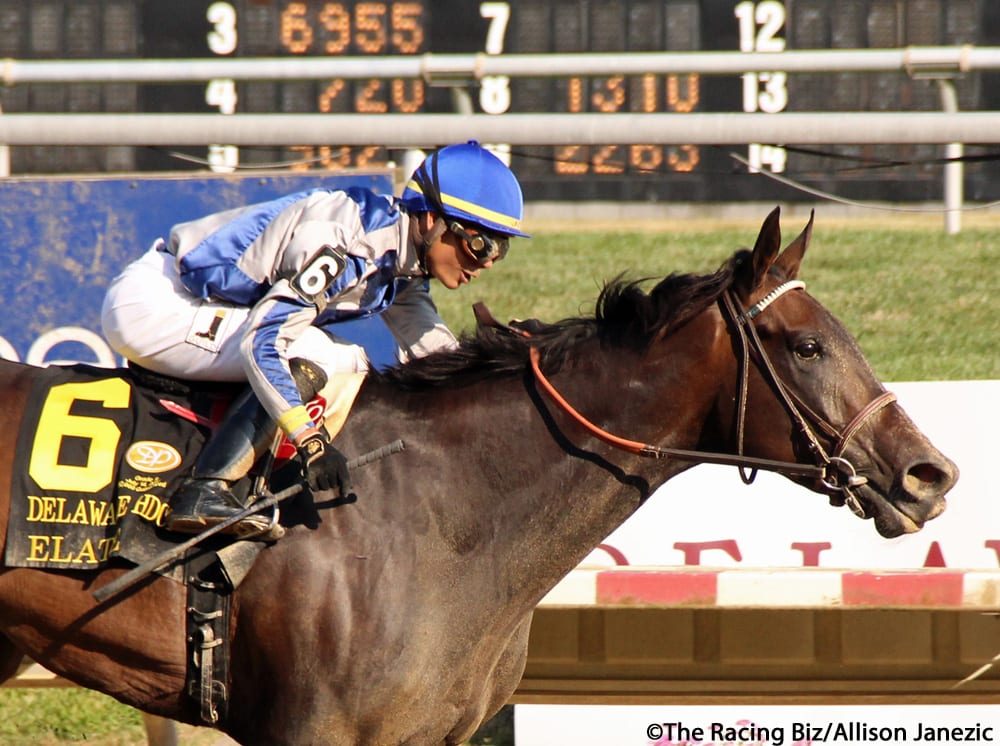 Elate won the G2 Delaware Handicap. Photo by Allison Janezic.
by Doug McCoy
Every week during the Delaware Park racing season, The Racing Biz will publish The Delaware Park Racing Notebook. This page is designed to give helpful information to both horseplayers and horsemen about the racing picture at Delaware Park from the past week.
In the notebook, you'll find:
"Horses to watch" section highlighting both horses who have shown promise those who may have had poor "trips" in their last starts.
"Clocker's Corner" where track clockers will point out horses who have worked in noteworthy fashion during the past week.
Track tendencies or biases during the week's races. While it would be great if every race track was completely fair and even and an equal number of speed horses, stalkers, and closers won each day, observant handicappers know this just isn't the case. Every track's tendencies and biases (favored styles) change and vary, often from one racing program to the next due to any number of factors, most notably weather. While these changes are often minor, there are also days where a certain type of horse (like a speed horse) has a decided advantage, and there also days where one portion of the racing strip is a better spot to race over (like the inside) than another.
Leading trainers and jocks and who's been hot during the last week.
HORSES TO WATCH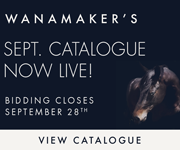 ASPECT – This attractive Astrology colt lunged and hopped in the air at the break, almost unseating his rider, but quickly recovered to stalk the leader and then blew past that one in the lane to post an impressive win at first asking. This Tim Ritchey 2-year-old could be a nice one.
SHE'LL DO – Proctor filly who had trained smartly leading up to her debut broke from the tough one post, then had her rider ease her back and swung off the rail into the turn before making a determined run to challenge for the lead to late. Had her rider elected to stay inside, she may have been able to turn the tables on the winner, a well-meant filly named Start the Show trained by Michael Catalano Jr.  It shouldn't be long before this Hard Spun offspring leaves the winless ranks.

(P.S. Watch for He'll Do, a colt who has been training in company with this filly and another promising baby of Proctor's named Divine Quality.)

FLIGHT CREW – Looked very good demolishing a field of bottom claimers in first start for sharp Rigattieri barn. This one should be able to handle a jump in class next out.
PEACE CORPS – Beautiful Violence filly lost her best chance to be competitive at the break of her debut when the rider fell back on her, leaving her well off the pace. She recovered to turn in a decent effort in a sprint where they came home the last furlong in :11.4 and looked somewhat confused with everything that transpired. Don't overlook this one in the future, especially going longer.
CLOCKERS' CORNER
SMOKY BLUES – This Iowa-bred knocked out a solid half mile in :48.00 on 08/03. When last seen she ran 5

th

at Prairie Meadows for high-percentage trainer Karl Broberg in early June.
JOCKEYS
Carol Cedeno has been in the spotlight quite a bit this meeting and deservedly so, but there's another jockey who is having a bang up meeting and that's Angel Suarez.
Suarez has been chasing Cedeno much of the meeting, and while there's still a wide gap between first and second in the current standings (49 wins for Cedeno to 36 victories for Suarez), Suarez continues to ride hard and win races. Last week he led all riders with six wins from 22 mounts and also finished second on six other mounts, making him an exacta player's dream. Suarez would have to have a huge second half of the meeting to threaten Cedeno, but he still continues to impress with his keen judge of pace and strength down the lane.
Cedeno had another solid week, posting four wins from 18 starters, while Alex Cintron and Jose Angel Garcia each notched three wins. Cintron also finished second on two others from seven mounts accepted, and his winners have averaged $14.20 mutuel payoffs so he's not just steering heavy favorites around the track. Daniel Centeno continues to get it done when his busy schedule allows him to ride locally, and he also won three races last week from just four mounts.
TRAINERS
Two proven veteran trainers had big weeks as John Rigattieri and Gerald Bennett each sent out three winners between August 1st and August 7th. Rigattieri was a perennial power at Suffolk Downs for years but was forced to move his base of operations to the Mid-Atlantic several years ago when thoroughbred racing in New England fell on hard times. He has shown he can win wherever he goes, sending out winners at a consistent pace at several tracks in the region, most notably Delaware Park. He saddled three winners from just five starters.
Bennett, who is second only to the great Frank Merrill Jr. in races won by a Canadian thoroughbred trainer during his career with 3738 victories, won a trio from seven starters and his winners returned an average of $11.40.
Ageless Art Stauffer, Sr., Jamie Ness, Jesus Cruz and high-percentage winner Kathleen Dimasi each won a pair of races. One of Stauffer's winners was a good-looking first-time starter named Esterina, a filly who looks like she could be a nice sort for a trainer who has been winning races for more than 50 years.
TRACK BIAS REPORT
08/01 – Speed rivals and runners with strong tactical speed had the most success on this midweek card, while the inside portion of the strip with horses racing three to four off the rail travelling the best.
08/02 – Stalkers and closers did well on this Thursday card. The rail seems to have tightened up and gotten firmer, especially through the second turn, as several winners advanced along the rail through that turn before swinging out for successful rallies in the middle of the track down the stretch.
08/04 – Speed runners and horses racing close to the pace fared the best as the rail through the turn continued to improve.
08/06 – The surface played reasonably fair for the Monday program, as again, rivals racing along he inside through the second turn traveled much more comfortably than was the case earlier in the meeting.