Delaware: Youth movement powers Pecoraro barn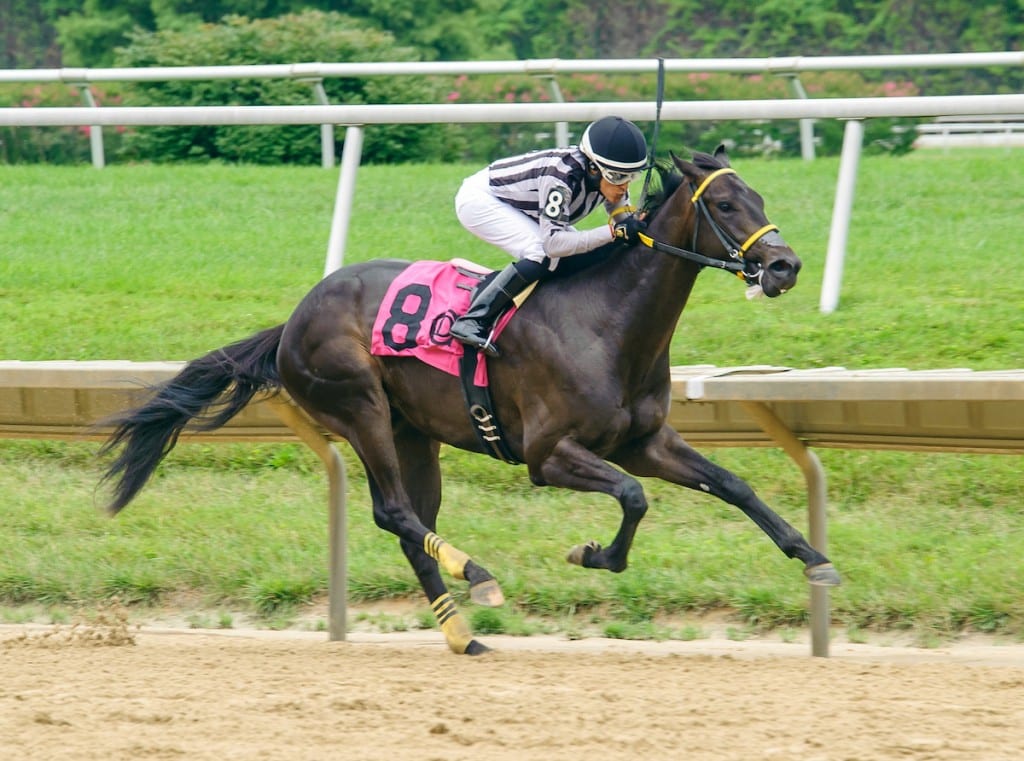 Crypto Currency broke his maiden at Delaware Park on July 25 for trainer Anthony Pecoraro. Photo by HoofprintsInc.com.
by Doug McCoy
Being a thoroughbred horse trainer is a complex occupation. Success requires not just astute horsemanship but also business smarts: handling the myriad of details other than training that go into operating a stable.
Over the years more than one trainer has struggled to handle the administrative and economic side of the job, and there have been numerous cases of top flight horsemen who failed as trainers because they just couldn't handle the business end of the job.
Anthony Pecoraro has been training for more than three decades and has learned that one of the keys to succeeding in a very tough environment is learning to adapt and make changes to deal with the constantly shifting face of the racing industry. The veteran horseman is having a bang-up meeting thus far at Delaware Park this season. The Pecoraro stable is winning at a 34 percent clip. With 12 winners from 35 starters, Pecoraro currently ranks third in wins behind Scott Lake and Jamie Ness a yuear after finishing just one win back of Lake and Ness when that pair tied for leading trainer honors last season.
And he's doing it with a much smaller operation. Both Lake and Ness have sent more than 60 runners to the post thus far at Delaware.
Many of Pecoraro's winners during the meeting have been maidens, and in two recent racing days, he sent out six runners at the track, all of them in maiden company. He has also been deadly with his grass starters, winning with three of the six horses he has sent out in turf races. Pecoraro talked recently about the youth movement going on under his shed row and pointed out the success of his youngsters is the culmination of a carefully planned business plan.
"Right now we've got 12 two-year-olds and several three-year-olds from the 25 in our stable, and we've been fortunate this year that most of the babies have gone through the period of juvenile illnesses and physical development without any serious problems," Pecoraro said. "We came here with a healthy group that were ready to take their next steps and begin racing."
Pecoraro explained that his success with juveniles is really the culmination of a process that begins in January when the newly turned two-year-olds are broken and begin the initial phase of their training and development at Hunter Farm Training Center in Ocala, Florida.
"They get started in January and get their early schooling in Florida, and then we bring them north to the track in March and April and start training them at the track," the trainer explained. "That way they've been in training from 90 to 120 days here with us and are ready to run in June, July, and August. Of course every horse is different and some take longer to come around than others so like anything in this game, you have to be able to adjust and adapt according to the individual horse."dual horse."
Pecoraro's two-year-olds have made 15 starts at Delaware – more than any other trainer's. It's no coincidence Pecoraro's outfit is top-heavy with young runners. For the past several years the trainer has been more and more active at the sales, purchasing weanlings, yearlings, and 2-year-olds with an eye on youth.
"The game has changed quite a bit in recent years, especially regarding the claiming end of the business," he pointed out. "With fewer and fewer horses racing, it's become tougher and tougher to find horses through the claim. If a horse shows any ability at all, there's a five- or six-way shake for the horse, and over time we just decided it was better for us to start with a horse from the ground floor, develop them ourselves, and take our chances that way. Trying to fix someone else's mistakes with a horse is always tough. Fortunately, I've got a good group of owners who, for the most part, agree with our approach."
As for his prowess with turf runners, Pecoraro says there are no secrets.
"Oftentimes we'll move a horse to the turf after they've shown they just aren't that fond of dirt racing and all that goes with it," the horseman explained. "If a horse doesn't like the dirt, we'll wheel them to the turf pretty quick before they get discouraged, and a lot of times it'll turn a horse around mentally."
Pecoraro's record has been consistent over the past four-plus years with his operation knocking out earnings around $800,000 each season since 2014, and the trainer says this year they're shooting for the million-dollar mark in earnings.
"That's our goal and we're on a pace where we can get it done if we're lucky," the trainer said. "And of course a number of our horses are registered in the Delaware Certified program, so the extra money they get from that is a big boost for the owners and the outfit. We decided several years ago to point for the future with young runners, and so far the plan is working out fairly well."