MATCH: Name Changer, Imprimis impress in wins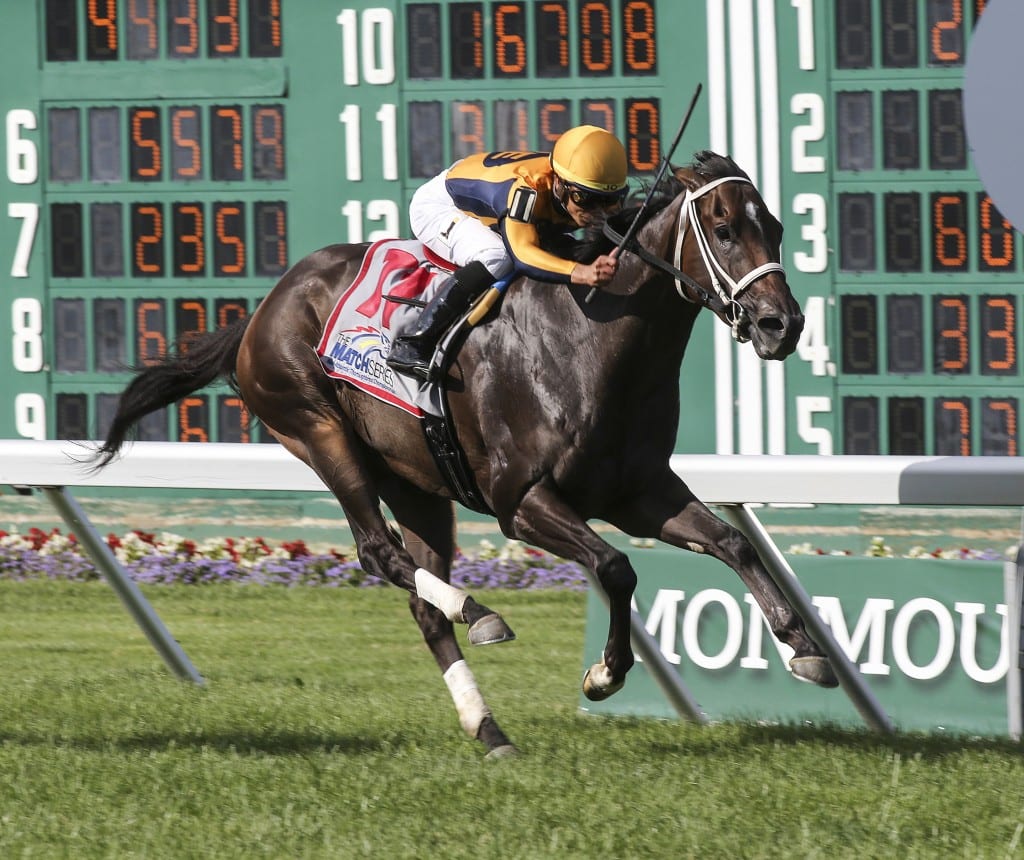 Imprimis won the $75,000 Wolf Hill Stakes at Monmouth Park as part of The Match Series, the Mid-Atlantic Thoroughbred Championships. Photo By Taylor Ejdys/EQUI-PHOTO
by Frank Vespe
Sunday's two Mid-Atlantic Thoroughbred Championships (MATCH) Series seemed to offer the possibility of clarity. Mary Eppler's trainees Page McKenney (three-year-olds and up, long on the dirt division) and Oak Bluffs (three-year-olds and up, turf sprint division) looked likely, if they could win Sunday, to put their respective divisions on lockdown.
Clarity, meet chaos.
Page McKenney was a well-beaten third, while Oak Bluffs could do no better than ninth, and now those two divisions are up in the air.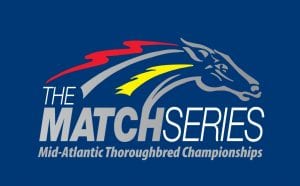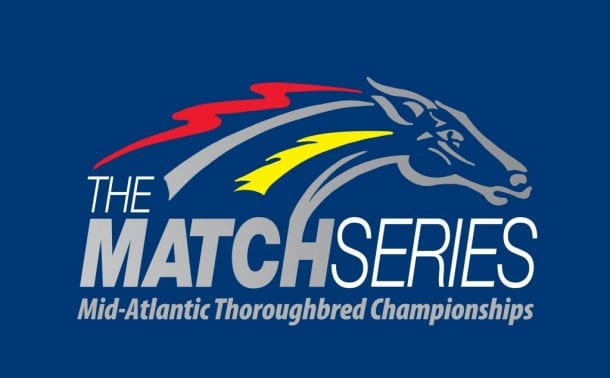 GRADE 3 MONMOUTH CUP
In the first two legs of the series, Page McKenney had recorded a first, in the Grade 3 Salvator Mile, and a second, in the Grade 3 Iselin. Those efforts gave him 17 points in the series and a seven-point advantage over his nearest rivals; a win today would have pushed his advantage to 17 points, a nearly insurmountable cushion.
Instead, though, it was Name Changer who prevailed by a half-length in a long duel with Zanotti. The duo left Page McKenney five lengths in their dust, as he labored home third. Remembering Rita's three-race win streak was snapped, as he finished fourth.
"He broke good, maintained his position and everything was cool from there," said winning trainer Alan Goldberg.
Name Changer, a five-year-old son of Uncle Mo won the 2016 edition of the Richard W. Small Stakes at Laurel Park, but his only win since — albeit in just five starts — came in an allowance at Parx Racing this past May. Last out, he ran third in the Carl Hanford Memorial at Delaware Park, bested by Prince of Hempt and longshot Monongahela.
"I don't what happened in his last race," Goldberg said. "I was a little surprised, other than he ran in fractions that were too fast early. It was a real clunker. It was head-scratcher."
Today, Name Changer was able to sit off the speed of Phat Man and Remembering Rita and get first run when those horses tired.
"When I saw the horses in front of me battling for the lead, I knew I had a good chance of winning the race," added jockey Jose Ortiz, who won four stakes on the card, among them the Grade 1 Haskell. "The horse showed how much heart he had to fend off the horse on my outside."
The win gave Name Changer 10 points in the MATCH Series in his very first start in the contest. The five points Page McKenney earned for third pushed his advantage to 12 points over his nearest divisional rivals, Name Changer and Harlan Punch. With 22 points, he is also in a flatfooted tie for the overall lead — with Oak Bluffs.
WOLF HILL STAKES
by Tom LaMarra, MATCH Series
Breeze Easy's Imprimis rebounded from a troubled trip in a Canadian grade 1 stakes in his previous start to win the $75,000 Wolf Hill Stakes, fourth of five races in the MATCH Series 3-Year-Olds and Up Sprint—Turf Division, at Monmouth Park July 29.
It was the 4-year-old gelding's second win in two MATCH starts, which gives him 20 points. Though Mary Eppler Racing Stable's Oaks Bluffs checked in ninth in the Wolf Hill for one point, he picked up another five bonus points because it marked his fourth start in the division. So he maintains his lead with 22 points and is tied in the overall series standings with his stablemate, Page McKenney.
Imprimis, winner of the Jim McKay Turf Sprint, first leg of the division, broke well from post 11 in the Wolf Hill and was third after the opening quarter-mile. He moved to second just behind front-running Ray'swarrior near the top of the stretch and was able to hold a game Pool Winner, who was in contention throughout, safe by a length at the wire.
The time for the five furlongs on a turf course rated firm was a sparkling 1:01.69. Imprimis returned $4.60 to win as the favorite in a field of 11.
Trainer Joe Orseno indicated the connections will have a choice to make in the near future given the fact the plan is to get Imprimis, who now has five wins in six starts, to the Breeders' Cup World Championships at Churchill Downs. He needs one more start in the MATCH division to qualify for bonus money, but there's only one race left—the $100,000 Laurel Turf Cup at Laurel Park Sept. 15.
"At Woodbine (in the Highlander Stakes), that was an unfortunate trip," Orseno said, noting Imprimis got in trouble at three points in the race. "This was a big race for him today because we wanted to get him back on track. He hasn't been in his own stall (at Monmouth) for a while, so it's nice to just be able to walk him over to the paddock.
"There's nothing wrong with the MATCH bonuses for the owners or the trainers. But the owners want to get to the Breeders' Cup, and the question is, 'Will the Laurel race be a good enough prep to get him there?' We'll look at it as it gets closer."
Another option for Imprimis is the grade III Turf Monster at Parx Racing earlier in September, Orseno said.
Jose Ortiz, who rode Imprimis, said having a clean trip in the Wolf Hill was the key.
"I watched a replay of the last race and he got into a little trouble," said Ortiz, who earlier won the grade III Monmouth Cup, part of the MATCH Series, with Name Changer. "This horse has such a bright future ahead of him. I'm excited for what the future holds."
Oak Bluffs won the Pennsylvania Governor's Cup, second leg of the division. The third leg, the grade III Parx Dash, went to Vision Perfect, who has made only one start in the MATCH Series.
Perhaps fittingly, the turf sprint division might be the widest open division in the Series. Oak Bluffs now has 22 points, two more than Imprimis and three ahead of the hard-hitting Pool Winner, who was a clear second in the Wolf Hill. Dubini, fourth in the Wolf Hill, has 12 points.