Kobiskie returns with a bang as Still There takes Twixt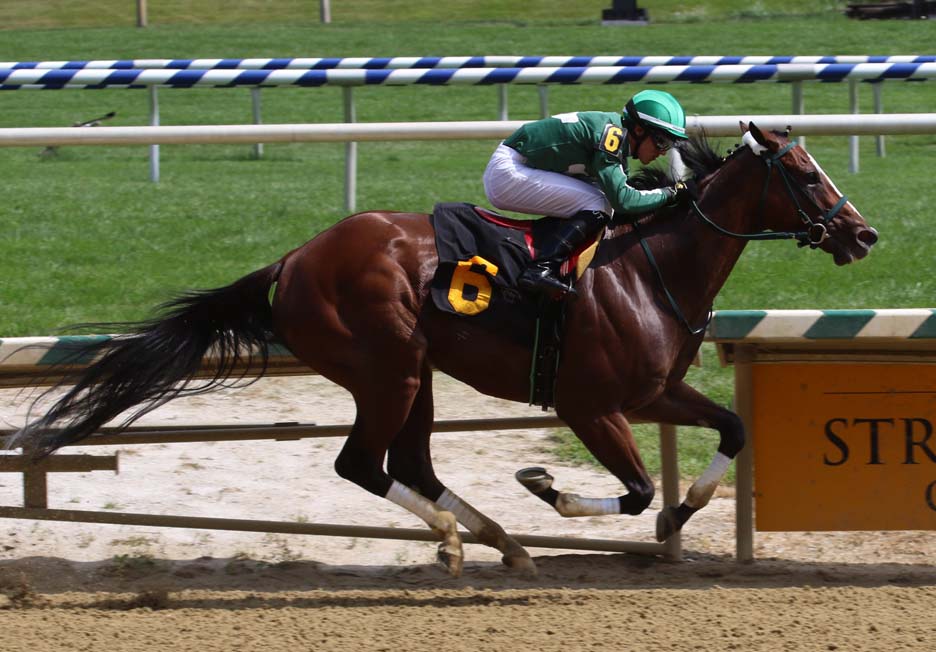 Still There won the Twixt Stakes at Laurel Park. Photo by Laurie Asseo.
by Frank Vespe
A few years back, trainer and onetime jockey Dane Kobiskie was a familiar face in Maryland, and the green and white silks of PTK LLC, for whom he trains, a frequent sight in the Laurel Park winner's circle.
But prior to Saturday, Kobiskie hadn't saddled a horse at his onetime home since the fall of 2015 — a span of nearly three years.
That streak ended emphatically Saturday afternoon, when he saddled the PTK-owned Still There to an easy 3 1/2-length score in the $75,000 Twixt Stakes for fillies and mares at Laurel Park.
"I was looking for a big effort," Kobiskie said. "Didn't know it was going to be that big."
It was actually Kobiskie's second starter of the day at Laurel, his Dial M having run fourth in the opener, a maiden claimer. He also has four more slated to run at the track on Sunday, but Kobiskie said that wouldn't be a trend.
"It's just how it worked out. I had to find a spot for her, and it was the right spot, right distance, you know," Kobiskie explained. "Shipped her in here to run with a few others. Got to make the van ride anyway."
Kobiskie's operation is based in Kentucky and winters in Florida, but despite the flexibility, Still There — a New York-bred — had been something of a challenge for whom to find races. She won her first two races — a maiden event at Keeneland and a state-bred allowance at Belmont — with aplomb before a foray onto the turf went poorly, resulting in a distant sixth-place finish.
That led to the Twixt, a seven-furlong test on the main track that attracted a solid field including multiple graded winner Tequilita, talented Bishop's Pond, and hard-hitting Lake Ponchatrain, among others.
"For $75,000, I was a little bit hesitant," Kobiskie said. "That's a long way to go from home to see those kind of horses."
When the gates opened, the Brittany Trimble-trained Magical went calling for the lead with the favorite, Bishop's Pond, quickly assuming a stalking position in second. Still There, with Jevian Toledo up, assumed a perfect spot off the speed while in the clear.
Nearing the quarter pole, Toledo and Still There bid up outside the top pair, and Toledo took a confident peek behind to see if any of the rest of the field was coming.
"When I saw him look under to see if anybody was there and they were four clear of the rest of the field, he knew he had the favorite beaten," Kobiskie said. "From there, she was just going to draw out."
"I just put her in a great spot, and when I asked her, she gave me everything she got," Toledo agreed.
Still There rolled home well clear of her rivals, stopping the clock in a sharp 1:21.72 for seven-eighths of a mile. Lake Ponchatrain, based at Charles Town with trainer Ernest Haynes, rallied late to nab second, a neck in front of Bishop's Pond, who held third.
For Still There, it was her third win in four career starts and pushed her earnings to $119,900. She was late to the races — she didn't debut until this April, as a four-year-old, the result, Kobiskie said, of "just little setbacks here and there" — but she's making up for lost time now.
"She's a nice filly," Toledo said.
"I knew from day one she could run," Kobiskie added. "Took us a while to get her there, but she's a nice horse, she's honest, very honest."