Midlantic-bred runners enjoying productive July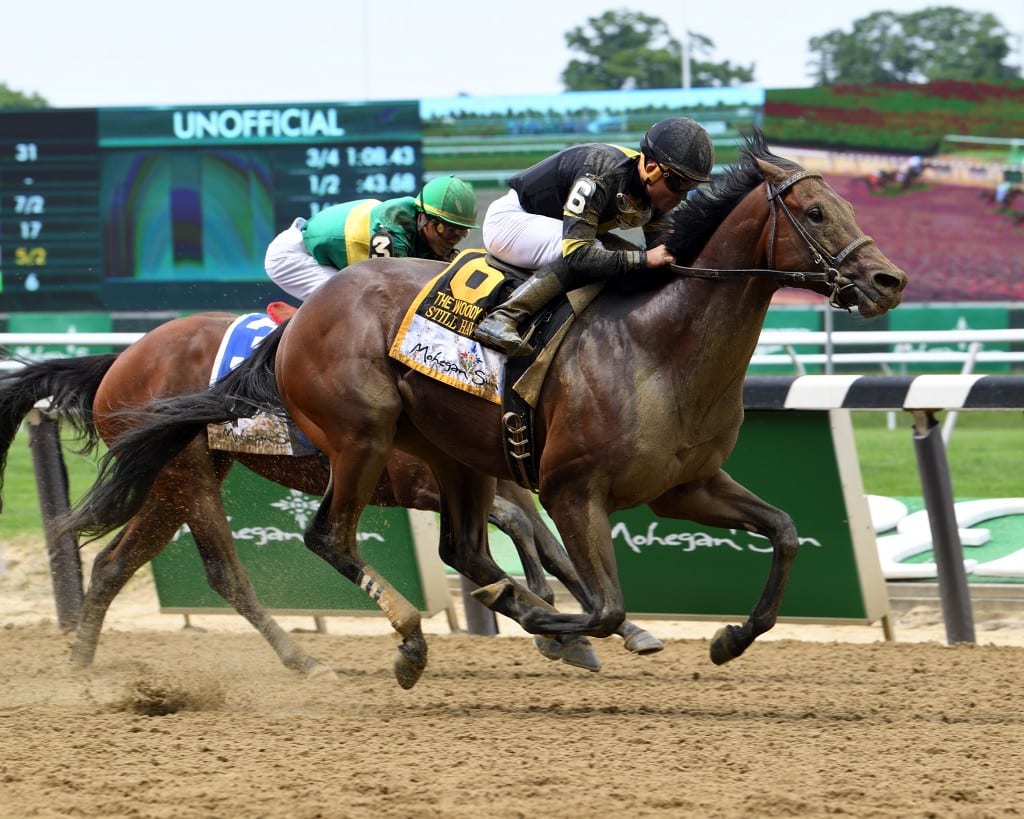 Top-ranked sophomore Still Having Fun won the G2 Woody Stephens Stakes. Photo by Viola Jasko/NYRA.
Staff report
July has been a productive month for Midlantic-breds on the racetrack.Three of them have won graded stakes this month, and several others have won open stakes at racetracks around the country.
The graded stakes winners:
Daddy Is a Legend (PA) — The three-year-old Scat Daddy filly won the Grade 3 Lake George Stakes at Saratoga on July 20. Sent off as the 8-5 favorite, she cruised to a two-length victory for the second graded win of her career. Daddy Is a Legend is trained by George Weaver for Jim and Susan Hill and was bred by HnR Nothhaft Horseracing LLC.
Dixie Serenade (PA) — This sophomore daughter of Uptowncharlybrown was 48-1 when she went worst-to-first to upset the Grade 3 Victory Ride at Belmont Park July 8, prevailing by a neck. She was bred by Fantasy Lane Stable and is owned by Uptowncharlybrown Stud LLC and trained by Ed Coletti, Jr.
Golden Brown (NJ) — A three-year-old Offlee Wild colt, Golden Brown was 15-1 when he surged clear to win the Grade 3 Kent Stakes at Delaware Park July 14. He was bred in the Garden State by Esther de Jong and is trained by Pat McBurney for a group that includes ABL Stable, D. Bossone, P. Donnelly, and J. Schnoor, Jr.
And all of that's to say nothing of the numerous other Midlantic-breds who scored in ungraded stakes. They include Navy Commander (PA), O Dionysus (MD), Whereshetoldmetogo (MD), Prince of Hempt (PA), Fahan Mura (PA), Trooper John (PA), and, on July 23, Ruby Notion (WV), who won the Caress Stakes at Saratoga for her first stakes win in almost three years.
Additionally, below is the Mid-Atlantic Thoroughbred/The Racing Biz Top Midlantic-bred Poll through July 8. Safe to say that voters will have some thinking to do for August's poll.
TOP THREE-YEAR-OLDS
Still Having Fun (MD) — colt by Old Fashioned-Casual Kiss, by Dehere; bred by Tim Keefe and Mr. and Mrs. Charles McGinnes; owned by Gary Barber, Wachtel Stable, and Terp Racing LLC; won Miracle Wood S., Whiteley S. Last month: 3rd.
Blamed (MD) — filly by Blame-Salsa Star, by Giant's Causeway; bred by Sagamore Farm; trained by Joel Marr for Cleber J. Massey; won El Paso Times S., Island Fashion S., Sunland Park Oaks. Last month: 1st
Cosmic Burst (PA) — filly by Violence-Peggy Ring, by Ghostzapper; bred by Pewter Stable; trained by Donnie Von Hemel for Norma Lee Stockseth and Todd Dunn; won G3 Honeybee Stakes. Last month: 2nd
Dixie Serenade (PA) — Filly by Uptowncharlybrown-Moonlight Serenade, by Malibu Moon; bred by Fantasy Lane Stable; trained by Ed Coletti for Uptowncharlybrown Stud LLC; won G3 Victory Ride S. Last month: NA
Navy Commander (PA) — Gelding by Poseidon's Warrior-Glenmary Lane, by Fairbanks; bred and owned by Swilcan Stables; trained by Butch Reid; won Long Branch S. Last month: NA
Also receiving votes: Prince Lucky, Whereshetoldmetogo, Smokinpaddylassie, Goodonehoney
TOP OLDER HORSES
Unique Bella (PA) — 4yo filly by Tapit-Unrivaled Belle, by Unbridled's Song; bred by Brushwood Stable; trained by Jerry Hollendorfer for Don Alberto Stable; won G1 Beholder Mile, G2 Santa Maria, 2nd Grade 1 Apple Blossom. Last month: 2nd.
Spring Quality (PA) — 6yo gelding by Quality Road-Spring Star, by Deputy Minister; bred by George Strawbridge, Jr.; trained by Graham Motion for Augustin Stable; won G1 Manhattan S. Last month: NA
One Go All Go (VA) — 6yo horse by Fairbanks-See Ashleigh Run, by Marquetry; bred by Albert P. Coppola; trained by Charles Dickey for Rodney Paden; Won Grade 2 Dixiana Elkhorn S., 2nd G2 Mac Diarmida S., 2nd G2 Ft. Lauderdale S., 2nd G2 Pan American S., 3rd G1 Man o' War S. Last month: 3rd.
Army Mule (PA) — 4yo ridgling by Friesan Fire-Crafty Toast, by Crafty Prospector; bred by Hope Hill Farm; trained by Todd Pletcher for St. Elias Stable; won G1 Carter H. Last month: 1st.
Long On Value (VA) — 7yo horse by Value Plus-Long Message, by Orientate; bred by Snow Lantern Thoroughbreds; trained by Brad Cox for Madaket Stables LLC, Ten Strike Racing, and Steve Laymon; won G1 Highlander S. Last month: NA
Also receiving votes: Page McKenney, Irish War Cry, Oak Bluffs, Senior Senator, Lewisfield
Participating Voters: Ted Black (freelance writer), Michael Campbell (Thoroughbred Breeders' Association of New Jersey), Joe Clancy (Mid-Atlantic Thoroughbred), Cindy Deubler (Mid-Atlantic Thoroughbred), Linda Dougherty (freelance), Debbie Easter (Virginia Thoroughbred Association), Paul Espinosa (Charles Town Races), Anne Frederick (Maryland Horse Breeders Association), Rich Glazier (Delaware Park), Cricket Goodall (Maryland Horse Breeders Association), Jim Hague (freelance), Nick Hahn (freelance), Carol Holden (West Virginia Breeders Classics), Tom LaMarra (The Blood-Horse), Jeff Nations (freelance), Kate Painter (West Virginia Thoroughbred Breeders Association), Vinnie Perrone (freelance), Frank Petramalo (Virginia Horsemen's Benevolent and Protective Association), Gary Quill (The Racing Biz), David Richardson (Maryland Thoroughbred Horsemen's Association), Brian Sanfratello (Pennsylvania Horse Breeders Association), Sal Sinatra (Maryland Jockey Club), Chris Sobocinski (Delaware Park), Dan Tordjman (freelance), Frank Vespe (The Racing Biz), Bill Watson (freelance), Lydia Williams (freelance), Bobby Zen (freelance).
Note — Not all participating voters will vote in every poll.