Laurel: Hamilton Smith snaps losing streak with four-win day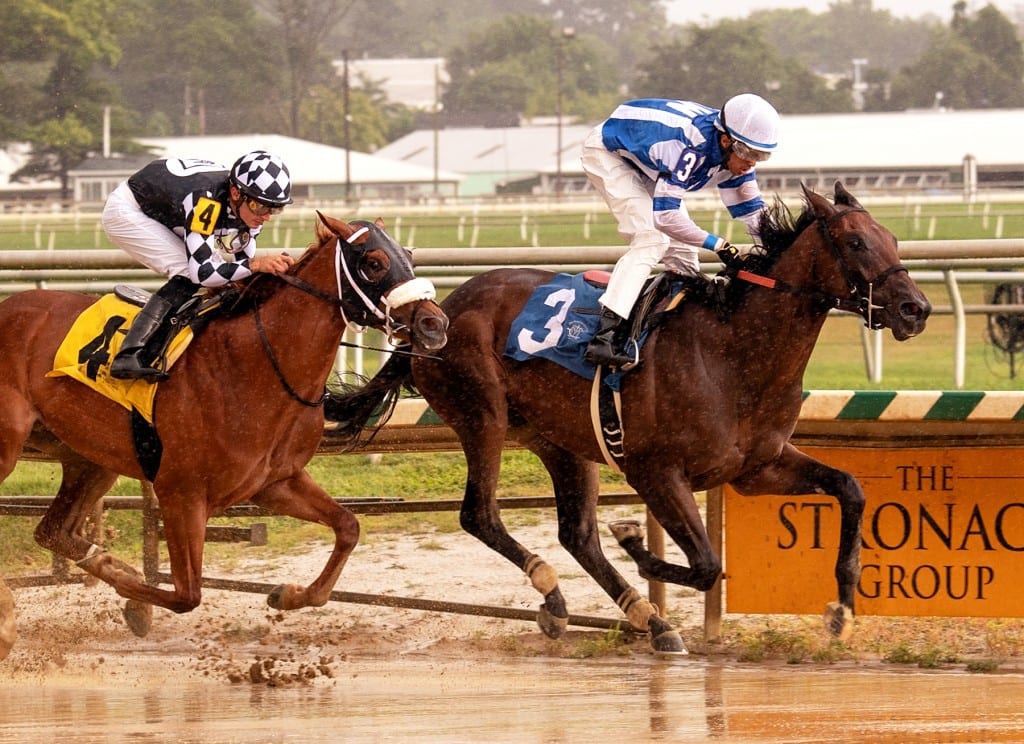 Scrap Copper outfought Boss Boss to break his maiden. Photo by Jim McCue, Maryland Jockey Club.
by Frank Vespe
Trainer Hamilton Smith entered Sunday's racing action at Laurel Park on what you might call a bit of a cold streak.
That is, if you're prone to understatement.
Smith's runners had lost 37 consecutive races entering the day, and the veteran trainer who often is among Laurel Park's elite was just one-for-38 at his home track.
"Very frustrating. I had a lot of horses that really figured in races and just little things happened here and there. Nothing you can control," Smith said Sunday afternoon. "I had 15 of them that were fourth or better this month before this horse. It was frustrating. It really was."
By early Sunday afternoon, though, Smith was able to breathe a little easier. His trainees took four of the first five races at Laurel Park, the most consequential of those wins going to Scrap Copper, a two-year-old Great Notion colt he trains for Kathleen Willier. Scrap Copper outgamed favored Boss Boss to win a $40,000 maiden special weight test on the main track.
"I though he'd run really well, I really did," Smith said. "He's really been working good."
Scrap Copper is out of the Olmodavor mare After All. He was bred in Maryland by the late Nellie Mae Cox and Rose Retreat Farm and was sold at the Fasig-Tipton January 2017 mixed sale.
Sent off the 7-2 second choice, Scrap Copper and jockey Victor Carrasco were away alertly along the inside in this afternoon's event, quickly taking command but immediately confronted by Boss Boss, the well-regarded firster who was the 3-2 post time favorite.
Those two were a head apart after an opening quarter-mile in 22.97 seconds, and the favorite drew nearly even with Scrap Copper at the head of the lane. But Scrap Copper proved more determined, repelling that bid and inching away to a half-length victory over Boss Boss. It was more than 10 lengths farther back to Beyond the Victory in third.
Running time for the 5 1/2 furlongs was 1:05.02. Scrap Copper paid $9.00 to win and topped an exacta worth $10.60 for a buck.
It was an impressive effort for the top pair, particularly given the circumstances. The fourth race, scheduled to go off at 2:40, didn't actually go off until 3:07. The horses were stuck in the paddock during a lengthy weather delay prompted by a severe thunderstorm that blew through Laurel mid-afternoon.
"He's just a smart colt, laid-back, does everything you'd ask him to do," Smith said. "When you get him out there working, he's all business."
There aren't a lot of options out there at this time of year for two-year-old winners, but one spot that is on the Smith's radar — "If everything continues on and he shows that he belongs" — is the Maryland Million Nursery October 20.
NOTES Smith's other winners were True Cat in the first, Queen of Schmooze in the second, and Stillsexyatsixty in the fifth. He also had an Alternation filly making her debut, Bye Bye Bertie, who ran second in the eighth… Scary scene before the fourth, as trainer Donald Souder was kicked in the face by a horse in the paddock. Souder was removed from the paddock by stretcher and taken by ambulance to Prince George's Medical Center, where sources said he was conscious.