Johan Rosado: Learning from dad, and experience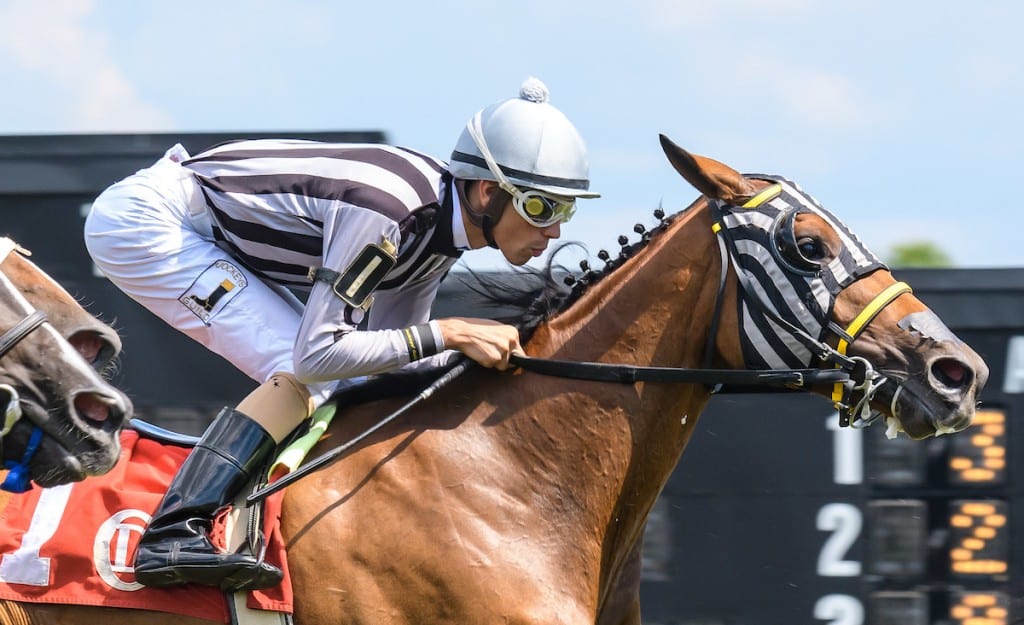 Jockey Johan Rosado in action at Delaware Park. Photo by HoofprintsInc.com.
by Doug McCoy
Going back to 1974 the Delaware Park meeting has played a role in determining the nation's top apprentice jockey. Chris McCarron won the Eclipse Award for the country's top apprentice that year while riding at Delaware Park in the daytime and then driving to Penn National to ride that track's evening programs.
Since then riders like Ronnie Franklin, Kent Desormeaux, Juan Umana, Jeremy Rose, and Victor Carrasco have used the Delaware Park meeting to help springboard them to winning Eclipse Awards as the nation's top "bug boy."
Twenty-one years ago Roberto Rosado also joined the Eclipse Awards record book when he and Phil Teator shared the bronze statue as the nation's top apprentices of 1997. Rosado was headquartered at what was then Philadelphia Park during his award-winning season, and this summer his son, Johan is using Delaware Park as his base as he tries to follow in his father's footsteps.
Rosado is currently leading all apprentices at the Delaware meeting and is ranked in the top five in the overall standings with 12 winners from 58 mounts. The 19-year-old has shown steady improvement
The young rider has been following a busy schedule since this summer, riding at Laurel Park, Parx Racing and Penn National when he's not at Delaware Park.
"Well, I knew a little of what to expect because when you're dad's a rider you learn you have to take advantages of the opportunities that are available," Rosado pointed out, "You only have your bug for a short time and you've got to utilize that time as well as you can if you expect to succeed. Being busy and having a hectic schedule in this business means people want you to ride for them, so busy and hectic may be tiring but it's good."
Having a father who has more than 20 years of experience as a jockey has to be an advantage for a young rider, and Rosado says he and his dad talk almost daily about his riding.
"He watches my races pretty close then after he'll tell me if he sees anything I did wrong or have to work on," the rider revealed, "and it also feels good when he compliments me. He didn't try to school me too much before I started. He said learning from experience is the best teacher and he was right."
Rosado has become friends with Jorge Vargas Jr. and says the advice and pointers that accomplished journeyman has passed along to him have been invaluable.
"He's been a world of help to me," Rosado said. "We've become friends and he's sorta taken me under his wing. He's been a big part of any success I've been having."
Rosado won 22 races last season after posting his first victory at Parx last September — in his very first start, in a race in which his father also rode, finishing fifth. This year the apprentice has booted home 58 winners already, and his mounts have earned more than $1.4 million. He has impressed veteran observers with his never-give-up style of riding.
A prime example of that was his performance aboard Lake Ponchatrain in the Dashing Beauty Stakes on July 7. In that race Rosado had worked his way through traffic and challenged for the lead from between horses in mid-stretch. Meanwhile Trevor McCarthy had ranged up along the far outside on Jessica Krupnick, and that pair gained almost a length advantage into the final sixteenth of the sprint and looked like they had sealed the deal as they neared the wire. But Rosado refused to give up on his mount, and Lake Ponchetrain came on again inside Jessica Krupnick, the two horses hitting the wire together. Jessica Krupnick did prevail by a desperate nose, but the finish was yet another illustration of Rosado's determination and poise in the heat of battle.
The rider plans to continue to shoulder the heavy workload as the demands for his services warrant.  He knows winning the Eclipse Award might be a longshot, but he admitted it would be quite a thrill to win the same award his father won.
"For now I'm just going to enjoy what I'm doing and hope for the best," the jockey concluded. "There's no thrill like winning a race. I could see it in my father's eyes when I used to watch him ride, and now I'm getting the opportunity to experience that myself. There's no feeling like it."