Still Having Fun pointed to G1 Jerkens at the Spa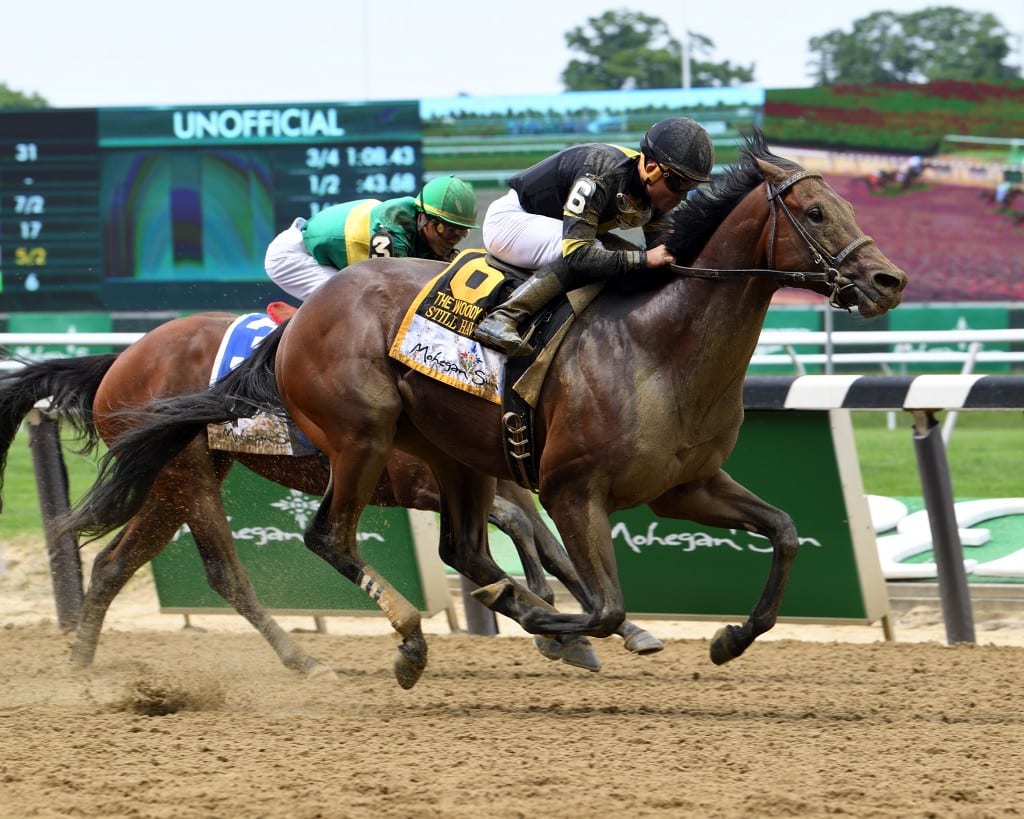 Still Having Fun won the G2 Woody Stephens Stakes. Photo by Viola Jasko/NYRA.
From a Maryland Jockey Club release
Gary Barber, Wachtel Stable and Terp Racing's Grade 2 winner Still Having Fun, based at Laurel Park with trainer Tim Keefe, is scheduled to make his next start in the seven-furlong H. Allen Jerkens Memorial (G1) Aug. 25 at Saratoga Race Course.
After giving consideration to both the one-mile Dwyer (G2) July 7 at Belmont Park and the 6 ½-furlong Amsterdam (G2) July 28 at Saratoga, his connections opted to give Still Having Fun a brief freshening and point for the $500,000 Jerkens, previously run as the King's Bishop.
"We decided to skip the Amsterdam and I didn't want to go as far as a mile in the Dwyer," Keefe said. "The horse has been consistently running every month since he started last November, so we thought it would be a good time to just back off slightly and get him freshened and ready for the race at Saratoga."
Still Having Fun, a 3-year-old bay son of Old Fashioned, rallied from ninth in a 10-horse field to win the seven-furlong Woody Stephens (G2) June 9 at Belmont, on the eve of the Belmont Stakes (G1). It was the first career graded win for Keefe and his colt, who opened 2018 with victories in the Frank Whiteley Jr. and Miracle Wood over the winter at Laurel.
"He's doing great right now," Keefe said. "He came out of the last race super. He still goes out six days a week, je just does a lot more jogging. It's a little bit more relaxing. I haven't breezed him since the race; I may do something maybe this weekend or next weekend with him. I'll kind of let him tell me.
"It's a balancing act between getting him fresh and giving him some easy time," he added. "We've got a couple spots we're looking at for him if everything goes well at Saratoga, [so] we're not doing a lot of speed work with him, just basic galloping and jogging, that sort of thing, to keep his mind going."
Keefe earned his 500th career victory July 7 at Laurel with runaway maiden winner Ticker Tape Parade. He has never won a race at Saratoga, but did finish third by a length and a head with 22-1 long shot Strike Zone in a 1 1/8-mile turf claimer on Aug. 25, 2001 – one race after eventual Horse of the Year Point Given's victory in the Travers.
"I've run before at Saratoga but I've never really done anything before," Keefe said. "I really haven't had a lot of horses that really warranted going up there to run, but this horse certainly looks like this will be a good spot for him."