Charles Town: Latest trainer stats through July 18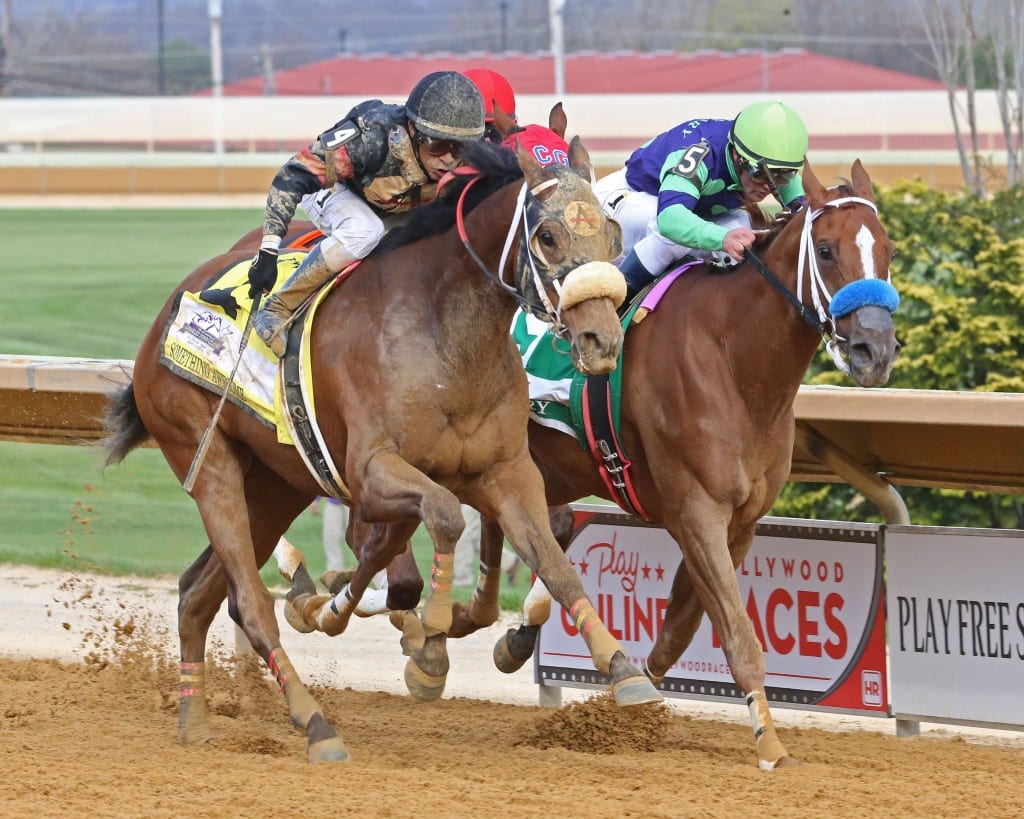 Something Awesome won the Grade 2 Charles Town Classic. Photo by Coady Photography.
by Chelsea Lowman
Trainer Jeff Runco remains atop the leaderboard in our alternative trainer rankings for Charles Town. His total of 222.42 points has him ahead of Javier Contreras (195.35), Jose Corrales (188.36), Ronney Brown (173.61), and James Casey (168.43), who round out the top five.
Our system takes into account wins, win percentage, earnings per start, and wagering return on investment. The trainer leading the colony in each category receives a score of 100 for that category, with other conditioners getting a percentage of that. That would give a trainer leading in all categories a perfect score of 400.
In brief, the rating system rewards those who win often and in the biggest races. We applied the stats to every trainer at Charles Town who's made at least 40 starts and won at least one race.
Runco's 73 victories have him well ahead of his nearest rival, Ronney Brown, who sits in second with 48 wins.  Contreras and Tim Grams are tied for third, with 28 wins apiece. Tied for fifth are Casey and John McKee, who have each saddled 25 winners to date.
Just as in our prior rankings, Contreras sits in first-place when it comes to win percentage. His strike rate of 28.28 percent has him just ahead of John Carlisle, who has a win percentage of 26.87 percent. Joan Reynolds is next, with a win rate of 23.88 percent. Completing the top five are Runco and Casey, with strike rates of 23.47 and 21.55 percent, respectively.
With earnings per start of $18,407, Jose Corrales continues to lead the colony with a strong advantage. His Something Awesome won the $1.2 million, Grade 2 Charles Town Classic, which is the primary reason he has such a large advantage. Well behind him in second is Contreras, whose earnings per start come out to be $4,059. Casey, Runco, and Grams round out the top five with earnings per start of $3,964, $3,875, and $3,364, respectively.
Michael Atkins continues to get longshots home, giving him a secure place on top in terms of wagering ROI. For every $2 win wager placed on his horses, the average payout that his supporters receive is $6.64. His most recent winner, Ethel's Castle, paid a whopping $55.20 to win on July 12. Atkins's other big winners during this meet include Vintage Gin, with winning odds of 54-1, Kluvabye, with odds of 25-1, and 21-1 longshot Riskshighpayislow.
Tied behind Atkins in second are William Aylor Jr. and Raimondo Schiano-Dicola, who each have and ROI of $2.98. Completing the top five for wagering ROI are Kristy Gazzier ($2.64), Casey ($2.42), and Contreras ($2.32).
The rankings include all races through July 18, 2018.
CHARLES TOWN TRAINER RANKINGS
| RANK | TRAINER | RATINGS POINTS | WINS | WIN PCT. | EARNINGS/START | $2 ROI |
| --- | --- | --- | --- | --- | --- | --- |
| 1 | Runco Jeff C | 222.42 | 73 | 23.47% | $3,875 | $1.22 |
| 2 | Contreras Javier | 195.35 | 28 | 28.28% | $4,059 | $2.32 |
| 3 | Corrales Jose | 188.36 | 6 | 15.00% | $18,407 | $1.80 |
| 4 | Brown Ronney W | 173.61 | 48 | 19.35% | $2,488 | $1.72 |
| 5 | Casey James W | 168.43 | 25 | 21.55% | $3,964 | $2.42 |
| 6 | Carlisle John C | 160.47 | 18 | 26.87% | $2,801 | $1.70 |
| 7 | Atkins Michael G | 160.46 | 5 | 12.20% | $1,931 | $6.64 |
| 8 | Grams Timothy C | 156.88 | 28 | 21.54% | $3,364 | $1.60 |
| 9 | Reynolds Joan A | 156.04 | 16 | 23.88% | $2,991 | $2.22 |
| 10 | Figgins III Ollie L | 148.79 | 24 | 19.83% | $3,105 | $1.92 |
| 11 | Gazzier Kristy | 137.86 | 11 | 20.00% | $2,267 | $2.64 |
| 12 | Schiano-Dicola R | 124.67 | 7 | 16.28% | $2,328 | $2.98 |
| 13 | McKee John D | 116.86 | 25 | 14.20% | $2,469 | $1.26 |
| 14 | Pickett Crystal G | 111.80 | 10 | 16.67% | $2,664 | $1.64 |
| 15 | Aylor Jr William L | 101.27 | 5 | 12.20% | $1,183 | $2.98 |
| 16 | Casey John A | 92.85 | 7 | 11.86% | $2,281 | $1.92 |
| 17 | Jones Jr Michael E | 89.31 | 9 | 12.86% | $1,534 | $1.54 |
| 18 | Pennella Rhea M | 85.40 | 7 | 11.48% | $1,219 | $1.90 |
| 19 | Davis Russell E | 84.93 | 5 | 10.64% | $1,794 | $2.04 |
| 20 | Walters David | 81.12 | 7 | 12.50% | $2,093 | $1.06 |
| 21 | Tracy Greg | 78.93 | 5 | 11.63% | $1,320 | $1.58 |
| 22 | Boggs M Joanna | 74.15 | 5 | 10.64% | $1,361 | $1.48 |
| 23 | Rideouttii Anthony M | 68.55 | 5 | 11.11% | $2,352 | $0.64 |
| 24 | Gaffney Hubert | 58.12 | 5 | 7.69% | $1,381 | $1.10 |
| 25 | Shanley Mark A | 55.03 | 4 | 7.84% | $1,411 | $0.94 |
| 26 | Ingram Adam L | 53.80 | 5 | 7.58% | $940 | $1.00 |
| 27 | Dollinger-Stehr L | 48.23 | 4 | 7.41% | $1,829 | $0.44 |
| 28 | Keller Christopher M | 43.20 | 2 | 4.17% | $1,022 | $1.34 |
| 29 | Lucas Anthony | 38.65 | 3 | 4.41% | $1,269 | $0.80 |
| 30 | Stehr Joseph P | 36.38 | 3 | 5.88% | $1,114 | $0.36 |
| 31 | Correa Jr Alex A | 31.77 | 2 | 3.92% | $906 | $0.68 |
| 32 | Collins Timothy M | 24.44 | 2 | 3.23% | $1,452 | $0.16 |