Elate returns from layoff to dominate Delaware Handicap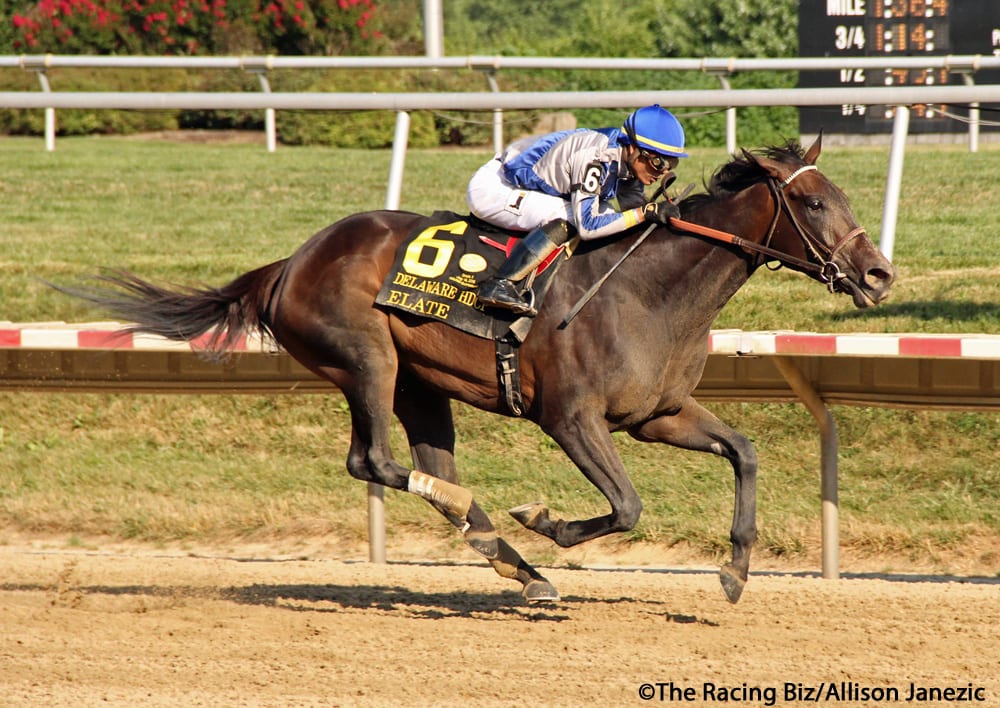 Elate was clear to win the G2 Delaware Handicap. Photo by Allison Janezic.
by Frank Vespe
Elate is back.
And that could make the distaff division very interesting, indeed, through the rest of the summer and fall.
The four-year-old daughter of Medaglia d'Oro announced her return to action emphatically this afternoon, rolling to a 3 1/4-length victory in the Grade 2, $750,000 Delaware Handicap against a deep — but in the event, overmatched — field that included the Grade 1 winner Unbridled Mo, Grade 2 winner Mopotism, and Grade 3 winner Teresa Z.
And she did it despite coming off an eight-month layoff following her fourth-place finish, as the favorite, in last November's Breeders' Cup Distaff.
"I thought it was good," winning trainer Bill Mott said of his charge's effort. "She went early, and she held on well. Was she getting a little tired? She could have been. She had a right to be."
Adele Dilschneider, who along with Claiborne Farm co-bred and co-owns Elate, was somewhat more effusive in praising her horse.
"She just shone," Dilschneider said, while watching the race replay from the Delaware Park winner's circle. "Look at her. I've got to go home and watch this a hundred times. Wow."
It was a rugged field, but Elate clearly owned a class advantage over her rivals, as well as having had prior success over the strip. She cruised to victory in last year's Light Hearted Stakes locally, which kicked off a sequence in which she posted dominant wins in the Grade 1 Beldame and Grade 1 Alabama, and was second, beaten a head, in the Grade 1 Coaching Club American Oaks to Abel Tasman, who earned the 2017 Eclipse Award as champion three-year-old filly.
All of that came in a season in which Elate won three of nine starts and earned over $834,000. But it was also a season that ended somewhat in disappointment, as she could do no better than fourth in the Distaff.
"We went to the Breeders' Cup, and she was doing well," Mott said. "But she wasn't doing as well. She didn't really finish with the energy we hoped she had."
This year's goal is a return trip to the Distaff, to be held November 2 at Churchill Downs, but to arrive there at her very best. That means something of a truncated season; by this time last year, she had made five starts.
Certainly, a win in today's Delaware Handicap is a good place to start, and Mott said his charge likely would make her next start in the Grade 1, $700,000 Personal Ensign at Saratoga August 25.
In today's event, Loooch Racing sent out a trio of runners, including speed horse Proper Discretion and closer Fuhriously Kissed. The former, with Agustin Bracho in the irons, grabbed the early lead and cantered the field through tepid fractions in the early going. She led by two lengths after a half-mile in 49.38 seconds, and still by a half-length in 1:14.00 after six furlongs.
Elate was towards the rear early and under a Jose Ortiz hammerlock. But Ortiz astutely moved his mount to the outside and closer to the pace. By the time six furlongs had gone, she was in second and breathing down Proper Discretion's neck.
"It was good," Mott said of Ortiz's move. "By (the stands) the first time, I was a little concerned they were going too slow."
Elate moved to the lead on the far turn, while the Claudio Gonzalez trainee Sneaky Betty, off at 85-1, moved boldly into second under Jomar Torres. She was just a half-length behind after a mile in 1:38.83 and seemed, for a moment to have momentum.
And there was the Anthony Margotta, Jr. trainee Teresa Z, under a ride from mid-turn, looming up into third, two lengths back.
But then Ortiz shook his horse up left-handed, and she responded willingly, pushing her advantage to four lengths leaving the furlong grounds before settling for the final margin of victory.
Running time for the 1 1/4 miles on a fast main track was 2:04.83, the slowest DelCap since 2001. Sneaky Betty held second, just a neck ahead of Teresa Z, who more than a length clear of Fuhriously Kissed. Unbridled Mo, the second favorite, settled for fifth.
All in all, it was quite a training job for Mott, getting his star ready to win a 10-furlong race off an eight-month layoff. But the Hall of Fame trainer was matter-of-fact about it.
"We knew we had a quality filly, and we knew she was capable of winning a race like this," he said.
Or, it appears, just about any kind of race in the country.