Harlan Punch romps in G3 Iselin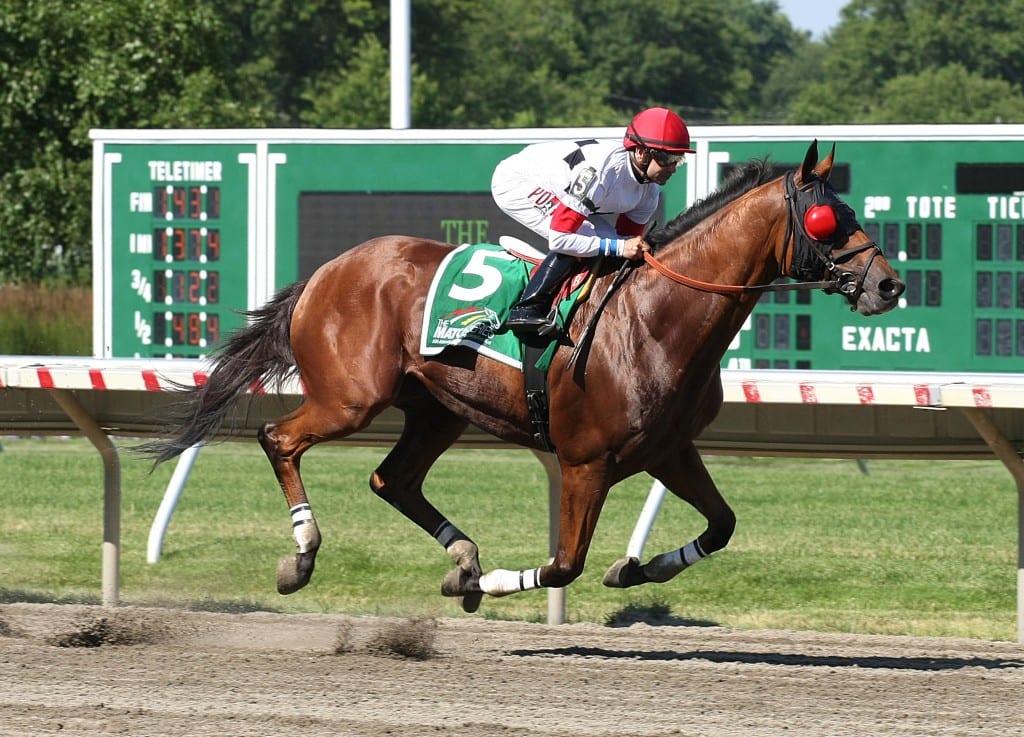 HOW IT HAPPENED
Harlan Punch took the Philip H. Iselin Stakes. Photo By Ryan Denver/EQUI-PHOTO
It couldn't have been any easier for Harlan Punch in Saturday's Grade 3, $100,000 Philip H. Iselin Stakes at Monmouth Park.
In a race that scratched down to just four runners, the five-year-old Harlan's Holiday gelding was left the main — indeed, the only — speed and took full advantage.
Under jockey Jersey Joe Bravo, he grabbed the early lead, set a dawdling opening quarter of 24.93 seconds, and then never gave his foes a chance. Ahead by two lengths after three-quarters of a mile in 1:12.53 over a fast main track, he pulled away to win by 5 1/4 lengths in 1:44.53 for 1 1/16 miles. It was the first graded stakes win of Harlan Punch's career.
Veteran Page McKenney, the popular Pennsylvania-bred former-claimer-made-good for trainer Mary Eppler, gave willing chase under jockey Horacio Karamanos, but pressing the pace was never going to play to his strength. He nevertheless fought off Backsideofthemoon for the place, 1 1/2 lengths ahead, while that rival had the show position.
Imperative, off over a year, finished fourth.
Harlan Punch earned 10 points in the MATCH Series, his first in the series, while Page McKenney accrued seven and leads all horses with a total of 17.
MATCH STANDINGS – 3 & UP, LONG ON THE DIRT DIVISION
Page McKenney – 17 points
Harlan Punch – 10
Shaft of Light – 7
Backsideofthemoon – 5
Sunny Ridge – 5
QUOTABLE
"I'm probably the biggest Page McKenney fan there is but when you've got a horse that is lone speed it's hard to beat. He was out there by himself. He ran off with me. He was the best horse and he was out there by himself. It's hard to catch a walking dog."
— Jockey Joe Bravo, rider of Harlan Punch
"Joe Bravo rode him perfectly, as he always does for me. A perfect ride and the race just set up perfectly for us. When that horse gets to the lead he's tough. He gets in front and he gets his ears up, he relaxes and he's tough to beat. It's the first of many more graded stakes for him I hope."
— Winning trainer David Jacobson
FACTS AND FIGURES
Winner paid: $4.40-$2.60
Winning time: 1:44.53 for 1 1/16 miles
Margins: 5 1/4 lengths from Harlan Punch to Page McKenney in second, another 1 1/2 lengths back to Backsideofthemoon in third
Winner's record: 31-8-8-5, purse earnings of $653,993
CONNECTIONS
Trainer: David Jacobson
Owner: David Jacobson
Breeder: Rosemont Farm LLC
Pedigree: Harlan's Holiday – Indy Punch, by Pulling Punches
Jockey: Joe Bravo
HOW WE 'CAPPED IT
#5 Harlan Punch (3-1): Looks to have the jump on main rivals as will be on or near the lead early and has back figs that measure up nicely
#3 Page McKenney (5-2): You don't think we could leave this guy out of the mix, do you? Just when you count him out, he comes roaring back into form; figures to be rolling late and nobody could be surprised if he gets there
#6 Hit It Once More (10-1): Another who figures to be forwardly placed early and owns three wins at the trip; may not be quite the equal of the top pair but could easily hold on for minor award
MATCH OVERALL STANDINGS
Page McKenney – 17
Oak Bluffs – 15
Lewisfield – 12
Switzerland – 10
Girls Know Best – 10
Imprimis, Morticia, Chublicious, Vertical Oak, Chalon, Harlan Punch – 10 each