For trainer Carrasco, good owners and ability to adjust bearing fruit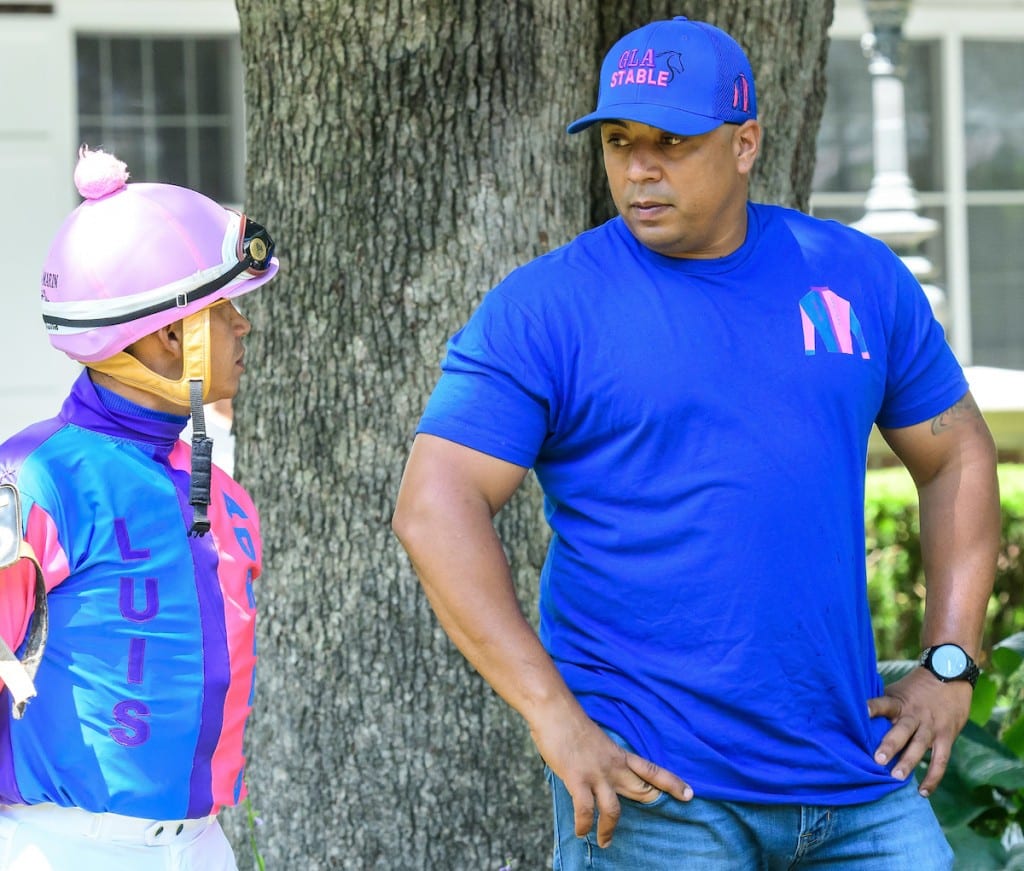 Trainer Victor Carrasco, Jr. and jockey Augusto Marin talk strategy at Delaware Park. Photo by HoofprintsInc.com.
by Doug McCoy
When Victor Carrasco, Jr. decided five years to leave his native Puerto Rico to try to establish himself in the mainland United States, he knew he faced no easy task. He had enjoyed a good bit of success for more than 13 years in Puerto Rico, ranking among the leading trainers and training three runners who won Grade I races. His father, Victor Carrasco, Sr., had been the country's top horseman for a number of years before him.
But Carrasco knew moving to the mainland meant he would have to rebuild his stable, as well as learn the many differences involved in training here. The 42-year-old, who has sent out five winners from 16 starters in his second meeting at Delaware Park, was candid about what he found when he brought eight horses to Finger Lakes back in 2014.
"I'll admit it was pretty scary at first, but I was fortunate in that I had the support of owners who were willing to spend the money to buy some horses and support me," Carrasco admitted recently. "I didn't speak English that well when I got here, and I knew that was going to be critical if I was going to communicate. And while training horses may be basically the same the world over, the difference is there are a lot of differences in the way things are done in this country as opposed to back home. It was almost like going to school again. It's been a slow process, but over time I think we've been able to pick up things, make adjustments and learn what you have to do to win here."
Carrasco won 31 races in 2014 and 40 in 2015 but tailed off a bit in 2016 and 2017. Carrasco said he had to readjust his thinking and make some changes in his stock.
"When we came here last year, we were a little top heavy with turf runners," he explained. "While I like turf horses and think they're easier to train, you're always at the mercy of the weatherman and it's tough when you bring a horse up to a race then it comes off the grass. We had a tough year last year and didn't do as well here as we wanted but we've got some fresh stock, claimed some horses and think overall the stable's in a lot better shape this season."
As any trainer can tell you, one key to a trainer's success is the quality of his or her owners, and Carrasco is quick to give credit to his.
"My two owners, Gladys Falcon and William Rivera, have continued to support me and we've been able to buy some horses and upgrade a bit," he said. "We winter in Florida at Tampa Bay Downs, and training over that track down there is kind to the horses but it's also good for building stamina. I'm sure that's helped us early in the meet, but I think we've got the horses to continue to do well. We've got 17 and I think it's a well-balanced group."
Carrasco is on track to vastly improve on last season's record. Through June 28th he's won 18 races and that's one more than he won all season last year.
Of course the name Carrasco is familiar to many in the Mid-Atlantic. Victor Carrasco, the rider, is trainer Carrasco's nephew, and the elder Carrasco said the family is proud of not only the Eclipse Award winner's success here but also the way he has handled himself both on and off the track.
"Victor was brought up the right way. Even though he worked around the barn he wasn't allowed to get on horses and even think about riding until he had finished high school," the trainer said. "Once he graduated we started letting him get on horses, he went to Escuela Vocacional Hipica, the state run jockey school of Puerto Rico."
In addition to Carrasco, that school counts Eclipse winners John Velazquez (two-time Outstanding Jockey winner), Luis Ocasio (2016 Outstanding Apprentice), and Jose Ortiz (2017 Outstanding Jockey) among its graduates. The trainer said that in his nephew's second year at the school he began to blossom.
"You could see he had that certain something that sets the good ones apart from the rest," the elder Carrasco observed. "He's got really good, soft hands and a great sense of pace, but he can work on one when it counts to get the job done. And he's a good kid, he always has been."