Trevor McCarthy: "Good to be home again"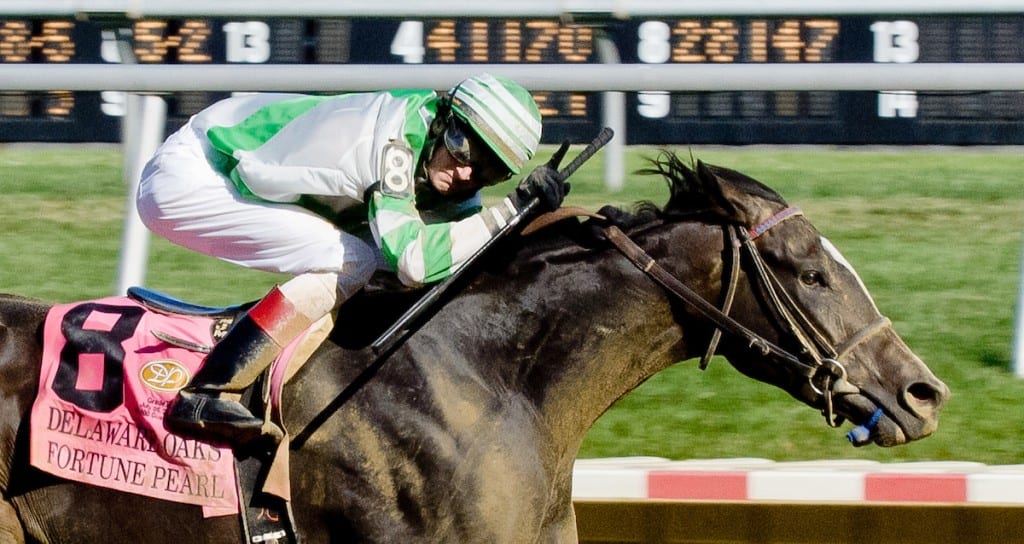 Trevor McCarthy and Fortune Pearl won the Grade 3 Delaware Oaks in 2014 — McCarthy's first graded stakes win. Photo by HoofprintsInc.com.
by Doug McCoy
Trevor McCarthy is back.
The 24-year-old rider had been a mainstay in the Mid-Atlantic region since beginning his career in 2011, but last fall when he returned from shoulder surgery, McCarthy surprised the local racing community by announcing he would move his tack to New York.
After winning over 200 races, mostly in Maryland, each year from 2014 to 2016, McCarthy gave up the security of that circuit and headed to the Big Apple. He hired a new agent and enjoyed moderate success during the winter and spring meets at Aqueduct, winning 42 races and several stakes. With over 1,000 winners under his belt after just five seasons, the rider felt he had the credentials and talent to make it against some of the best jockeys in the game.
But business tailed off for McCarthy when some of the bigger names in the business returned from New York from Florida and live mounts became harder to find. After winning just four races from 81 mounts at Belmont – leading rider Irad Ortiz, Jr. has 42 wins from 204 starts — the rider decided a move was in order and for the past several weeks he's been spending most of his time riding at Monmouth Park and Delaware Park. He's in the top 10 in the standings at Monmouth with six wins from 72 mounts, while at Delaware McCarthy has booted home two winners from 19 mounts.
The figures aren't dazzling, and McCarthy admitted this week he knows it's going to take some time to rebuild his business in the area after a six-month absence.
"A number of outfits have been using other riders since I've been gone and I'm going to have to work hard to put things together again," McCarthy explained. "It's the nature of the game and I respect that but I'm confident in time business will pick up and the winners will come."
McCarthy said there was no particular magic to why he decided to leave New York.
"I just wasn't happy there and anybody in the business will tell you when a rider's not happy he's not going to compete at the top of his game," McCarthy admitted. "We had a good winter, we were on a lot of live horses, we got lucky and won some stakes and things were going well, but when a number of the top riders came north from Florida my business dropped off quite a bit. I was riding fewer horses and even fewer live ones. I'm a pretty competitive guy, I thrive on being in the thick of things during a race and it's very frustrating when you're on a horse that just can't contend. After a while that starts to work on you mentally."
That, he said, made the decision to return home – McCarthy is a Delaware native – an easy one.
"Rather than get sour and lose my focus I felt the smart thing to do would be to move back to the Mid-Atlantic," he said. "I've been riding regularly at Monmouth and Delaware Park and while we're not setting the world on fire, the business is starting to return. I'm confident in time the winners will come and any rider will tell you, nothing keeps a rider sharp more than riding live horses and winning races."
After leading all riders for two of his last three years in Maryland, the obvious question was: will he return to the Free State again?
I'm still not sure about long range plans," the rider explained. "After Monmouth and Delaware Park, there'll be some decisions to make. I'm a local guy, I'm living back in Delaware and commuting to Monmouth to work horses and ride, and on down the line we may go back to Maryland. And I'm not ruling out returning to New York this winter. I made some good contacts there, and the money's certainly good there. For now I'm just trying to concentrate on the present. I don't regret making the move; I learned a lot riding up there (New York), but I'll admit, it does feel good to be home again."