Blue-collar trainer Potts looking to change with the times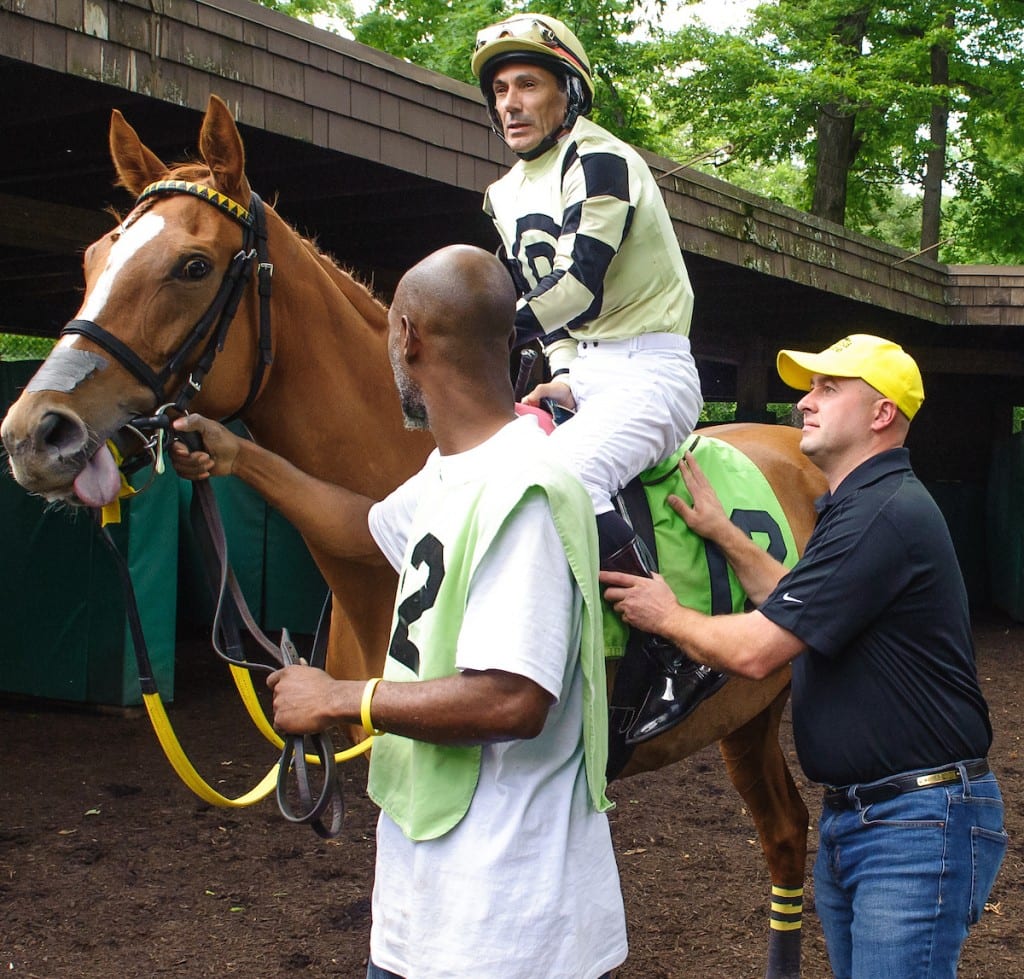 Trainer Wayne Potts legs up jockey Mario Pino. Photo by HoofprintsInc.com.
by Doug McCoy
Trainer Bob Baffert sends out Justify Saturday evening in the Grade 1 Belmont Stakes in his quest for the Triple Crown. Yet while that single race will be the focal point of media coverage and fan interest around the country, there are hundreds of lesser-known horsemen who comprise the backbone of the industry.
Wayne Potts is one of those trainers, a horseman who has been knocking out a living for the past 14 years operating an outfit comprised mostly of claiming horses. For every Baffert in the sport there are 10 like Potts, individuals who operate within their means and budgets while working with owners whose love for the game may be large but whose budgets are not.
Potts knows you have to have horses that fit the racing program where you're stabled — and you have to run to win and earn money. In the first week of the Delaware Park meet the 37-year-old, who began his career in West Virginia back in 2004, was both active and successful. The Potts stable sent out 18 runners through the first four days of racing and won with three of those starters, which puts him in a six-way tie for the top spot in the trainer's race.
He has 42 horses stabled here and 30 more at Laurel and readily admits claiming types make up the bulk of his lineup.
"We're a blue collar-type outfit, that's for sure," Potts said candidly this week. "In the past if we had several allowance level runners in the stable at the same time that was good."
The Potts stable kicked into gear back in 2014 and won over $1,000,000 in earnings for three years before falling just shy of that mark last season with $972,000. that success was accomplished mostly with claiming runners, but Potts said this week that he's working to shift the emphasis for the future to younger horses, hoping to concentrate on the purchase and addition of babies.
"We've got some good owners. Charles and Pamela Parker from Paris Kentucky who race under Barak Farm, Top Hat Thoroughbreds of Gary and Carmela Franklyn, and Raj and Vedhya Jagnanan are some of our biggest supporters," Potts said. "Most of our owners agree that working harder to find young horses is the way to go and that's what we're trying to do. We bought eight horses at the Fasig-Tipton sale at Timonium recently and we're going to the OBS (Ocala Breeders' Sale) sale next week to see if we can find some more young stock."
The change in focus, Potts said, stems in part from changes in the industry itself.
"With the shrinking horse population and smaller field sizes, it's just very hard to not only find claiming horses that are worth the money but keep them as well," he explained. "I love the claiming game, but as the business has changed in recent years, we've been forced to change our approach. Now we're concentrating on trying to find young runners with potential we can afford. That way we can bring them along the way we want to. While you do have a horse's history to refer to with claiming horses the [past performances] don't tell you what's going on physically, what mistakes may have already been made. At least with a young horse, if we make mistakes it's our fault."
Potts's three wins puts him in a logjam at the top of the standings, and he hopes to remain there for the remainder of the meet.
"When we came here I thought we had a chance to be in the top three in the standings," the trainer observed. "We won three and had a couple of other race we could have won with a little better racing luck. I think we can win around 25 races, I don't know if that'll be enough to win the title but it would constitute a good meet for us."
Last year, the meet co-champs, Jamie Ness and Scott Lake, won 22 races each. Potts recorded 10 wins in 58 starts at the track in 2017.
Potts has had some successful runners down through the years but clearly his favorite was No Brakes, who started 111 times and won 22 races during his career. Potts says the Maryland-bred gelding was "like my kid." No Brakes, also known as Brakey, is now at Virginia Tech, living the life of leisure while part of an equine nutrition program.