Trainer Gerald Bennett: Young horses key to hopes for Delaware meet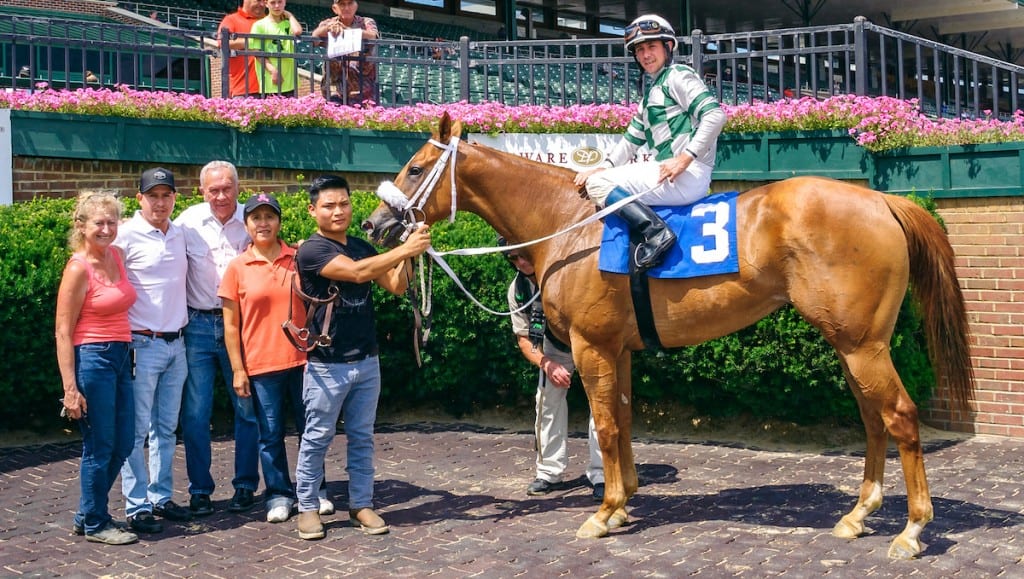 Trainer Gerald Bennett (third from left) after Special of Course won at Delaware Park. Photo by HoofprintsInc.com.
by Doug McCoy
In these days of dwindling horse production, the battle to fill barn areas at tracks around the country is tough and ongoing. This winter Delaware Park's director of racing John Mooney and racing secretary Jed Doro logged a lot of miles attempting to bolster the horse population this season.
While trainers such as Larry Jones, Keith Nations, and Michael Stidham are not stabled at Delaware this year, the racing office's efforts bore fruit with the return of veteran trainer Gerald Bennett and his large string.
Bennett raced at Delaware Park in 2016 and finished fourth in the standings but opted to stay in Florida last summer. The conditioner had a number of Florida-breds under his care and some of his owners wanted to race in the Sunshine State and take advantage of the breeding and racing incentives offered for those state-breds.
But Bennett had enjoyed his time in Delaware and was happy with the bucolic backstretch setting for his charges. When Mooney and Doro visited Tampa this winter, they spent a good deal of time convincing Bennett it would be beneficial to him and the track to return this year.
Bennett worked out arrangement for some of his Florida-breds to stay south and race at Gulfstream Park and brought the remainder of his outfit back to Delaware Park. A stable of more than 40 head is a big boost to the racing program, and Bennett has always been known as a trainer willing to work with racing secretaries to help fill races and close entries.
So the man who has won over 3700 races in a career that spans more than five decades is back with a mix of proven older horses and some promising young runners. While he's enjoyed plenty of success with claiming horses, when Bennett gets his hands on a horse with talent, he knows what to do with it. He conditioned Beau Genius when that one captured the Grade I Iselin Handicap and won 19 races and also trained Secret Romeo, one of the best Michigan-breds of all time. Secret Romeo won 23 races during his career.
"For the most part we enjoyed racing here in 2016," Bennett reflected. "The backstretch is very horse-friendly, the layout is designed with the horse in mind, and horses seem to relax better here than a lot of places," Bennett pointed out. "And there are several tracks within easy shipping distance, so if there's a stake or a race for a horse where there's no spot to run here, we can ship and it's not a major problem."
Bennett left his crack sprinter R Angel Katelyn (multiple stakes winner and earner of more than $300,000) in Florida so her owners could take advantage of the state-bred incentives but he has some hard-knocking runners here, including Pink Mama, a 5-year-old mare who is undefeated this season in four starts at Tampa and has 15 lifetime wins. He also has Royal Jewelry, a versatile mare who can run on turf or dirt, short or long. He also claimed several horses at Tampa he thinks will prove to be good investments.
"The horse population nationwide has dropped to the point where it's really tough to claim these days," he explained. "Any horse with any form ends up having four or five claims in for it, and if you do claim one you think has potential, you have to figure out where to run them where they'll be successful and not lose them. Having said that I think we may have taken a few this winter who will pan out, but time will tell."
Of course young horses are the lifeblood of the business. Bennett said at this stage in his career and life, working with young aspiring runners is what still makes the game exciting.
"Developing young horses and seeing them race and do well, that's what keeps you young," said the 74-year-old Canadian native, who ranks second only to the great Frank Merrill Jr. in races won by a Canadian thoroughbred trainer.
"Like My Boy Lenny, he's run twice and broke his maiden last time out very impressively" Bennett said of the 3-year-old son of Wildcat Heir. "I think he could turn out to be a really nice horse. We've got some others coming up at different stages of their development. Some are here and some are at Classic Mile in Ocala. We're going to the sale in a couple of weeks, and hopefully we can find some youngsters there with potential."
Bennett won his third straight training title at Tampa this winter, winning 53 races. But he said the key to his Delaware Park meet will be the up-and-comers.
"Well, we started a lot of horses this winter, and we sent some to the farm for some r' and r', so I don't know about how strong we'll be but we've got a good mix," Bennett said. "The horses like it here and seem to be handling the track well, so we'll just have to wait and see. I would expect if our young horses develop like we hope they will, then we'll have a good meet. John (Mooney) has been very helpful and we'd like to help him by supporting the racing program as much as we can."