Preakness: Track docs make big decisions, bear big responsibilities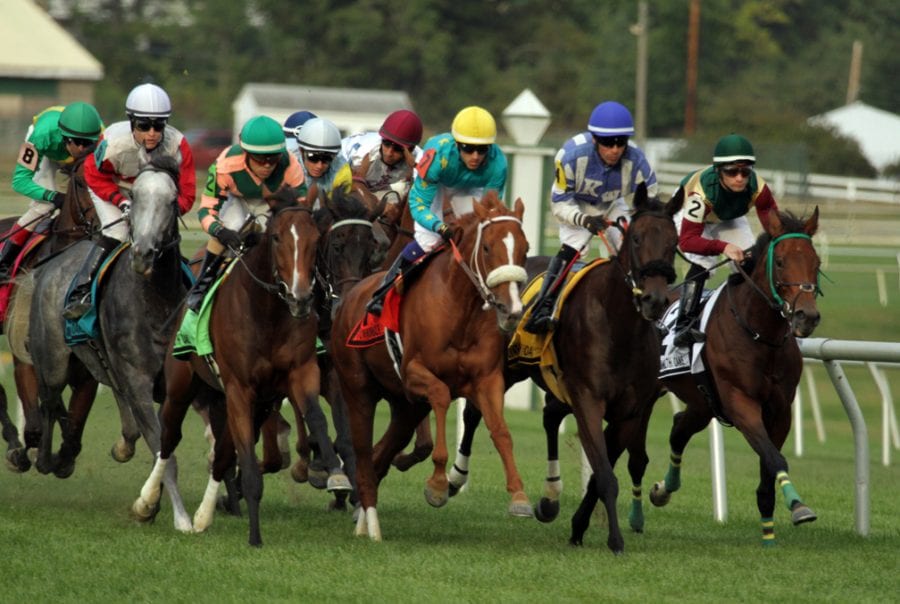 by Teresa Genaro
Two days before the Preakness, Dr. Kelly Ryan is sitting on a floor in the Pimlico grandstand, staring intently at her computer, responding to texts, and greeting passersby. You'd never know that among the many people who will have to make decisions this weekend—trainers about running, jockeys about strategy, stewards about inquiries, bettors about wagers—she, and her colleagues, may well bear the greatest responsibility of them all.
Under the Maryland Jockey Club concussion protocol, Ryan and the other MedStar physicians on-track will be the ones to determine whether a jockey can ride later in the card in the unfortunate event of an accident and injury.
This is standard operating procedure for jockeys in Maryland, but few jurisdictions in the country have a doctor on-track, and few give that doctors that responsibility, so riders coming in from out of town may be unaware of how such decisions will be made.
According to MJC policy, when out-of-town jockeys report to the clerk of scales this weekend, they'll be given information about the MJC concussion protocol and concussion education. They'll be required to sign off, acknowledging that the doctors on-site will be the ones to determine whether a jockey is medically cleared to continue riding.
"They will all be informed before riding that this is how we do things in Maryland," Ryan said.
"I think the riders like it," said MJC clerk of scale Frank Saumell. "No one's taken that much interest in them before. They could ring their bell and get sent right back out. I haven't had anyone complain about this."
Jockey John Velazquez, a Hall of Fame rider and chairman of the board of the directors of the Jockeys Guild, fully supports the MJC policy. Though he is a regular rider in New York, which does not perform baseline tests or have a doctor on-track during racing, he was given baseline concussion testing when he rode at Keeneland and at Tampa Bay Downs.
"I don't think that a lot of the riders know about the Maryland protocol," he said. "A few of us in the Jockeys Guild that went to meetings about it know a little bit about it. All of the guys we talked to about it are comfortable with the doctor making the decision about whether we ride."
Velazquez has six mounts on the Preakness day card, including the Grade 2 Dixie.
Hall of Famer Mike Smith, who will ride Justify in the Preakness, lauded the protocol while he acknowledged the challenge of giving up the decision-making.
"If we feel we can ride, we'd like to," he said. "It's the opportunity of a lifetime, and probably we'll never get this chance again, so you're taking something away."
"Then again," he went on, "it could be dangerous to go back out, for yourself and for the other people and horses.
"It's nice that we're doing something, and hopefully we'll never have to find out what it will feel like to be told we can't ride."
Ryan has performed SCAT-5 baseline concussion tests on the jockeys that ride in Maryland, and she has access to baseline information on jockeys that have ridden at Keeneland and Churchill Downs, which also perform these baseline tests.
While acknowledging the enormity of the responsibility of possibly being the one to tell a stakes rider that they can't ride in, for instance, the Preakness, she is also adamant that it's the right thing to do.
"It's the same whether it's a regular racing day or a big stakes day or a morning workout," she said. "It's a head injury and it has to be dealt with appropriately."
Ryan has offered to make herself available on Saturday to any jockey who'd like to get a physical or have baseline concussion testing done. The latter takes, she says, about 10 minutes.
She's working with the Jockeys Guild and people at Kentucky racetracks to develop a system through which jockeys' medical information can be shared among racetracks. The current system, InCompass' Jockey Health Information System, isn't sufficient for what doctors need, and the group is determining whether it can be retrofitted and redesigned, or whether it would be more cost-effective to build a new system from scratch.
She has also offered to speak with other racetracks about the MJC protocol, and she expects that it will be implemented at other Stronach Group tracks before too long.
"Every track should have some sort of concussion protocol," she said. "They don't all have to be the same, but every track should have one."
No doubt, though, that she and the riders would agree what the best protocol is, and that's the one that doesn't have to be implemented.