No Preakness horse, but Motion barn loaded for bear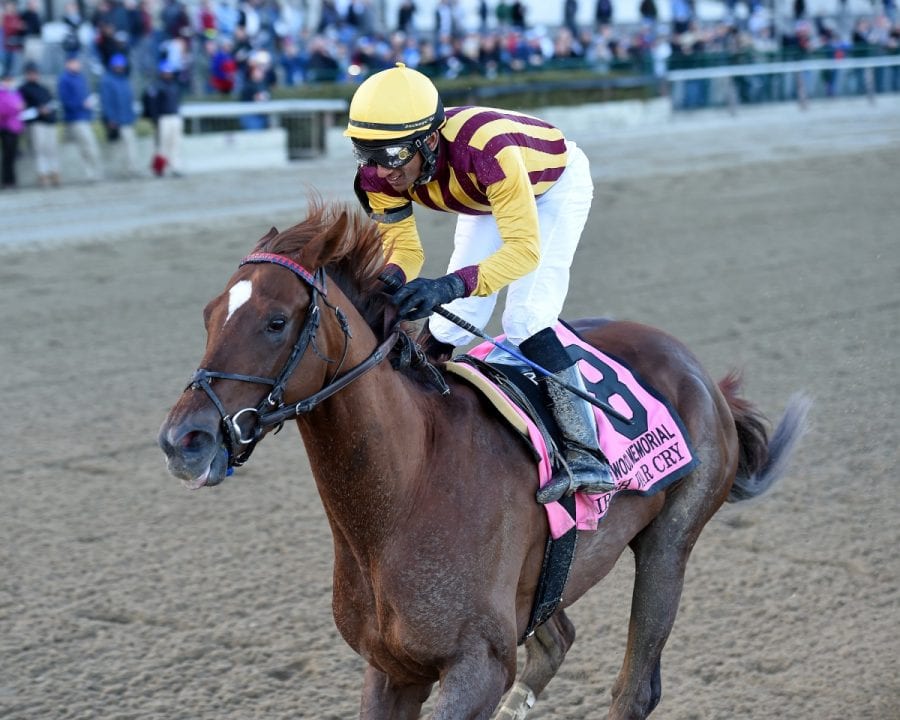 Irish War Cry is favored to get his first win since the 2017 Wood Memorial in the Pimlico Special. Photo by Chelsea Durand/NYRA.
by Nick Hahn
It happens to the best of trainers. It happened to Bob Baffert last year. In some years, successful trainers are left without a horse to run in the Classics. It's happened to Graham Motion this year, but he won't be watching from the couch this weekend.
Over the three-day Preakness weekend at Pimlico, Motion will saddle 16 horses, 10 on Friday's Black-Eyed Susan day alone. Based on the weather forecast and Keith Feustle's morning line, Motion could be spending a lot of time standing in the rain and in the winner's circle.
"It's always a racing weekend that we point to. Outside of Breeders' Cup it's my favorite weekend, having been stabled in Maryland for so long. Many point to either Derby weekend or Preakness weekend. It's hard to do both," commented Motion.
Motion chose the latter, though he sent out Untamed Domain (third) in the American Turf and Midnight Tea (second) in a maiden special weight at Churchill Downs on Derby day.
Motion doesn't recall the most wins he had won in a single day, but there is a chance he could remember Friday, May 18. Mythical Mission (3-1) and Style Icon (5-2) are favorites in races early on the Pimlico slate, as are Irish War Cry (3-1) in the Grade 3 Pimlico Special and Thewayiam (3-5), who on paper is a near-lock in the Hilltop.
"Obviously you want to be part of the Preakness, but the next best thing is to be involved with Preakness weekend," explained Motion. "Fortunately, I have clients that want to send horses to these races. Nothing worse for a trainer than sitting at home this weekend."
Motion is looking to add Irish War Cry to the list of satisfied recent winners of the 2017 Derby class. Lookin at Lee, second in last year's Derby, and McCraken, eighth, both won at Churchill Downs on 2018 Derby day. Irish War Cry is subject to a condition nicknamed the thumps an electrolyte imbalance brought on in certain horses when running on Lasix in hot, humid weather. Motion has adjusted with a "more fitting Lasix dosage," and won't mind the rainy and cooler conditions for this weekend.
"It's satisfying getting him back on track," said Motion. "He's training better than ever this year."
However, Motion would prefer not to have his Preakness racing day end somewhere around 3:30 pm Saturday afternoon after Ultra Brat runs in the Gallorette Stakes. He, like Baffert, knows what it is like to bring the Derby winner to the Preakness.
"When you're the Derby winner, you're the only one that has a chance to win the Triple Crown so everyone is rooting for you. I'll never forget the feeling that I had bringing Animal Kingdom back to Pimlico," recalled Motion. "And Baffert has done it so many times. Justify has done so much in such a short time. If he's good enough, he'll overcome it. I thought it would be such a daunting task, but Animal Kingdom came out of the Derby so well, I had no concerns running him in the Preakness."
In addition to Ultra Brat, Saturday's lineup for Motion rosters Just Howard in the Dixie Stakes, Say the Word in the James Murphy and She Doesn't Mind in an allowance race. Safe to say that Motion, born in England, won't find much time to watch the Royal Wedding this weekend.