Pittman campaign getting Maryland horse industry support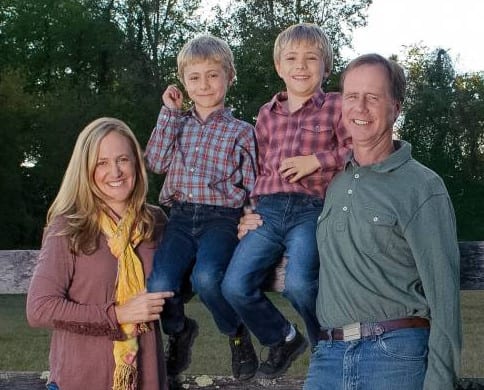 Erin, Sam, Andy, and Steuart Pittman.
by Frank Vespe
The eyes of the racing world may be trained on Pimlico Race Course and the upcoming Preakness Stakes May 19. But in the Maryland horse industry, plenty of eyes are trained on a more distant, and more parochial, event: the race for Anne Arundel County executive.
On May 9, in the paddock at Laurel Park, the campaign of Democrat Steuart Pittman will hold a fundraiser dubbed Wine and Equine. Wine and Equine takes place from 5:00 to 7:00 p.m. and is free to attend, and the event has the support of the Maryland Horse Breeders Association and Maryland Thoroughbred Horsemen's Association.
"We're doing it in the paddock because that's where the horses go before the race," Pittman said. "It's a magical place. I love that place."
Pittman grew up on Dodon Farm, his family's ancestral, 550-acre spread, in Davidsonville, MD. He and his siblings are the eighth generation of the family to own the farm, and as a child, Pittman learned to ride in the hunt field, in pony races, and at local shows.
After returning to Dodon Farm following college and stints as a community organizer in Chicago and Des Moines, Pittman began to buy Thoroughbreds off the track to turn into event horses.
Those experiences led Pittman to cofound the organization now known as the Retired Racehorse Project. The RRP, which "exists to facilitate placement of Thoroughbred ex-racehorses in second careers by increasing demand for them in equestrian sports," is best known for organizing the annual Thoroughbred Makeover.
"The horse industry supports Steuart because we've been impressed by his support and enthusiasm for it," said the Maryland Horse Breeders Association's Cricket Goodall. "We've seen how well he does with motivating and energizing the Thoroughbred industry (through RRP) and hope that translates as County Executive."
"Steuart's been a big part of this industry and a friend of the industry," agreed David Richardson of the Maryland Thoroughbred Horsemen's Association. "It would be great to have a friend of racing in the Anne Arundel County Executive's office."
In fact, support of the track — or lack thereof — is one of Pittman's criticisms of the incumbent, Republican Steve Schuh. Pittman points out that Laurel Park has been embroiled in a longstanding dispute with the county over water and sewer fees for proposed redevelopment of the track and surrounding area, as well as permitting problems.
"Whoever's going to be County Executive for the next four years is either going to be a supporter of the track, or an impediment," Pittman said, describing Schu as the latter.
"I want to see them make the track and that whole area an entertainment destination," Pittman said. "The community supports it, and it's absolutely essential."
At the same time, though, Pittman is critical of Schu's aggressively pro-growth posture, saying that it has contributed to what he characterizes as worsening traffic, budgets stretched too thin, and other woes.
"Our campaign is about managing growth in a fiscally and environmentally responsible way," he said. "That's how we're going to win this election. Those issues are non-partisan, and we can build a winning coalition with them."
Pittman's campaign website says that he "picks his battles carefully. And then he wins them."
If so, perhaps that comes from his ancestor, George Hume Steuart. Steuart in 1743 won the first recorded horse race in colonial Maryland, the Annapolis Subscription Plate, with Dungannon, a Thoroughbred he imported from England. Steuart's rival that day was Charles Carroll, whose son would later sign the Declaration of Independence.