Which runners will face Justify in the Preakness?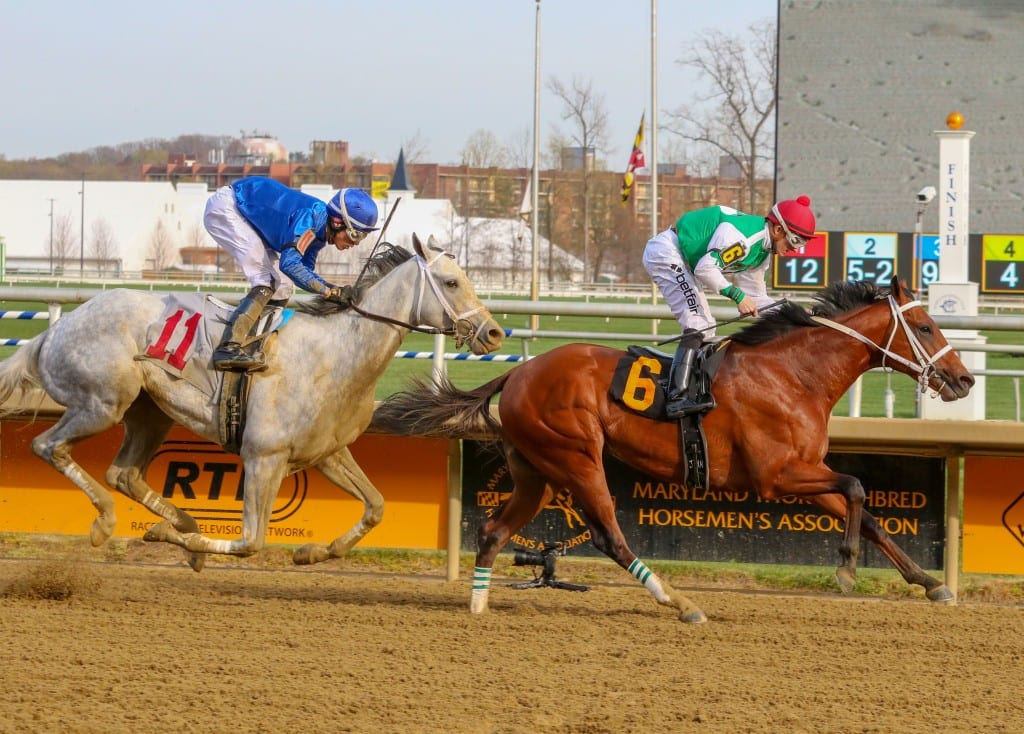 Diamond King won the Federico Tesio Stakes. Photo by Dottie Miller.
From a Maryland Jockey Club release
Trainer Bob Baffert told the media Sunday morning that Kentucky Derby hero Justify "came out of it really well."
He added, "He's full of himself. He came back and he wasn't really that tired and ate up last night. Today he's been a handful."
Justify is expected to be Preakness-bound, but as always, exactly which other runners will face him is a story that will develop in the coming days.
Twenty minutes after the Derby, Chad Brown, trainer of runner-up Good Magic, said it was unlikely that last year's 2-year-old champion would go on to Pimlico. However, Sunday morning after examining the son of Curlin – winner of the 2007 Preakness – Brown said he wanted to take a little more time to consider his options. Brown won the 2017 Preakness with Cloud Computing.
"I've got an idea, but I've got to wait until I talk to the owners," Brown said, noting that a decision was likely by Monday. The colt is co-owned by e Five Racing Thoroughbreds and his breeder, Stonestreet Farm.
"I'll get their thoughts on it and let them weigh in on it," he said. "I'll tell them what I see and see what they want to do. I think for me to rule it out this morning would be foolish. I don't want to get into a situation where I commit to one way or another and I change my mind. I want to give myself a little room to really observe the horse. The horse will tell us."
Hall of Fame trainer D. Wayne Lukas said he expects to have two Preakness runners, Calumet Farm's Bravazo, who was sixth in the Derby, and Robert Baker and William Mack's Sporting Chance, who was fourth in the Pat Day Mile (G3) on Saturday. Lukas picked up the first of his six Preakness wins with Codex in 1980.
Also considered as probables for the Preakness Tampa Bay Derby (G2) winner and Arkansas Derby (G1) runner-up Quip and Federico Tesio winner Diamond King. Quip, co-owned by China Horse Club, WinStar and SF Racing, had enough points to qualify for the Derby, but his owners opted to give him a little more time to recover from the Arkansas Derby on April 7 and point to the Preakness. Since WinStar also owns Justify, the farm's CEO Elliott Walden said the plan for Quip had not been formalized.
"I hesitate to say right now. We'll see how the week plays out," Walden said. "My first inclination is to go ahead and run him, but we need to talk to our partners and see. But we'd set the horse up to run in the Preakness and he worked very well on Thursday. If Justify is supposed to win the Triple Crown, he'll beat Quip. I just think you try to manage your horses the best you can and that it's the right thing for Quip. Not making a final decision today. The horse is doing really well, and we'll see."
Trainer Todd Pletcher's four Derby runners were led by Audible's third-place finish, a head behind Good Magic. He said all four will move on to New York and did not indicate that a Preakness entry was likely.
"Everybody came well back. Everybody's happy and sound today," Pletcher said. "I thought Audible ran great. I love the way he finished and am proud of his effort. Everybody ships back to Belmont (Monday). We'll regroup there and not make any decisions for a week or so."
Justify debuted on Feb. 18 and won his fourth race in the Derby. In the process, he snapped the "Curse of Apollo," named for the 1882 Derby champ, the only horse to win the race who had not competed as a 2-year-old. His performance on Saturday, brought comparisons to Baffert's 2015 Triple Crown winner American Pharoah, but the 65-year-old trainer pushed aside questions about another Triple Crown sweep.
"One race at a time," he said after taking the traditional call from the Maryland Jockey Club's President and General Manager Sal Sinatra formally inviting Justify to the Preakness.
"I said, 'if he gets on that plane, we'll come.' We'll just take it day by day, but there is no reason to say no," Baffert said.
Justify's appearance prompted Baffert to change plans and return home to California on Sunday.
"I was going to stay here a couple of days, but he looks phenomenal today," Baffert said.
Though he has won nearly every one of the major dirt races in America and has trained standouts like American Pharoah, Silver Charm and Arrogate, Baffert said he was impressed by what Justify accomplished in the Derby.
"It was a pretty awesome performance," he said. "We were hoping that he had that in him. At the three-eighths pole I was thinking, 'Man, he better be a really good horse if he's going to just keep going.' Those great ones they do that."