Greyvitos: From fire to surgery and back to racing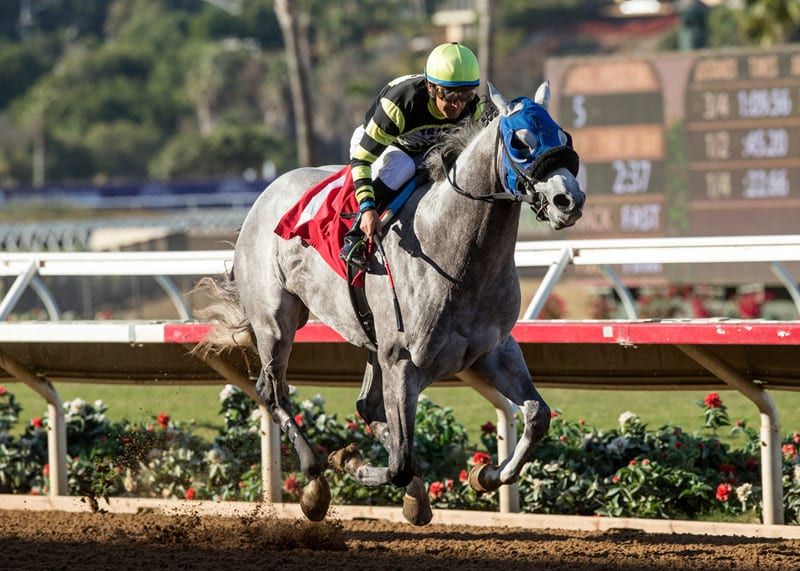 Grevitos. Photo by Benoit Photo.
by Nick Hahn
Whether you consider Adam Kitchingman's three-year old colt lucky or unlucky is, well, a grey area. Greyvitos is listed as grey/roan, but when many racegoers see him they think of smoke.

When he breaks from the far outside #14 gate in Saturday's Pat Day Mile at Churchill Downs, he certainly won't be incognito. He is 6-1 on the morning line.
"It could go both ways," explained the trainer about his pupil's fortune, or misfortune. "From colic to surgery to the fire."
Greyvitos was an evacuee of the San Luis Rey training center scorched by a California wildfire on December 7, in which 46 thoroughbreds died and over 400 were whisked frantically out of their stalls, many just released into the open.
"I received a phone call about 8:00 a.m. that there was fire six miles away near the 15 freeway and the wind was blowing towards the barn. By 10:00 a.m. the fire had reached San Luis Rey. At 10:30 it was total chaos," remembered Kitchingman.
For what must have been more than a moment, Kitchingman, whose home is nearby, considered his family and stable "jeopardized." Fortunately, Greyvitos was one of the first horses taken offsite, having already been prepared to be shipped for the upcoming Springboard Mile at Remington Park. He departed moments ahead of the horrific Lilac fire that engulfed San Luis Rey.
Bred at Audley Farm in Berryville, located near the northwestern corner of Virginia, Greyvitos was dark brown when foaled and rather quickly turned grey, perhaps his first stroke of luck. Triple B stable owner Michele Boghossian was looking for a horse with a strong pedigree — yet she favors grey horses. In the 2016 Keeneland September Yearling sale, she saw the Malibu Moon colt and said "that's a pretty horse," according to Kitchingman, who upon a closer look replied, "Yeah, you're right. He is a pretty horse."
According to Audley Farm Equine Manager Jamie McDiarmid, his presence was more than just color.
"He was a good-sized horse," recalled McDiarmid of Greyvitos as a weanling. "He has good feet and a short cannon bone. That's halfway there."
Triple B went forward and purchased for Greyvitos for $100,000.
In his first race, an attempt on the turf, the only horse Greyvitos beat was eased. Switched to dirt and and teamed up with jockey Victor Espinoza for the first time, Greyvitos rallied to be third in his next start. In his next start, Greyvitos, with Espinoza again in the irons, broke his maiden — as a 20-1 longshot in the Grade 3 Bob Hope Stakes at Del Mar.
And then the fire came.
"He went from fire to the farm to Santa Anita to a plane flight to Oklahoma. That's a lot for a two-year-old," remembers Kitchingman.
With Espinoza aboard again, Greyvitos defeated 11 in the Springboard Mile including the favorite Combatant, scheduled to start in this year's Kentucky Derby a few hours after the Pat Day Mile.
While Kitchingman was anticipating his first Derby, Audley Farm, which bred 2012 Derby favorite Bodemeister, found history was repeating itself.
"At one point after Remington, it was really exciting at that stage, said McDiarmid. "We were really back on the Derby trail. We had learned a lot of the previous Kentucky Derby, how tough it is to get there."
Kitchingman had planned a rest for Greyvitos until February. Then upon returning to Santa Anita, he discovered a bone chip in his Derby prospect's knee. Whether considered fortunate or unfortunate,the finding likely busted a promising sale of the colt as a merited Kentucky Derby interest. While Kitchingman's Derby pursuit was pretty much done, at least he got to keep his star horse.
By late February, Greyvitos returned to training. That was too late to get him ready for the Derby, and Kitchingman entered him in the Grade 3 Lexington at Keeneland – a race contested at 1 1/16 miles and worth a scant 20 points on the Derby leaderboard. Greyvitos set the pace for a mile before settling for fourth – a commendable return to the races.
He may not have made the Derby, but he may still have a chance to face the Derby winner, in the Preakness — 45 minutes from where he was foaled.
"He has to come out of this race in great shape. This race is not easy, and the Preakness is a huge consideration, though we're very confident," explained Kitchingman while praising the grooms and exercise riders than have done a great job conditioning Greyvitos' comeback.
Greyvitos has already helped Audley Farm, who McDiarmid admits was undergoing a post-Bodemeister lull.
"We were struggling a bit," said the equine Manager. "(Greyvitos) came along as a nice, strong, early-looking colt. He's an old-school type of horse. He liked his job. He needed a bit of work."
Greyvitos, along with the new Virginia-Certified Residency Program, has set Audley fortunes looking well.
"I'm Inundated with telephone calls," noted McDiarmid. "I could keep an extra 10-20 weanlings if I could handle them, staffwise."
Audley once stood the first Triple Crown winner, Sir Barton, so ahead of his time that title he won wasn't formally named until 12 years after he won it. A bit more recently, they've bred several million-dollar earners such as Eishin Boston and Mandy's Gold, to go along Bodemeister.
The dam of Greyvitos is Snow Top Mountain, who this year delivered a foal by Frosted that's currently is running around a paddock among the small hills at Audley. Later this year, she's going to see a sire very familiar to Virginia racegoers, the 2004 Virginia Derby winner Kitten's Joy.
Greyvitos has spread good fortune in dramatic style for people that have touched him.
"It's been a real whirlwind," observes Kitchingman. "A lot of emotion. Ups and downs, a real rollercoaster."
It's fortunate that Greyvitos has made it this far. Still, who would bet against this horse, forged in fire, going even farther?