Preakness award winners announced

From Maryland Jockey Club release
Chris Dachille, executive sports producer at WBAL-TV, will be presented with the Old Hilltop Award Thursday, May 17 at the Alibi Breakfast at Pimlico Race Course.
The Old Hilltop Award is given annually to an individual who covers Thoroughbred racing with excellence and distinction.
Dachille has covered every major sporting event in Baltimore since joining WBAL-TV in 2004. He has produced WBAL-TV's extensive coverage of the Preakness and Black-Eyed Susan for 14 years. This will be his third as executive producer. WBAL-TV's News Director Tim Tunison called Dachille the "backbone of WBAL-TV's annual coverage of the Preakness Stakes."

"It's something I look forward to every year," said Dachille of the Preakness. "I'm just floored to join names like Jim McKay, Gerry Sandusky and other great broadcasters who have won this wonderful award."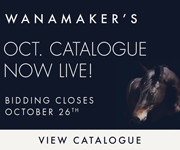 He will join two others in receiving their awards that day.
Rick Buckley, a freelance photographer and native of Baltimore, will be awarded the Jerry Frutkoff Preakness Photography Award, sponsored by Nikon.
The award is given annually to the best Preakness picture from the previous year.
Buckley's photo is a head-on shot of the stretch duel between winner Cloud Computing and jockey Javier Castellano and Classic Empire and jockey Julien Leparoux. Track Photographer Jim McCue said Buckley's award was "well deserved." Buckley's photo graced the cover of the Mid-Atlantic Thoroughbred.
"It is my distinct pleasure and with great honor that I accept this award named in memory of Jerry Frutkoff," Buckley said. "I was fortunate enough to know Jerry quite well for nearly a decade before his passing. He was an amazing photographer, and an even better person and an example to us all of how to treat everyone with respect and dignity. I am truly humbled and thankful to be included among the past select recipients to receive this."
Buckley, who walked hots in the 1980s at Timonium for his uncle, Charles Frock, has worked for a number of publications including Horsemen's Journal, Thoroughbred Times, and Chicago Tribune.
Tom Law, senior writer for Mid-Atlantic Thoroughbred and managing editor for ST Publishing Inc., will be awarded the David F. Woods Memorial Award for excellence in journalism Thursday, May 17 at the Alibi Breakfast at Pimlico Race Course.
Law will be recognized by the Maryland Jockey Club for his story "Under Cover," a feature on 2017 Preakness (G1) winner Cloud Computing that appeared in Mid-Atlantic Thoroughbred.
The David F. Woods Memorial Award was initiated in 1982 to honor the memory of Dave Woods, a long-time racetrack publicist and Evening Sun columnist.
"What an incredible honor to join my colleagues Sean and Joe Clancy as a winner of the David F. Woods Memorial Award," Law said. "We always work as a team and I owe them credit for editing help and contributions to the piece, along with everyone at the Mid-Atlantic Thoroughbred office for always putting in the hard work behind the scenes. And special thanks to the connections of Cloud Computing and everyone at the Maryland Jockey Club at Pimlico for fostering the spirit of racing and maintaining this prestigious award."
Law, former president of the National Turf Writers and Broadcasters and a longtime editor and writer for Thoroughbred Times, has also earned an Eclipse Award in the multimedia category with Greg Charkoudian for covering the 2011 Breeders' Cup World Championships and the Red Smith Kentucky Derby Writing Award in 2003.
The Alibi Breakfast, which began in the 1930's on the porch of the historical Pimlico Clubhouse, features a gathering of media, owners, trainers, jockeys, horsemen and fans to celebrate the Preakness and gain interesting and humorous race predictions.