In Maryland, jockey concussion protocols a "fantastic" step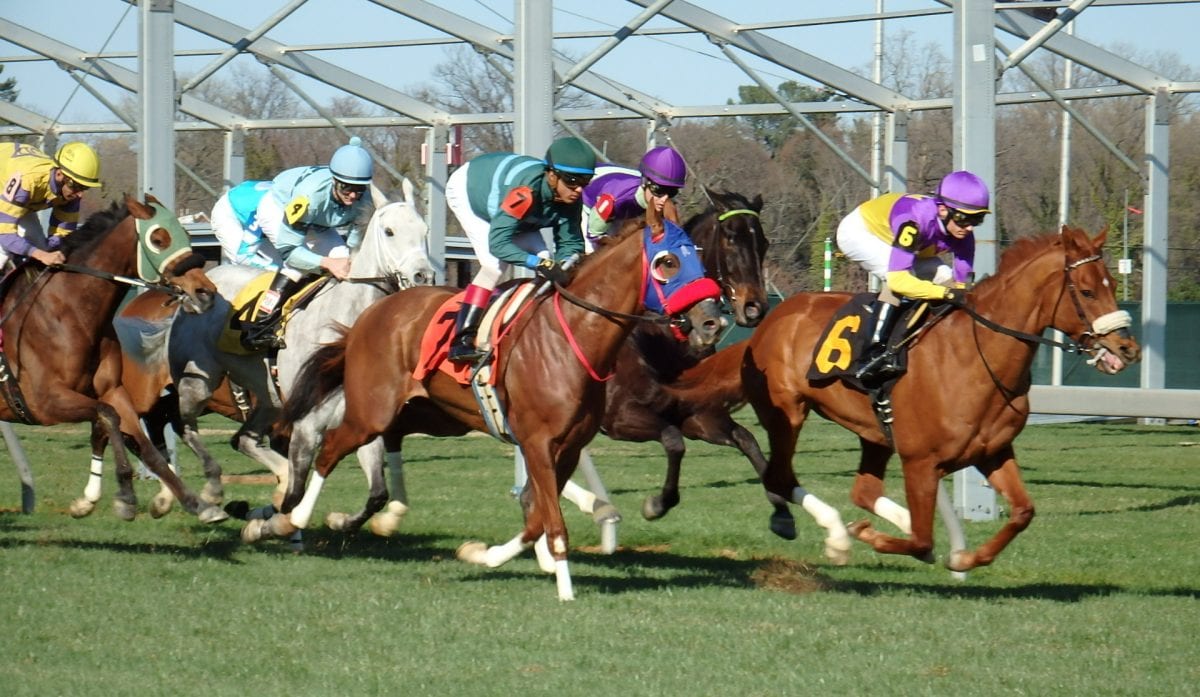 Photo by The Racing Biz.
by Teresa Genaro
When a jockey goes down on the racetrack, the first thing people usually want to see is movement, movement in the arms and legs that indicates that the jockey hasn't suffered significant spinal cord damage, and that she is unlikely to be paralyzed.
When we see the jockey get up and walk, or sit on his own power, we are flooded with relief. Despite the daily danger of catastrophic injury, another jockey will get home safe.
Commonly, a paramedic or emergency medical technician will conduct the initial exam, determining whether the rider will be brought to the track's First Aid or to a local hospital. If that exam yields no significant injuries, the rider will literally get back on the horse, that decision often his own, based on how he feels and how much he wants to ride.
But it's no longer business as usual at Laurel Park, which through a team of entities has implemented a standard-setting procedure that should be the envy of other U.S. racetracks.
Three years ago, the Maryland Thoroughbred Horsemen's Association began a partnership with MedStar Health, a healthcare organization that serves the Maryland/Washington, D.C. area. Initially established as a program that would better serve backstretch workers by giving them more access to medical care, both on-track and off, it soon became more than that.
A clinic was built on the ground floor of the grandstand, and Dr. Kelly Ryan, whose background was in sports medicine, was hired as the co-director of the MTHA/Maryland Jockey Club on-site medical program.
"With her focus on sports medicine," said David Richardson, executive director of the MTHA, "we realized that we could go beyond serving backstretch workers to establish a revolutionary jockey concussion protocol here."
Four years ago, Laurel Park was the site of a pilot program led by The Jockey Club and the Jockeys' Guild in which riders were given baseline tests to establish neurological and cognitive function, one of the first such programs in the United States. Ryan was used to working with athletes with brain injuries and well-informed about concussion protocols in sports like football and lacrosse, and she quickly saw the need to establish those protocols at the racetrack, particularly for when riders are approved to resume racing again.
All jockeys licensed in Maryland are required to undergo a "preparticipation physical" that includes a SCAT 5 (Sport Concussion Assessment Tool) baseline exam and education about concussions and their effects. Riders already licensed are examined every year as part of their annual physical. The results of these exams aid medical personnel in assessing a rider's condition after a fall or other riding incident.
"Some jocks have terrible balance to begin with," commented Ryan. "Some have terrible memories, and that's why the baseline test is important. When they come back after a fall, are they functioning at baseline, or is there a change?"
If a jockey is determined to have been concussed, the MedStar concussion return protocol goes into effect, overseen by Ryan or one of the other four doctors that rotate as the on-site doctor as Laurel.
"You don't want to put them at risk for another concussion before they've completely healed," explained Ryan. "And you can't put a time frame on it because concussions are like snowflakes: each one is a little bit different."
Where the accepted strategy used to be virtually complete rest and lack of stimulation, that's no longer the case, said Ryan.
In the first place, not all concussions should be treated in the same way; rest may well benefit some sufferers, but it can hinder the recuperation of others by asking them to adopt a lifestyle so drastically different from what they are used to.
Using a college athlete as an example, Ryan explained that athletes are used to punishing schedules: classes, training, practices, travel, all done with the camaraderie of teammates.
"Now you ask them to isolate themselves in a dark room with no phone, no TV, no exercise, and after about two days, they'll start to develop anxiety," she said. "That can make their dizziness worse and it can adversely affect their sleep, and they feel distant from their team. Their schedule is changed, and all they can think about is how bad they feel."
Now, while rest is included in the prescription for recovery, athletes are also asked to do light exercise, gradually building up their stamina and their amount of time symptom-free.
Much of the work Ryan and her colleagues have done on other athletes applies to the racetrack as well. Treating jockeys differs in one significant way, though: when is it OK to get back on the horse?
"You'd think we'd want to start by having them gallop a little bit, get used to their heads bobbing," said Ryan. "But how can you incorporate everything that might reproduce systems in a safe environment?"
"Horses are so unpredictable," she continued. "Two of the worst concussions I've seen happened when horses head-butted their riders. You want to reproduce riding as much as possible, but without the risks of being on a horse, and that's nearly impossible."
Ryan and her team recruited jockey Sheldon Russell to appear in a video about the program, explaining its processes and benefits. Learning from the National Football League's mistakes, Ryan shows the video to jockeys.
"Football players say that they were never warned about the dangers of concussions," she said. "I don't want our jockeys to be able to say that."
Recently, said Russell, jockeys were given a document by the MedStar team that outlined concussion symptoms, recovery time, and treatment. All riders were required to sign it.
While some jockeys put off getting assessed as long as possible and resent being told that they can't ride, Russell, himself the victim of several concussions, has embraced the new system, pointing out that a jockey with a concussion is a risk to everyone on the track. Jockeys who ride while cognitively impaired can hurt not only themselves, but their horses and the other horses and riders on the track as well.
"I feel a lot safer on the track now that this is up and running," said Russell. "And I feel safer riding at Laurel than I do at other tracks because I know that this is in place."
While out-of-town jockeys are not subject to the testing if they come to Laurel to ride, and the baseline results are not available at other tracks if Laurel jockeys ship to other tracks, Ryan is working on making that happen, too.
"When jockeys come here, I ask them to fill out emergency contact information and their medical history," she said. "If they fall and can't speak for themselves, I'll at least have that information. And I'm working with the Association of Racetrack Commissioners International to figure out how we can create a universal system that can be shared among tracks."
Ryan has presented on the program at a number of conferences in the United States and elsewhere, and she recently teamed up to present with Dr. Michael Turner, who has led the effort to study racing concussions in England. Her travel has the blessing of The Stronach Group, which owns Laurel Park, and the Maryland Jockey Club.
"We have such a good support system in Mike Hopkins, Georganne Hale, and the stewards," she said, referring to the executive director of the Maryland Racing Commission and the director of racing at the Maryland Jockey Club respectively. "They say, 'Do what you want. We're behind you 100%, and we want to do this right.'"
She also mentioned Maryland Jockey Club president and general manager Sal Sinatra and The Stronach Group's chief operating officer Tim Ritvo, expressing gratitude for their time and support of both her and the initiative.
The Maryland Jockey Club tracks are in the vanguard of racing facilities requiring medical doctors to be on-site during racing; most tracks provide only paramedics or emergency medical technicians. Through its concussion protocols, it may well be setting a standard that could—and should—be emulated elsewhere.
"They're doing a fantastic job," said Russell. "I hope that it spreads to other tracks."