Teaming of Runco, O'Sullivan paying dividends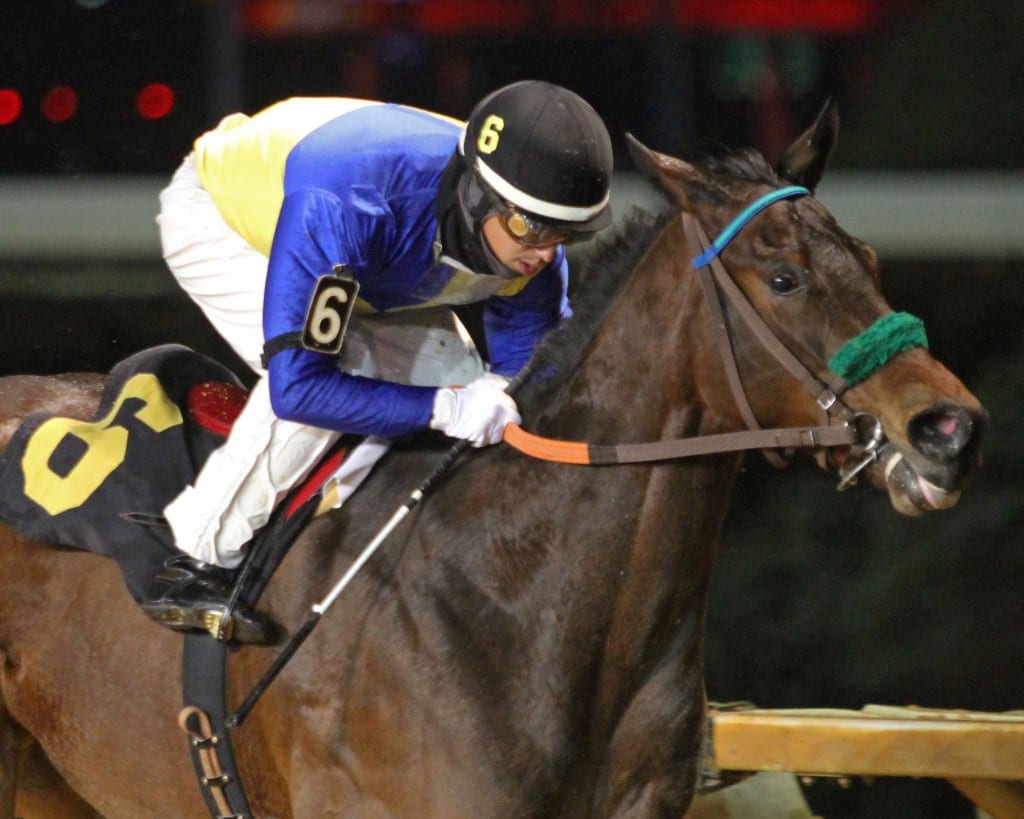 My Sister Mary won at first asking for trainer Jeff Runco and O'Sullivan Farms LLC. Photo by Coady Photography.
by Ted Black
In recent years at Charles Town, racing fans have grown accustomed to seeing horses owned and bred by O'Sullivan Farms and others trained by Jeff Runco face one another in many of the track's stakes for West Virginia-breds.
But through the early stages of the current calendar year at Charles Town, granted on a small scale, O'Sullivan Farms and Runco have joined forces with several very promising three-year-olds, and both say there are several good two-year-olds waiting to make their career debuts this spring and summer. Their recent collaborative efforts have already produced a pair of winners from a limited sample of runners, and both appear to be well-meant among state-bred foes.
"I've known Jeff a long time and he's been a long-time member of the (Horsemen's Benevolent and Protective Association) board up here," said O'Sullivan Farms's Randy Funkhouser. "We've always had private trainers for our homebreds, but we wanted to branch out a little and I reached out to Jeff to train some horses for us last year. I think he's probably got six or seven for us in training right now and pretty soon he'll have a couple of two-year-old make their debuts. He's an excellent horseman and so far we've won a couple of races together."
Perhaps the most notable win came with My Sister Mary, a three-year-old daughter of Successful Appeal out of the Bop mare, My Sister Margaret, who was no stranger to success over the strip. Also an O'Sullivan product, My Sister Margaret won seven of 17 lifetime starts and earned slightly over $360,000, including a stakes win.
Sent out as the prohibitive 1-5 favorite in her career debut on March 1, My Sister Mary got away fourth, advanced gradually down the backside then swept to command on the far turn and drew clear in the lane to a four-length score while getting the 6 1/2-furlongs in 1:21.06. Both Funkhouser and Runco admitted the sophomore filly's career debut was not far beyond expectations, and now both the conditioner and her owner-breeder are eager to see how well she will fare in the allowance events and later in state-bred stakes.
"She's going to be a nice filly," Runco said. "She's always shown me that she has plenty of ability. When I started training her, she seemed like she wanted to go a little further than 4 1/2-furlongs, so the plan all along was to find a two-turn maiden special weight race for her debut. She broke okay and settled nicely and then when [jockey] Arnaldo [Bocachica] moved her down the backside she did it easily and pulled away at the end without a lot of urging. She's going to be a nice one."
"Her dam was one of the best mares that we bred and raised and she won the Cavada," Funkhouser said, referring to the West Virginia Breeders Classic race that is the most coveted prize for distaff West Virginia-breds. "I've always liked Successful Appeal as a sire, so we bred her to him and got this filly. Jeff has been high on her all the way through and she ran well in her debut. She was a little green, but she ran well. We'll see how she does when she tries winners in allowance company and see how she runs through her conditions before we try her in a stakes. But she's got plenty of potential."
Two days later, the pair sent out Atreyu to a maiden score of his own. A Limehouse colt out of an unraced Street Sense mare named My Darling Lily bred by O'Sullivan Farms, Atreyu rallied to just miss by a neck behind Party Life at first asking, but he came back on March 3 to prevail by nearly three lengths as the 1-5 favorite in a 6 1/2-furlong maiden special weight event by getting the distance in 1:22.37.
"Watching him run, he looks like he's going to want to go a mile-and-an-eighth here," Funkhouser said. "He's got a big, long stride. We knew he would be better off going two turns than trying one of the one-turn sprints. But he's got such a big stride that he will probably want nine furlongs and the track up here might even be too small for him. He was the first foal out of that mare, who is really well-bred."
My Darling Lily never raced, but her breeding is hardly typical for those broodmares in West Virginia. My Darling Lily is by Street Sense, who won the Kentucky Derby and was part of a stellar crop of three-year-olds that also included Curlin and Hard Spun. She is also out of the A.P. Indy mare Proxy Statement, who was graded stakes-placed as a two-year-old.
Atreyu returned to the races March 15, just 12 days after his maiden score, to win again, this time via disqualification, against state-bred allowance foes. Atreyu was put up to first from second after losing by a half-length to Cash Exchange, with whom he bumped twice in the late stages.
"He was little unlucky that first time out," Runco said of Atreyu. "He was off a little slow and got bumped and then finally got into his best stride a little too late. He's also going to be a good one for them.
And two days after Atreyu's second win, Prime Lime, a Limehouse filly trained by Runco for an O'Sullivan-managed partnership, took an allowance over the strip as the 1-2 favorite for her fourth win in nine starts.
"We've had a couple of other ones that showed some promise in the mornings and then ran well at night but just didn't win," Runco said. "I think I've got five or six in training for Randy right now and I have a dozen two-year-olds that are all showing a lot of potential and getting ready to run and a couple of them are his as well. He knows the breeding end of it better than anyone, and the ones I have for him are all doing well."