Now healthy, Daily News benefits from Laurel condition change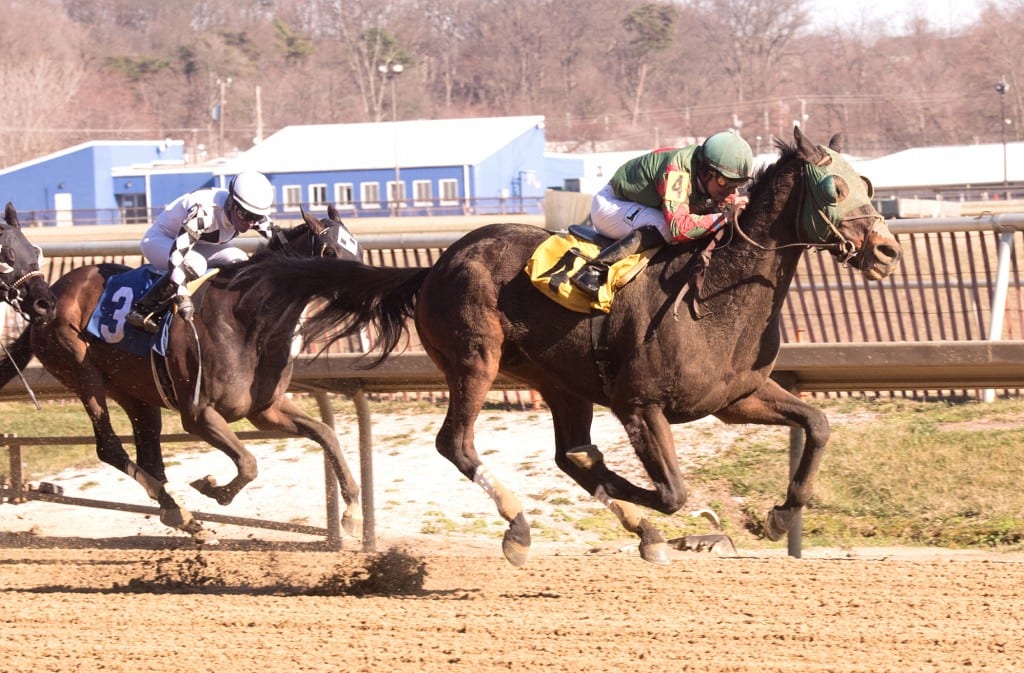 Daily News won an allowance at Laurel Park. Photo by Jim McCue, Maryland Jockey Club.
by Frank Vespe
Daily News has had some tough luck in his career, but there's reason to think that might be changing.
The six-year-old Jump Start gelding, making his first start since October 2017 and just his fourth in the last 13 months, benefited from a change in the Laurel Park condition book Saturday afternoon and went on to score a two-and-a-quarter length in a Maryland-bred allowance for his fifth win in 20 career starts.
"I thought he was the fastest horse, if he was fit enough," allowed trainer Katy Voss after the win.
But that — prior to the race — was the question. Voss said Daily News had had two throat surgeries to try to get right.
"Poor guy – he's always had breathing issues," she explained. "After he won last winter, I said, 'We need to do something if he's going to go up to the next level.'"
Surgery to open his airways, however, went almost too well.
"It was tied back too far, almost," she said. "He was aspirating his food. He kept getting sick on us."
They gave Daily News time — he didn't race at all between January 29 and August 13. His three tries prior to today had produced fifth-, sixth-, and eighth-place finishes. But Voss said he'd been doing well, with no problems eating or getting sick in recent months.
And those three prior races had come against second-level allowance company — significantly better than the runners he faced today in a Maryland-bred or -sired first-level allowance.
In that regard, he benefited significantly from a change in the condition book. For the first time, Laurel Park is writing the Maryland-bred allowance race to permit horses that have already won a single allowance race against open company to compete.
That's a change that Voss said she did not originate — but was one that she admitted she "pushed for."
Allowing horses that have won a first-level allowance into the Maryland-bred race, the thought goes, will increase field size by increasing the number of horses eligible for that race without spreading the horse population too thin by pulling them in too many different directions — a concern were the track to add an additional condition. The change also is similar to the way the state-bred race is written at Parx Racing.
"I think people have been pushing for a long time to get another race for Maryland-breds," she said. "We didn't want more races. We're trying to keep field size up, so you don't want to add a condition."
As it happened, three of the seven horses in the race already had won a first-level allowance and would previously have been prohibited from entering this race — until the change. In addition to Daily News, the others were Willie B Mine, trained by Voss's sister Ann Merryman, and Classic Wildcat. Those two runners finished fourth and fifth, respectively.
In today's race, Daily News and jockey Sheldon Russell bided their time before angling four wide and surging to the win as the tepid 2.40-1 favorite. Daily News paid $6.80 to win and, with 5.80-1 No More Talk in second, topped an exacta worth $39.80. Ice on the Severn, who took heavy early money, finished third.
Daily News, bred by Voss's partner Bob Manfuso and owned by Manfuso and Wayne Harrison, now has five wins and and over $174,000 in earnings in 20 career starts. Manfuso and Voss, coincidentally, also bred the runner-up.
Next up, Voss said, Daily News will return to tackle open, second-level allowance company — a significant step up from the rivals he faced today.
But maybe his luck is turning. His breathing problem looks to be fixed. The change in the condition book has worked to his advantage. He's in good form.
"And he's got a lot of ability," Voss added.