Laurel Park: Alternative trainer stats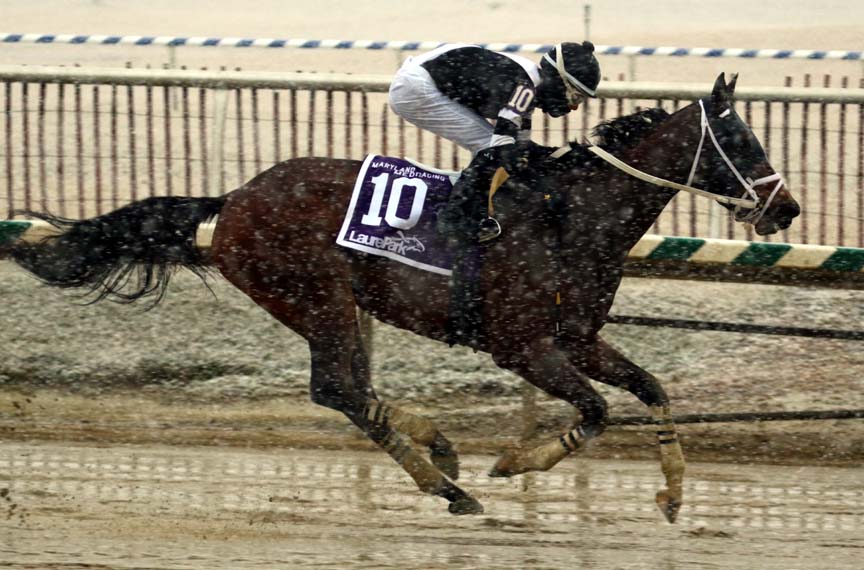 Miss Inclusive won the Maryland Racing Media Stakes for trainer John Servis. Photo by Laurie Asseo.
by Frank Vespe
Just as last week, we wondered which jockeys had been having the best season to date, and devised a different ratings system for them, so this week we turned our attention to trainers.
The idea, in essence, is that the ways trainers typically are measured — by wins or purse earnings — have some merit but for the fan or bettor are incomplete, at best.
Our new number combines wins, win percentage, earnings per start, and $2 wagering return on investment. It thus values trainers who win frequently in big races, as well as those who can hit with a solid percentage of runners at square odds. The top trainer in each category receives 100 points, and thus a trainer who led a colony in all four categories would earn a perfect score of 400.
We applied this metric to every trainer at Laurel Park who has made at least 10 starts and won at least once. Notably, that left Horacio DePaz just on the outside; though he has five wins to date, they have come in just nine starts, just outside of our cutoff.
So who's the leader? Perhaps not surprisingly, the answer is John Servis, who is in the midst of a terrific overall year, with 20 wins from 55 starts thus far.
At Laurel, Servis' six wins (in 16 starts) include three in stakes company, among them the Grade 2, $300,000 Barbara Fritchie with Ms Locust Point. Servis' 38 percent strike rate is tops in the colony among qualifying trainers, as is his earnings per start of more than $27,000. His wagering ROI of $4.84 is second-best overall. Servis has a total of 304.93 points, well ahead of the rest of the field.
Meet wins leader Claudio Gonzalez is second by this metric with a score of 223.55. In addition to being the meet leader by wins, he is fourth in win percentage (26 percent) and sixth in earnings per start ($7,291).
The rest of the top five includes Hugh McMahon (196.31 points, including a $3.84 ROI), Dale Capuano (175.11, including a 30.77 win percentage), and Kieron Magee (164.05, second most wins with 11).