MATCH series to return in 2018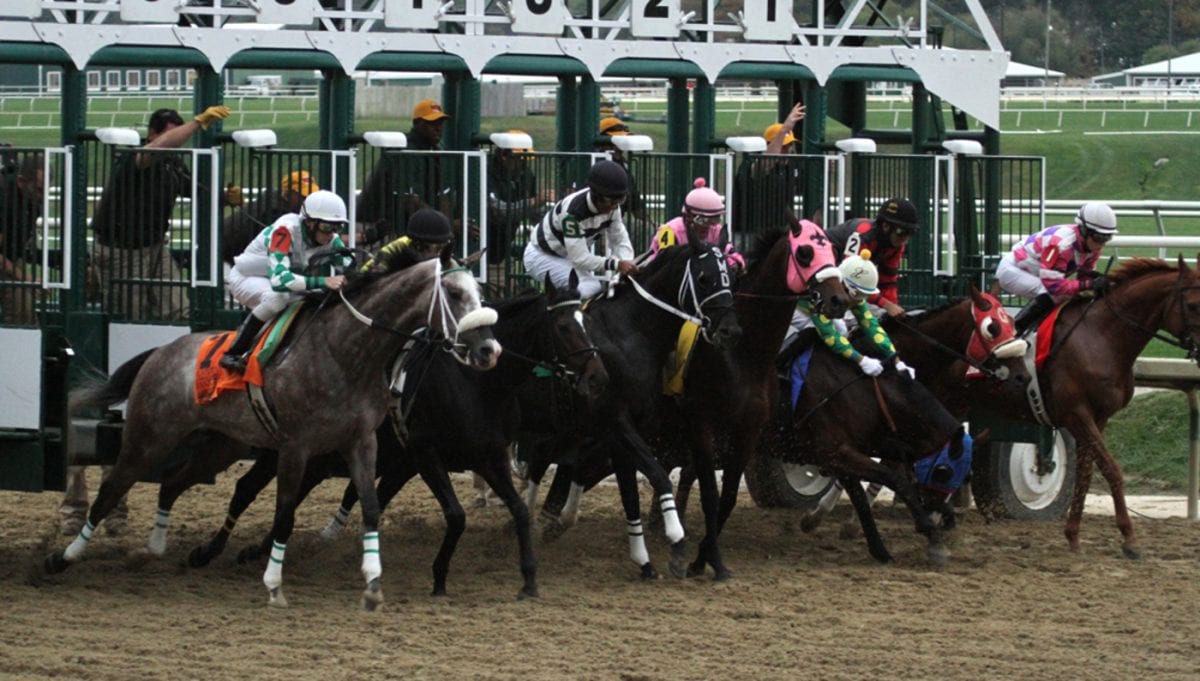 by Frank Vespe
MATCH is back.
After a 16-year break, the Mid-Atlantic Thoroughbred Championships (MATCH) returns in 2018, kicking off with four races over Preakness weekend at Pimlico.
MATCH is a series of stakes races held throughout the late spring and summer at seven participating tracks in the region. They will be contested in five divisions, and horses earn from one to 10 points for each race in which they compete, with the winner earning 10 points.
The winning owner in each division will receive $20,000, with the runner-up earning $15,000, and the third-place owner getting $10,000. The top three trainers will receive $15,000, $10,000, and $5,000, respectively. The overall winning owner will receive $50,000, and the top trainer gets $25,000.
"I am delighted that the series is returning," said MATCH creator and Thoroughbred Horsemen's Association Chairman Alan Foreman, in a statement. "The Mid-Atlantic region has been working cooperatively on so many levels during the past five years, and the renewal of MATCH is a further testament to this cooperation."
The series, which originally began in 1997 and ran for five years before going on hiatus, is a cooperative effort of horsemen's groups and racetracks around the Midlantic. It includes the two Maryland Jockey Club tracks, Laurel Park and Pimlico; as well as Delaware Park, Monmouth Park, Parx Racing, Penn National Race Course, and Presque Isle Downs. It also includes the horsemen's groups at those tracks: the Thoroughbred Horsemen's Associations in Maryland, New Jersey, Delaware, and Pennsylvania, as well as the Pennsylvania Horsemen's Benevolent and Protective Association, which represents horsemen at Penn National and Presque Isle Downs.
The five divisions include a pair of dirt sprint divisions, one for three-year-olds and up and the other for fillies and mares three and up. It also includes a dirt route division for three-year-olds and up, as well as turf sprint divisions, one each for three-and up and one for fillies and mares. There are five races in each division.
After kicking off Preakness weekend with four races at Pimlico — the Jim McKay Turf Sprint (older turf sprinters), The Very One Stakes (female turf sprinters), the Grade 3 Maryland Sprint (older dirt sprinters) and Skipat Stakes (female dirt sprinters) — the series continues with at least one race most weekends, never skipping more than one weekend.
It concludes September 15 with races in all five divisions. Three of the five final races, including the Grade 3 De Francis Memorial Dash, are at Laurel Park, while the others are at Presque Isle Downs and Parx Racing. The series includes a half-dozen Grade 3 events, and all 25 races are worth at least $75,000, with the De Francis the priciest at $250,000.
Monmouth hosts the largest number of races, with seven, while Laurel Park, Pimlico, and Parx Racing will hold four each. Delaware, Penn National, and Presque Isle Downs have two races apiece.
The key, Foreman said in an interview, is that the tracks have agreed not to schedule races to compete with MATCH series races. Series organizers hope that leads to bigger fields in each race and, thus, higher handle.
It also will provide regional horsemen a roadmap for their stakes-quality horses to follow. In all but one case, there are at least three weeks between MATCH races in any one division and often there is about a month. Thus, a horse competing, for example, in the older horse route division would have anywhere between 22 and 35 days off between each of the five legs.
The five divisions offer a combined total of $2.9 million in purses. The divisions range from $450,000 in total purses (filly and mare dirt sprint) to $675,000 (older horse turf sprint).
"I am pleased that we are able to tell the horsemen who have asked about MATCH so many times over recent years that it is back, and we are looking forward to a great competition," Foreman added in the release.